Must-Watch: 14-Minute Video About 'Game Of Thrones' Epic Battle On Last Night's Episode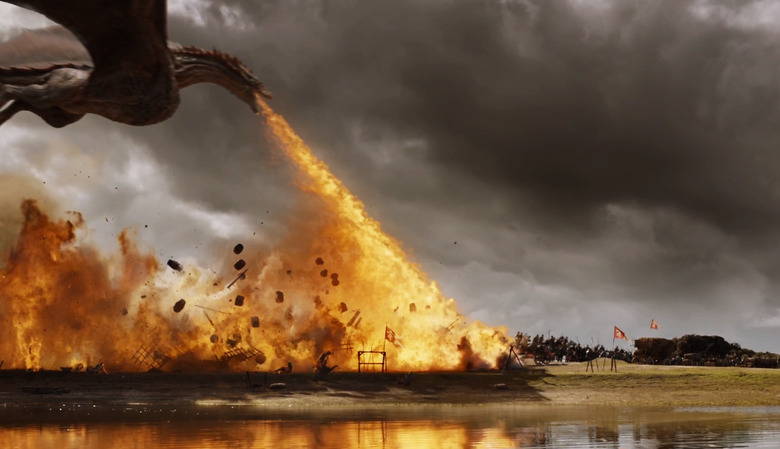 Last night's Game of Thrones episode, "The Spoils of War," took fans by surprise and unleashed another of the show's trademark battle sequences, but with an important addition: this time, there was a freaking dragon involved. HBO has released an in-depth video featurette that dives into the impressive way the show's production team managed to accomplish the impossible, and how they broke a television record in the process. Spoilers for last night's episode ahead, but if you're all caught up, you should definitely check this out.
Game of Thrones battle featurette
"We burned more stunt men than has ever been burned in a single shot, and a single sequence," director Matt Shakman proudly states in a talking head interview. That's quite a jump for a guy primarily known for directing episodes of It's Always Sunny in Philadelphia. Shakman and his team set twenty men on fire in a single shot – and I've grown so accustomed to the series' ever-expanding scope that I admittedly took this for granted. Because this wasn't a telegraphed battle that we knew was coming weeks in advance, I admittedly underestimated the amount of work the team had to do to pull off the monumental sneak attack executed by Dany, Drogon, and her Dothraki warriors.
There's no doubt that this is one of the most monumental feats of television ever achieved. And though this may be sacrilegious for some fans to hear, I preferred "The Spoils of War" to "The Battle of the Bastards." Sure, the latter had that cool long continuous shot of Jon Snow in battle, and did a tremendous job of making us experience what being in a skirmish like that might feel like. But last night's episode was much more emotionally complicated, and forced us to root for both sides simultaneously because each was led by characters we love. And my God, the damage inflicted by those dragon flames was nothing short of majestic.
If you haven't yet, I'd encourage you to read Jacob Hall's review of last night's episode, and then head over to my closer look at a special weapon that was re-introduced on the show last night and how it might factor into the show's endgame. There are only three more episodes remaining in this season of Game of Thrones, and we can't wait to see how they set up what might be the show's most impressive battle sequences yet when the White Walkers come knocking.