Karl Urban Confirms Talks For A Judge Dredd TV Show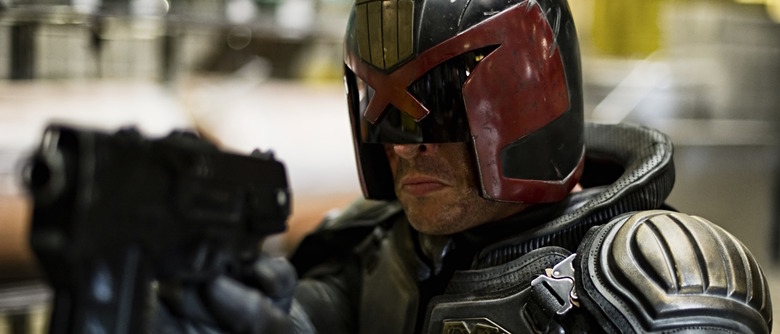 If Dredd was the only time we got to see Karl Urban as the titular character, that'd be a shame. From the very start of the action movie, he was Judge Dredd. While some actors might've looked ridiculous in that suit and helmet, not for a second did Urban. He had a huge presence that helped make the contained action movie a little grander. A sequel to the film isn't going to happen, but Judge Dredd: Mega-City One is in the works. According to Urban, he's having talks with the people behind the show about reprising the role.
Below, Urban discusses the Judge Dredd TV show.
Urban has previously expressed interest in playing the character again, sometimes encouraging fans to speak up about their desire for a sequel and mentioning talks of a TV show. Now, those conversations may be heating up a little as Judge Dredd: Mega-City One is in the works. While Urban, both a Star Trek star and serious Trek fan, was at a Star Trek convention in Las Vegas, he said he'd love to appear in the series and has talked to the people behind it (Source: ComicBook.com):
I am in discussions with them about that. I told them that if they write the material and give Dredd something to do and give him a function, I will be there. I would love to.
The series is in development at IM Global Television and Rebellion. Stuart Ford and Jason Kingsley are executive producers on Judge Dredd: Mega-City One, and they also worked on the movie. We've heard little about their plans for the series, although we've already seen a poster for the series. "This is one of those seminal sci-fi properties that seems to only become and more relevant with age," executive producer Mark Stern (Battlestar Galactica) said when the show was announced. "Not only is it a rich world with biting social commentary, but it's also fun as hell! As a fan of the comics and both films, it's a dream come true to be able to work with Jason and Chris in adapting this for television."
A little memory from Comic-Con: Shortly after the news broke of Urban playing Dredd, I asked Urban about the story. He couldn't say much at the time I recall, but he did lean into the mic to say, "I am the law." He made that line sing in the movie, and hopefully, we'll hear him say it again in Judge Dredd: Mega-City One.