Jon Favreau's 'The Lion King' Casts Simba's Mom And Rafiki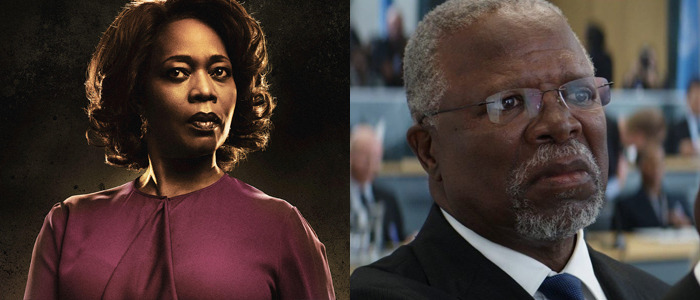 Say what you will about the idea of Disney remaking all of their classic animated movies, but at least they're staffing those remakes with terrific actors. The latest examples? Oscar nominee Alfre Woodard (Luke Cage) and Captain America: Civil War actor John Kani have signed on for Jon Favreau's new version of Disney's The Lion King. Hit the jump to learn more about The Lion King casting.
According to The Hollywood Reporter, Woodard will lend her voice to Sarabi, Simba's mother and the wife of James Earl Jones' King Mufasa. Meanwhile, The Wrap reports that Kani will play Rafiki, the advisor to the royal family.
That's all the information they have, but since I just watched the 1994 version of The Lion King for the first time in decades, a few things come to mind here.
First, Woodard is another example of excellent casting for this movie. She often plays a powerful presence on screen, and it's easy to imagine her impressive voice sliding into the vacancy left by Madge Sinclair, the actress who originated the role back in '94. Woodard has extensive experience with voiceovers, too, having lent her recognizable vocals to a handful of movies and TV shows ranging from Dinosaur to The Wild Thornberrys. This is also another example of Disney "staying within the family," as it were: Woodard not only appeared in Marvel's Luke Cage, but she played a smaller, different role in Captain America: Civil War and yet another in the 2010 animated Black Panther series.
Kani, who also appeared in Civil War playing T'Challa's father, King T'Chaka, and reprises that role in the upcoming Black Panther solo film, is another Marvel vet, so the family metaphor extends to him as well.
The other thing that comes to mind in light of the casting here is that the role of Sarabi might be getting beefed up a little compared with its '94 predecessor. In the animated movie, Sarabi only has something like 15 lines of dialogue, and many of those are only four or five words long. She serves as the leader of the lioness pack at Pride Rock, but we never see her hunt. The early part of the film, she just gives Simba a bath and grants him permission to go places, and in the latter half, once Scar takes over and turns the pride lands into a barren wasteland, she stands up to the usurper king and is beaten for it.
I can't imagine Favreau would cast someone as respected as Woodard to come in to deliver only a handful of lines of dialogue, so I wouldn't be surprised to see Sarabi have a lot more involvement in the story this time around. Rafiki, on the other hand, seemed like he was in the animated movie for just the right amount of time, and considering Kani isn't as well-known as Woodard, I wouldn't guess that screenwriter Jeff Nathanson would tweak the formula too much to increase Kani's role.
Favreau is using similar technology as he did with The Jungle Book to bring The Lion King to life in CG. Woodard and Kani join a voice cast that includes Donald Glover as Simba, James Earl Jones reprising his role as Mufasa, Chiwetel Ejiofor as Scar, John Oliver as Zazu, Billy Eichner and Seth Rogen as Timon and Pumbaa, and maybe even Beyonce as Nala (though that last one has yet to be made official).
The Lion King hits theaters on July 19, 2019.