Cate Blanchett Perfectly Cast As Lucille Ball In Aaron Sorkin's 'Lucy And Desi' Biopic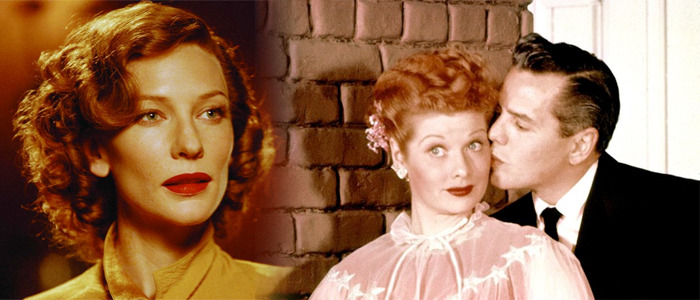 Lucille Ball and Desi Arnaz may be the most iconic couple in television history, and now the story about not just their romantic relationship, but their professional relationship, will be coming to the big screen courtesy of Amazon Studios, and there's some tremendous talent already involved, both in front of the camera and behind the scenes. Find out more about the Lucy and Desi movie below.Deadline reveals Oscar winner Cate Blanchett is attached to play Lucille Ball in Lucy and Desi, a biopic that will follow the relationship between the comedienne and her longtime husband and showbiz partner Desi Arnaz. Sweetening the deal is the fact that Oscar-winning writer Aaron Sorkin will be scripting the film for Escape Artists producers Todd Black, Jason Blumenthal and Steve Tisch.
Lucille Ball and Desi Arnaz had one of the most highly publicized marriages to ever come out of Hollywood, mostly because in addition to being married for 20 years, the couple also had a relationship on screen. After meeting while filming the RKO Studios movie Too Many Girls, Lucy and Desi, at age 28 and 23 respectively, fell in love. But early on there were troubles in their relationship.
Desi Arnaz was not only a heavy drinker but a womanizer. He was always having affairs and creating problems due to his drunken behavior. Lucy and Desi separated for some time in 1944 before reconciling and agreeing to pursue projects together, and that's where I Love Lucy comes into play. Based on Lucy's radio program, the show became a hit at CBS after the couple did a vaudeville show tour around the US in 1951 to help drum up excitement.
Around the time the show began, Lucy and Desi had their daughter Lucie, and she turned out to be a good luck charm because the show started pulling in 40 million viewers every week. After a couple of years, they got pregnant with their second child, Desi Arnaz, Jr., giving them the opportunity to make history by showing a pregnant woman on television for the first time.
Their success in showbiz continued, though pressure built on their relationship, especially for Desi Arnaz, who continued to have trouble with alcohol, mostly due to his insecurities about being known as "Mr. Ball." Even though their marriage ended like the show, the two always had a fondness for each other, neither really getting over their break-up despite marrying other people. Lucy continued to find fame on TV with three more of her own shows, and she remained friends with Desi until he passed away in 1986.
The relationship that Lucy and Desi had is quite the unique showbiz romance, and it should make for a compelling story in the hands of Aaron Sorkin, who will be working from the memoirs written by both Lucille Ball and Desi Arnaz, thanks to the rights package handed over by their children.
The project is still early in development, but Deadline says there's movement to get a big name to star alongside Cate Blanchett. The only name mentioned is Javier Bardem, but I hope Diego Luna and Pedro Pascal are in the mix too. Honestly, John Leguizamo would be a pretty great choice to play Desi Arnaz too, but since he's five years older than Cate Blanchett, that might not work. Amazon also wants some big names to play Fred and Ethel, or rather William Frawley and Vivian Vance, from I Love Lucy.