'The Dark Tower' Underperforms As 'Despicable Me' Becomes The Highest-Grossing Animated Franchise Of All Time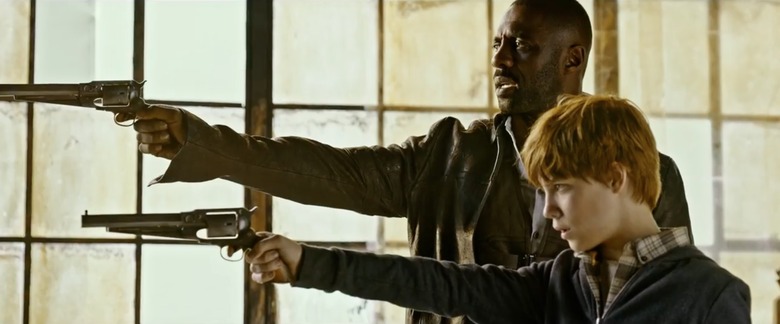 The team behind The Dark Tower had high hopes for the franchise's future, including sequels and a show that recently landed The Walking Dead showrunner. After an underwhelming performance at the box-office this weekend, we'll see if those grand plans for Stephen King's world stick. Director Nikolaj Arcel's movie didn't match early tracking numbers and made only $19.5 over the weekend.
Below, learn more about how the fantasy movie did at the box-office this past weekend, and how Despicable Me 3 reigned supreme this summer.
Some box-office analysts estimated The Dark Tower would open to around $25 million. While $19 million would be a disastrous opening for some other major studio movies this summer, that's not the case here. MRC and Sony played it very safe – a problem with the movie in general – by keeping the budget down.
The Dark Tower cost around $60 million. If the movie only makes $90 million worldwide, Sony and MRC will lose about 25 percent of their production cost, around $15 million each. So far, The Dark Tower has made $27.5 million worldwide, but it's yet to open in several major territories. The fantasy film received a B CinemaScore, so word-of-mouth likely isn't going to be strong for this one. It led what is now the summer's worst weekend box-office. The Dark Tower also performed worse than another movie to open the first weekend of August in the last five years. Last year, Suicide Squad made $133 million in this slot.
When producer Ron Howard was going to direct the project at Universal, there was a draft of the script that would've cost $140 million – which made Universal nervous. Then Howard, Brian Grazer, and all involved managed to cut costs by $40 or $50 million. Around that time, Howard claimed the budget cuts weren't "radical." When Sony and MRC got involved, the budget got even smaller.
Everybody was always hoping for three movies and a television show to adapt King's massive story, but it's hard not be skeptical after The Dark Tower didn't exactly make a slam-dunk over opening weekend – which probably wasn't helped by overwhelmingly negative reviews. The Dark Tower's opening weekend is probably a disappointment to some fans of the series, as it is for fans of Idris Elba who wouldn't have minded seeing it perform huge at the box-office just to raise more awareness around Elba's greatness. In spite of how underwhelming the film is as a whole, Elba turned in strong work and the movie's most memorable moments.
One movie that found its audience right off the bat is Despicable Me 3. It made close to $900 million this summer. Following the major success, Illumination Entertainment's series is now the most successful animated franchise of all time. The Despicable Me and Minions movies have grossed over $3.528 billion at the worldwide box-office, surpassing Shrek's $3.51 billion. The fact Minions is Universal's most profitable movie in studio history certainly helps. According to Deadline, before its theatrical run, Despicable Me 3 should make a few more millions of dollars for Universal execs to swim in come Labor Day.