First Look At Josh Brolin As Cable In 'Deadpool 2' Revealed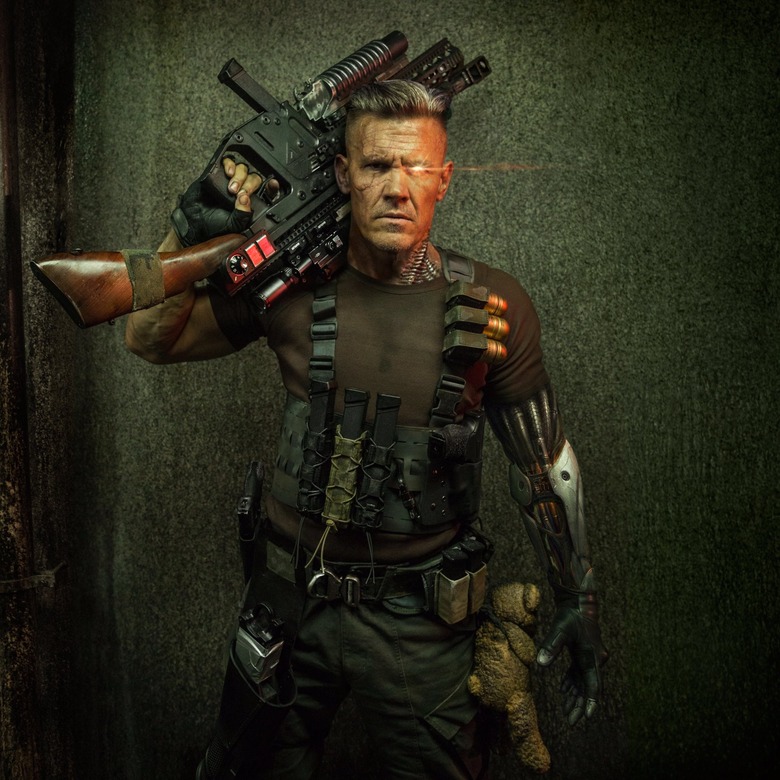 He's no Keira Knightley, but Josh Brolin does look plenty proud as Cable in the upcoming Deadpool 2.
Ryan Reynolds, Deadpool marketing machine extraordinaire, posted two first looks at a heavily scarred and cybernetically enhanced Josh Brolin as Cable on his Twitter. And true to form, he threw in a "premium Cable" joke too.
Just like Reynolds' previous posts of Zazie Beetz as Domino last week, the Deadpool actor dropped a whopping two photos of Brolin's Cable: one close-up of Brolin holding a finger up to his mouth and shushing the audience as his cyborg eye glows yellow, the second a full body shot where we can see Cable's machine arm and machine gun, as well as a beat up teddy bear he carries on his person.
We all have that one, grumpy, heavily armed Uncle from the future. #PremiumCABLE #JoshBrolin pic.twitter.com/JV3yBIIPQH

— Ryan Reynolds (@VancityReynolds) August 7, 2017
DeadPool 2: Your premium #Cable provider. #DeadPool2 pic.twitter.com/LboS0iVDqZ

— Ryan Reynolds (@VancityReynolds) August 7, 2017
"We all have that one, grumpy, heavily armed Uncle from the future," Reynolds wrote in the caption for the close-up shot.
Brolin has been beefing up for the role of Cable in 2018's Deadpool 2, the sequel to 2016's surprise hit Deadpool, which starred Reynolds as Wade Wilson, a foul-mouthed, self-aware superhero. In the closing credits of Deadpool, Wade promised that Deadpool's infamous buddy Cable would appear in the sequel and be played by Keira Knightley, in a riff off on the after-credits bumper in Ferris Bueller's Day Off. Knightley was busy I guess, and Brolin got cast in the part instead. Since then, he has expressed excitement for the role, posting several pictures of himself working out for the part — and promoting active wear. Hey, he can multitask!
In the comics, Cable is a fellow mercenary descended from Scott Summers and a Jean Grey clone, but his backstory may change for the film. Brolin's Cable is a time traveling soldier described as being "in many ways the opposite of Deadpool." In other words, he could be the stoic foil Reynolds' wisecracking superhero demands.
Cable is an adversary-turned-buddy to Deadpool, first crossing paths with the Merc with a Mouth when Deadpool was tasked with assassinating him. Cable and Deadpool were soon paired together in an extremely popular comic book series and eventually became members of the X-Force, a strike team of mutants with a harsher edge than the regular X-Men.
Reynolds has promised that Deadpool 2 will lay the groundwork for an X-Force movie, and with essential members like Cable and Domino already a part of the Deadpool sequel, it seems like we're not long for it.
Deadpool 2 is set to hit theaters June 1, 2018.