The 'Snowpiercer' TV Series Expands The Movie's Politics, Says Star Daveed Diggs [TCA 2017]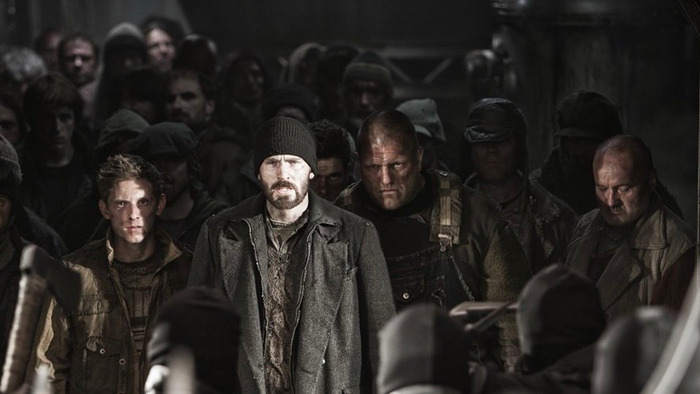 Hamilton star Daveed Diggs was on a panel for ABC's upcoming comedy The Mayor, for which he is an executive producer and contributes to the show's music. Diggs will be acting in TNT's Snowpiercer TV series, based on the movie. The show has original characters, but is still set on a train which is the last habitable environment in a post-apocalyptic ice age.
"It's not following the movie exactly," Diggs told reporters after the panel. "There are a lot of parallels and it definitely exists in the same world. I play Layton, he lives in the tail so he's one of the poor people."
The Snowpiercer series is continuing the political allegory of the film, whereby the rich live in the front of the train with all the resources. The poor are relegated to the back, fighting for food and survival. The movie also revealed who actually makes the train run. Diggs said the series explores those concepts further.
"For me at least, as a fan of the film and reading the script, it broadens the world exponentially," Diggs said. "That's one of the advantages of TV, right? You have time. The politics that are sort of hinted at in the film are explored in much more depth. The mechanism of the train is much [more]. The little things that create a world, the specificity. Specifics, it's why I'm a sci-fi nerd. It's what drew me to Snowpiercer and it's what drew me to this, the specifics of community."
Diggs listed his sci-fi credentials. He is a nominee for a Hugo Award with his band Clipping for their album Splendor & Misery.
"Right now I'm reading all N.K. Jemisin," Diggs said. "I'm actually flying to Helsinki tomorrow. We're going to perform at the Hugos which is really exciting. N.K. Jemisin who's my favorite writer, I'm actually behind on her series. I'm trying to catch up. When we get to hang out with her, I'm trying to be able to nerd out on all of her books."
A Snowpiercer pilot is in the works at TNT with Josh Friedman (Terminator: The Sarah Connor Chronicles) as writer and Scott Derrickson to direct.