'Roseanne' Reboot Will Address the Final Season and Be Topical [TCA 2017]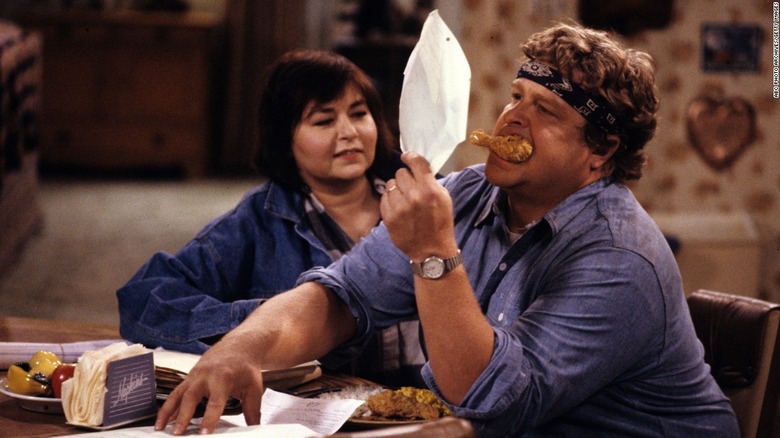 ABC Entertainment President Channing Dungey spoke with the Television Critics Association on Sunday. One of the subjects that came up was the network's eight episode reboot of Roseanne. Fans of the series are wondering how the new series will address the show's final season, in which the Conners won the lottery and Dan (John Goodman) died of a heart attack. Goodman is returning as a very alive Dan, and Dungey confirmed that the season premiere would address the long running sitcom's previous season.
"It does and it does in a very very funny way," Dungey said after her executive session panel. "It is very much tonally similar to the original show. It's unflinching, it is honest, it is irreverent at times and it's also really, really funny."
Roseanne Barr has been outspoken politically, but the politics of the show are broader than President Trump.
"Very topical, very topical," Dungey said. "We're not talking specifically about the universe that we live in in that way, but we are addressing issues like foreclosure, how difficult it is for people to get medical insurance. We're talking about topics in a bigger, broader way. We're not necessarily talking about he occupants of the White House."
Roseanne will go before a studio audience this October. During her executive panel, Dungey had a little more Roseanne info. Johnny Galecki is currently starring on CBS's The Big Bang Theory, but ABC is still trying to work it out for him to return as Darlene's (Sara Gilbert) boyfriend, David.
"Those conversations are still in progress," Dungey said during the panel.
She also said the episodes the Roseanne writers have pitched are in line with the show's peak of popularity. "We had a lot of conversations with [producer] Tom Werner when he first came in to do the reboot, and with Bruce [Helford] and all the writing team. We've now heard the broad strokes for the creative of these eight episodes and are confident it is a return to the show everyone knew and loved."
Barr herself has been outspoken on social media with her political views. Dungey said she has stepped back from Twitter to focus on the show.
"She actually publicly announced a few weeks ago that her son is going to be taking over her Twitter feed for the near future," Dungey said. "That was all by her. We did not ask her to do that, but she did make that decision. Roseanne wants to be focused on the show. The writers room just got started and she is going to be an active contributor."
Her son may have kept up the same fight as his mother, but Dungey is not worried about her personal accounts interfering with Roseanne.
"I try to just worry about the things I can control," Dungey said.