'Guardians Of The Galaxy Vol. 2' Disco Music Video Is The Wackiest Thing You'll See Today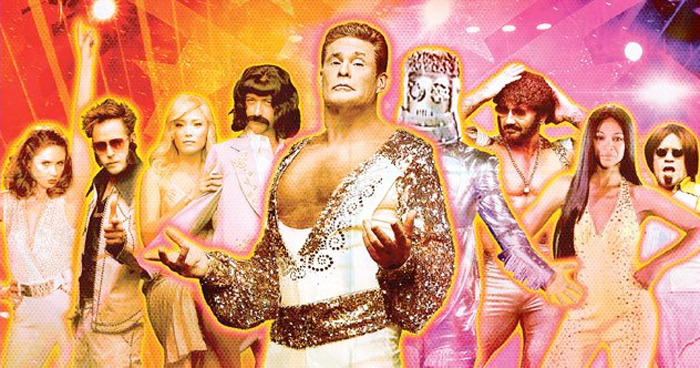 When the news came that Guardians of the Galaxy Vol. 2 would be arriving on home video this month, director James Gunn teased one wild special feature the likes of which had never been seen on any Marvel Studios movie before. That special feature has now arrived in its entirety online.
James Gunn created a Guardians of the Galaxy Vol 2 music video inspired by the original disco song "Guardians Inferno" by a group called The Sneepers, featuring none other than Star-Lord's fictional father David Hasselhoff. This is a full fledged retro music video created in the same style as real hit disco songs from the 1970s, and it's so weird and glorious. Watch it below!
Watch the Guardians of the Galaxy 2 Music Video
What's really fantastic about this music video, besides everything, is that it actually features cast members Zoe Saldana, Dave Bautista, Michael Rooker, Karen Gillan, Pom Klementieff, Sean Gunn and director James Gunn himself, all decked out in their finest disco gear, lip syncing, dancing and having a great time. There's even a cameo from Jimmy Kimmel Live security guard Guillermo, whose appearance that was shot for the movie didn't make the final cut, and one more guest appearance that we won't ruin here. It's no wonder James Gunn previously said on Twitter, "This may be the greatest thing I've ever worked on."
Sadly, cast members Chris Pratt, Vin Diesel, Bradley Cooper and Kurt Russell must have been too busy to appear in this music video. However, if you wait until the end, you just might catch one of them wearing a surprising disguise, even if it appears to be a moment added in post-production.
Not only is this music video great, but that song is quite catchy. Where else can you find a song that rhymes procyon lotor (the scientific name for a raccoon) with the word motor? Nowhere. Could that be enough to land this song an Oscar nomination for Best Original Song? We certainly hope so.
Guardians of the Galaxy Vol. 2 arrives on Digital HD on August 8th and 4K Ultra HD, Blu-ray and DVD on August 22nd.
Set to the backdrop of 'Awesome Mixtape #2,' Marvel's Guardians of the Galaxy Vol. 2 continues the team's adventures as they traverse the outer reaches of the cosmos. The Guardians must fight to keep their newfound family together as they unravel the mysteries of Peter Quill's true parentage. Old foes become new allies and fan-favorite characters from the classic comics will come to our heroes' aid as the Marvel cinematic universe continues to expand.