'She's Gotta Have It' TV Show First Look Photos: Spike Lee Heads To The Small Screen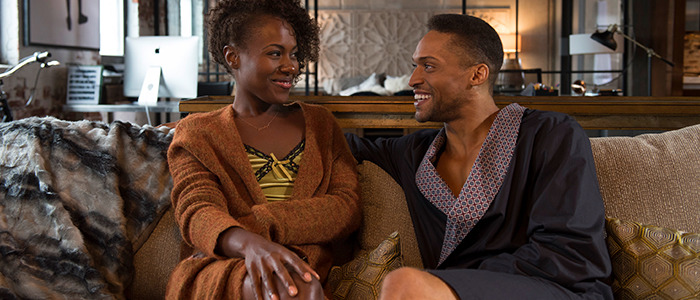 Filmmaker Spike Lee kicked off his career with the 1986 movie She's Gotta Have It, and now he's giving his feature directorial debut an update for 2017. And you know what that means: it's now a multi-episode Netflix series. Check out some first look at some photos from the new show below.
The images showcase DeWanda Wise (Shots Fired) in the main role of Nola Darling, Nola's friends Clorinda Bradford (played by Margot Bingham from Barbershop 3), Shemekka Epps (Chyna Layne from Precious), and Rachel (Elise Hudson). Nola's three lovers are also featured: Greer Childs (Cleo Anthony from Divergent), Jamie Overstreet (played by Lyriq Bent from The Book of Negroes), and Mars Blackmon, a character that was originated by Lee in the '86 film but will be played by Hamilton alum Anthony Ramos in the show. Take a look:
I've seen a handful of Lee's movies, but this one is a blind spot for me. After checking out the original trailer, though, I'm adding it to my queue right now:
Lee created and produced this show, and will direct every episode. He shot the original movie in 12 days, and has spoken about how it was the toughest film of his career to finance. I imagine that, thanks to the considerable resources of Netflix, this was significantly easier for him to make. I'm fascinated with the idea of filmmakers revisiting worlds they created in movies and expanding them out on television. Justin Simien's Dear White People, which Simien has said was at least partially influenced by Lee's work, is another example of Netflix providing space for creators to do this.
While this is clearly Nola's story, I'm admittedly fascinated with how Ramos will portray Mars Blackmon on the show because that's a character that transcended the original movie and became a pop culture figure in his own right. Remember the commercials he did featuring Michael Jordan in the '90s?
You can watch a brief teaser for the new She's Gotta Have It series right here, and check out the first clip below:
The seriously sexy comedy stars breakout actress DeWanda Wise as Nola Darling, an uncompromising woman in her late twenties struggling to define herself and divide her time among her Friends, her Job and her Three Lovers: The Cultured Model, Greer Childs; The Protective Investment Banker, Jamie Overstreet; and Da Original B-Boy Sneakerhead, Mars Blackmon. Nola is not who you want her to be. Nola is now—she is outspoken, complicated, progressive, unapologetic, passionate, sexual...
All ten episodes of She's Gotta Have It will be available to stream on Netflix starting this Thanksgiving, November 23, 2017.