Guy Ritchie's 'Aladdin' Finds Its Jafar And Casts An 'SNL' Vet In A New Role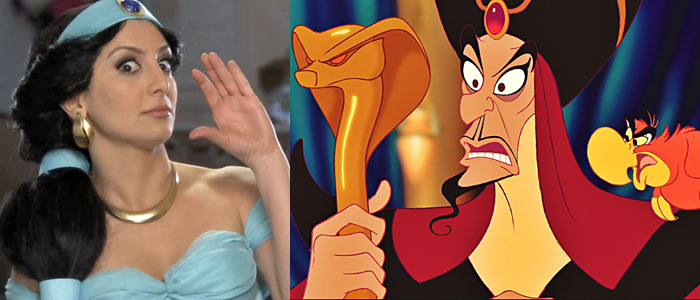 Disney's live-action Aladdin movie cast has just grown by two. Director Guy Ritchie's take on the 1992 animated classic has found its Jafar in an up-and-coming actor and cast former Saturday Night Live breakout Nasim Pedrad in a brand new role that's been invented specifically for this film. Read on for everything we know so far.
The Hollywood Reporter says that Dutch-Tunisian actor Marwan Kenzari, who has had roles in The Mummy remake, the Ben-Hur remake, and the upcoming Murder on the Orient Express remake, is in negotiations to play Jafar. (Are we looking at the new remake king of Hollywood here? Sure seems that way.) The villain serves as the scheming grand vizier to the Sultan of the fictional Middle Eastern city of Agrabah.
In the animated film, Jafar – along with his talking pet parrot Iago – plots to find a magic lamp that contains a genie so he can take over as the new Sultan, with the Sultan's daughter, Princess Jasmine, as his new wife. Kenzari hasn't left much of an impact on me in the small roles he's had thus far, but assuming this deal goes through, this will be a huge breakthrough role that will likely catapult him to bigger projects. Jonathan Freeman, who voiced Jafar in the '92 movie, left some big shoes to fill, and as someone who loves that version of Aladdin, I'm hoping Kenzari is up to the task.
In addition, SNL star Nasim Pedrad has been cast in the comedic supporting role of Mara, a handmaiden and friend to Jasmine. This sounds like a perfect role for the hilarious comedian (whose Aziz Ansari impression is second to none). Back in 2012, Pedrad actually played Princess Jasmine in a sketch called "The Real Housewives of Disney," and though SNL often makes their sketches notoriously difficult to track down online, you can watch some deleted scenes from it and see her in the Jasmine costume here.
After casting Will Smith as the Genie but struggling to lock down its leads, Disney finally cast Canadian actor Mena Massoud (Jack Ryan) and half-Indian actress Naomi Scott (Power Rangers) in the key roles of Aladdin and Jasmine. Production is scheduled to begin this month in London, and the producers recently hired Game of Thrones writer Vanessa Taylor to rewrite the screenplay.
What do you think about this casting? Looking forward to seeing what Ritchie does with this young cast?