'The Karate Kid' TV Series Sequel Starring Ralph Macchio Is Coming To YouTube Red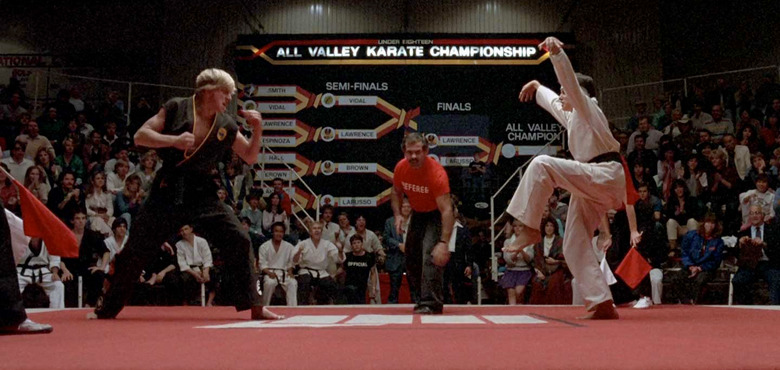 Hollywood's stroll down the memory lane that is the 1980s continues with the announcement of a legacy-quel series revival of The Karate Kid, and the original stars of the 1984 sports classic are coming with it.
Ralph Macchio and William Zabka, who played the rivals Daniel LaRusso and Johnny Lawrence at the center of the All Valley Karate Tournament, will both be back to star in a new half-hour comedy series called Cobra Kai that will be exclusively available on the YouTube Red subscription service. Find out more about The Karate Kid TV series below.The Hollywood Reporter has word on The Karate Kid TV series that is set 30 years after the events of the original film (though 34 years will have passed by the time the series debuts on YouTube Red in 2018). This is a tried and true legacy-quel to the max as the series follows school bully and tournament fighter Johnny (William Zabka) down on his luck, and in a last ditch effort to make something of his life, he reopens the Cobra Kai dojo. Meanwhile, Daniel has been struggling to maintain balance in his life without his mentor Mr. Miyagi (the late Pat Morita) to guide him.
For reasons that aren't entirely clear, the reopening of the Cobra Kai dojo reignites the rivalry between Johnny and Daniel. The report about this new project says the series "follows the duo addressing demons from their past and present frustrations — through (what else?) karate," but I have a feeling that the kids they presumably have will also come into play in this series, and maybe they'll be the ones competing in karate tournaments. After all, Macchio and Zabka aren't young anymore, and having a fatherly rivalry involving their kids sounds like a bit more of interesting dynamic, though some comedy could still come from middle-aged fathers getting into a karate brawl. Maybe Johnny will even bring up the idea of how Daniel was the real bully in the original movie.
The talent behind this series is quite interesting, because it comes from names better known for straight-up comedy rather than sports drama. Hot Tub Time Machine wrtier Josh Heald will work with Harold & Kumar franchise creators Jon Hurwitz and Hayden Schlossberg to script the 10-episode series. Here's what they had to say in a joint statement:
"Like everyone who grew up in the 1980s, the three of us are enormous fans of The Karate Kid?. Cobra Kai? will be a true continuation of the original films — packed with comedy, heart and thrilling fight scenes. We can't wait to reignite the LaRusso-Lawrence rivalry, and we're thankful to our partners at YouTube Red, Sony Pictures Television and Overbrook for their shared enthusiasm in making our dream project a reality."
They'll all also be executive producing alongside Macchio and Zabka, as well as Will Smith's Overbrook Entertainment, which is situated at Sony Pictures, where The Karate Kid reboot starring Jackie Chan and Jaden Smith was produced. Directing duties for much of the series will also fall to Hurwitz and Schlossberg.
This sounds like an enticing enough premise, but I'm not sure it's the kind of story that fits a half-hour comedy series. If this were a movie reboot, that would make more sense, but I don't know how this concept sustains itself for an entire series, even if it's just 10 episodes. This is especially intriguing since Hurwitz and Schlossberg have no experience in writing, directing or producing television. Maybe this will just feel like a long movie split into a series, not unlike Stranger Things.
Whatever Hurwitz and Schlossberg have up their sleeves, it must be good. Reportedly Netflix, Amazon, Hulu and AMC were all involved in a heated bidding war for the series. Apparently the pitch, which had the actors getting right back into their roles, was a big part of garnering so much interest at various networks and streaming services, and it appears to have worked. The question is whether fans of the original sports franchise will have just as much interest in seeing Ralph Macchio and William Zabka back in action.
Are you interested in The Karate Kid TV series Cobra Kai?