'Star Wars: Secrets Of The Empire' Hyper-Reality Experience Coming To Disney Resorts This Year, But What Is It?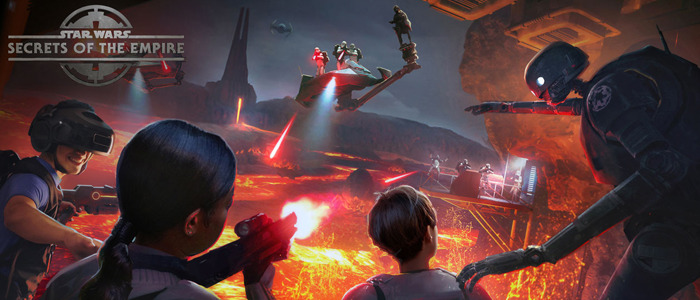 We know that the future of Star Wars storytelling is going to be told using virtual reality, and now Lucasfilm has taken another step toward crafting a completely immersive experience that transports the user into a galaxy far, far away. They've teamed up with ILMxLAB and a company called The Void and have announced Star Wars: Secrets of the Empire, a new multi-sensory, hyper-reality experience that's set to open later this year at the Disney resorts. This sounds like it could be pretty incredible.
StarWars.com announced this news today, promising that "soon, you'll literally be able to step inside Star Wars."
Lucasfilm, ILMxLAB, and THE VOID today announced a new hyper-reality experience called Star Wars: Secrets of the Empire, which promises to plunge fans into the Star Wars universe. Created by ILMxLAB, Lucasfilm's immersive entertainment division, in collaboration with THE VOID, it will open to the public at two new VOID Experience Centers at Downtown Disney at Disneyland Resort and Disney Springs at Walt Disney World Resort beginning this holiday season. Star Wars: Secrets of the Empire will allow fans to move freely in an untethered, social, and multi-sensory experience, including interaction with friends, fans, and Star Wars characters.
In the press release, various executives tout that we'll be able to "hear, feel, touch, and even smell" our way through Secrets of the Empire, and they explain that guests are supposed to become "active participants in an unfolding Star Wars adventure." What exactly that means – and, in fact, what this entire thing will even physically be like – remain unknown, because this is a first-of-its-kind experience, but considering The Void was also responsible for the Ghostbusters VR experience that came out last year, that might be a good place to start if you're looking for what to expect. After watching this video, I'm excited about the possibilities.
Lucasfilm and ILMxLAB have already produced a Star Wars virtual reality experience called Trials on Tatooine, which doesn't give the player that much agency in the action – yes, you're given a lightsaber and can deflect blasts from incoming Stormtroopers, but you're not allowed to move around much, and while it's kind of cool to see the Millennium Falcon up close, it just left me yearning for the next generation of much more interactive VR. Using haptic feedback, Secrets of the Empire could be exactly that.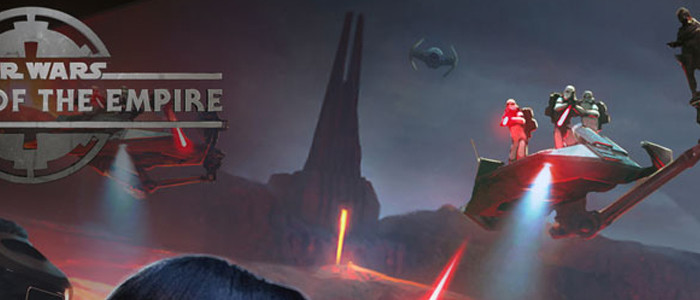 What Could This Experience Be About?
So we know a little about the tech being used to bring this experience to life, but what will the story be like? Well, taking a closer, zoomed-in look at the official image, K-2SO's presence makes it clear that this is set during the Rogue One era, and all of the lava and that distinctive tower in the background points to a single location in Star Wars lore: Mustafar, the fiery planet that houses Darth Vader's castle and where Obi-Wan Kenobi defeated Anakin Skywalker in a lightsaber battle in Revenge of the Sith. Earlier this year, Lucasfilm VP and Executive Creative Director Doug Chiang teased that we might see that location again in another film, but perhaps we'll actually end up visiting it in this hyper-reality experience first.
And if that's the case, could this be the mysterious story-based Darth Vader VR project that Man of Steel and Batman Begins screenwriter David Goyer has been working on for over a year? Goyer teased the project during Star Wars Celebration 2016:
"When we looked at all the characters, places, and worlds in the Star Wars universe available to us, we asked ourselves, 'What haven't we seen before? Who are we curious about?' Darth Vader is the perfect ambassador to usher us into the Star Wars VR universe."
More recently, Goyer described his project in much more detail and hinted that it might even make you cry. At Celebration, they unveiled a quick teaser that's super vague, and doesn't even remotely hint at the type of experience this will be, but you can watch it anyway below:
It seems impossible that ILMxLABs would be developing two separate Vader-centric VR experiences, so the safe bet is that Secrets of the Empire is Goyer's project. But we'll find out for sure later this year, when Secrets of the Empire arrives at Downtown Disney and Disney Springs this holiday season.