'Death Wish' Trailer: Bruce Willis Is Out For Revenge And Blah Blah Blah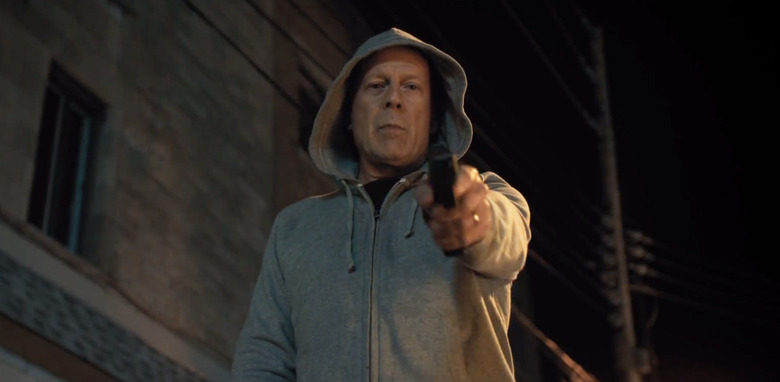 You know the old stand-by story about a man losing a loved one thanks to the activities of some ruthless criminals who goes on a wave of revenge to take down the people responsible. It's a cinematic trope of action movies, and somehow, it's still done in a fresh way with movies like John Wick. But it looks like Bruce Willis' latest attempt to deliver a revenge thriller doesn't pack the same punch.
Death Wish is a classic revenge thriller from 1974, though the Charles Bronson version doesn't exactly have the most politically correct storyline by today's standards. The sequels that followed ventured into ridiculous territory from there, and it looks like Eli Roth's remake of the original, with Bruce Willis in the lead, is more in tune with those later films.
Watch the Death Wish remake trailer below to see what we're talking about.
There's something a little tone deaf about this movie, at least as it's presented in the trailer. A white guy throwing on a hoodie and taking the law into his own hands sounds a little more terrifying in today's culture, but this trailer tries to make light of the situation by having AC/DC's "Back in Black" blaring throughout the proceedings. The movie just feels completely out of touch with what's happening in contemporary society. Maybe the marketing is holding back something significant that can only be gleaned from watching the entire movie.
It doesn't help that there are jokes throughout the movie making the violence even more lighthearted, or that the jokes themselves are so tired and outplayed. That humor will seem even more misplaced if the remake keeps the additional details of the main character's daughter being brutally raped by the criminals who killed his wife.
Anyway, we'll do our best to reserve our full judgement until we see the movie, but for now we're not impressed and very concerned as to how this is going to work. Here's the official synopsis:
Dr. Paul Kersey (Bruce Willis) is a surgeon who only sees the aftermath of Chicago violence when it is rushed into his ER – until his wife (Elisabeth Shue) and college-age daughter (Camila Morrone) are viciously attacked in their suburban home. With the police overloaded with crimes, Paul, burning for revenge, hunts his family's assailants to deliver justice. As the anonymous slayings of criminals grabs the media's attention, the city wonders if this deadly vigilante is a guardian angel or a grim reaper.
Death Wish arrives in theaters on November 22, 2017.