More Details On The CW's Next Big Superhero Crossover [TCA 2017]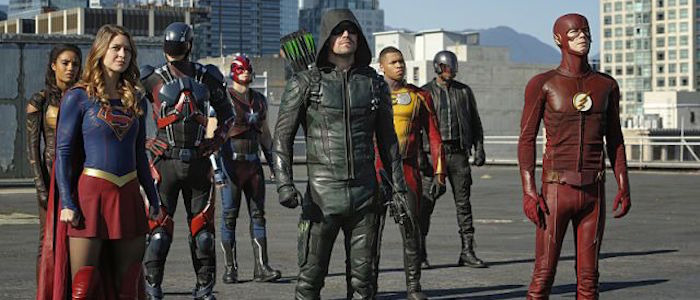 This morning, The CW President Mark Pedowitz teased the four part "Arrowverse" crossover: one night pairing Supergirl with Arrow followed the next day by The Flash and Legends of Tomorrow. After a Legends of Tomorrow panel, producer Mark Guggenheim, who also produces Arrow, said the team led by Greg Berlanti is pitching the network on the crossover the following day, Thursday, August 3. In other words, today.
"At the beginning of the year when Greg, Andrew [Kreisberg] and I first started talking about [the crossover], we were like, 'There's just no way we can top aliens last year. Let's up the emotional content. At the very least we know we can bring the emotion." Guggenheim said.
Pedowitz also teased "romance is in the air." Guggenheim tapered that suggestion.
"I'm not saying the emotion is romantic necessarily," Guggenheim said. "We really start from a place of we wanted there to be some really big emotional turns for our characters. I think one of the differences about the crossover this year as opposed to years past, years past it was always a fun event that you could really lift out of each season. There weren't any big character moves that were done. We're going some big character moves that will affect all four of the shows."
Greg Berlanti, producer of all four DC shows, was on a separate panel for his classic series, Everwood. After that panel he added one more update on the significance of the crossover. "It's a big life event for a few characters," Berlanti said.
The pairings of Supergirl and Arrow one night and The Flash and Legends the next are less strategic than they may seem, said Guggenheim.
"We're really approaching this as a big four part event as two back to back two hour movies," Guggenheim said. "I think when you look at it through that lens, it becomes less important for the Supergirl episode to feel like a Supergirl episode and the Arrow episode to feel like an Arrow episode, which was always our approach in the past. Last year, we intentionally added time travel to the crossover episode of Legends because it was the Legends episode. This year we're really approaching it as one big event. We really are telling a story that's agnostic as to which particular hour of television it happens to be airing."
The Arrowverse crossover airs Monday and Tuesday, November 27 and 28, on The CW.