Star Wars Bits: Captain Phasma's Backstory, 'Han Solo' Status Update, And Billie Lourd Remembers Carrie Fisher, And More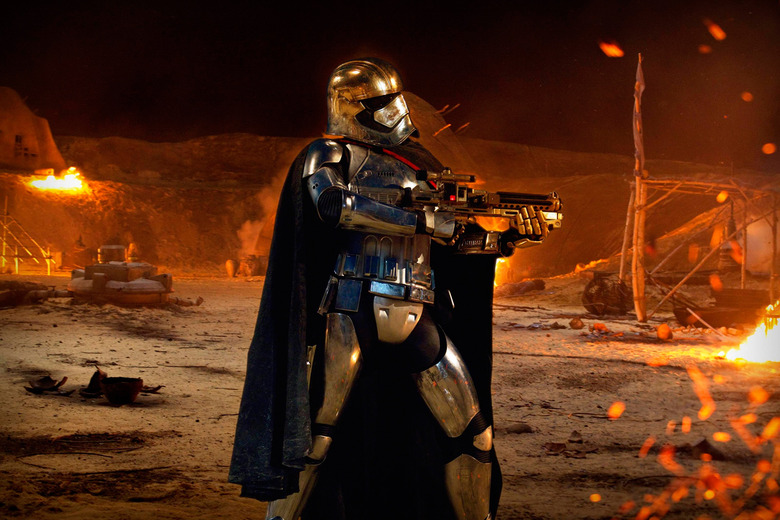 In this edition of Star Wars Bits:
Gwendoline Christie got much deeper with Captain Phasma.
Everything's fine here with the Han Solo movie, how are you?
Billie Lourd talks working with, and life after, Carrie Fisher.
And much more...
Gwendoline Christie must've gotten some coaching from the Lucasfilm team, because at TCAs she's been uncharacteristically open about her role as Captain Phasma in Star Wars: The Last Jedi. Just a few weeks ago at Disney's D23 Expo, she stonewalled every question, even telling StarWars.com, essentially, "I am in the movie."
In an interview with IGN, she told them she hasn't gotten to read the new Phasma novel or anything about the upcoming comic, both of which seek to fill in some backstory (and the blanks between Force Awakens and Last Jedi), but worked closely with Rian Johnson on filling out the character, calling him a "master" at his craft:
"Rian and I did have long conversations about this character and who she was, and I was utterly delighted in how willing he was to listen to my ideas and really thrilled to exchange them with him and hear his. He really is a master writer and director, and I think we've seen that in the films that he's made but I think that we truly will see that in the depths to which he goes in The Last Jedi."
She echoed those statements with EW on the same press tour, saying he goes "deeper [and] further" with the characters and their relationships:
"I was just so delighted to be in The Last Jedi, and for that to be directed by Rian Johnson. When Rian invited me to read the script, have my thoughts and then to come and discuss it with him — as he did all of the cast members — I was really thrilled to have an opportunity of a forum where I could put my ideas forward and have some back and forth about where we felt things were and where we felt they can go. What I can tell you about the next Star Wars film is I think Rian does an exceptional job of going deeper, of going further, and really exploring what these relationships are."
In a Instagram far far away....... ???? (Or in pinewood backlot filming #untitledhansolomovie ) One CHEWBACCA (and one @emilia_clarke) wanted to THANK EACH AND EVERY ONE OF YOU 10 MILLION WONDERSTAR-INCREDIBLE DREAM MAKERS for following me!!! ???????? Yup. Those dreamboats at @starwars said yes, this furry ball of joy could help me thank you personally... @joonassuotamo you are more than just a cute nose and lotta hair to me. #allhailthewookieofourdreams #behindthescenes #behindthelove ????????????????????????????????????????????????????????????
A post shared by @emilia_clarke on Jul 28, 2017 at 10:38am PDT
If you've been dying to see a Wookiee essentially act like a Muppet, have we got the instagram post for you! Emilia Clarke, who is playing an as-yet-unrevealed character in the as-yet-untitled Han Solo movie, posted a celebration of having 10 million instagram followers. In the short video, she told Chewbacca (played by Joonas Suotamo, who is the solo Chewie after sharing duties in The Force Awakens with original actor Peter Mayhew) her exciting news, prompting him to run around excitedly, then run up for a hug. Let the Wookiee hug, Emilia.
Working out a shot w/cinematographer Bradford Young for #UntitledHanSoloMovie pic.twitter.com/z4ZYFZXBE4

— Ron Howard (@RealRonHoward) July 28, 2017
When directors Chris Miller and Phil Lord were staffing up for Han Solo, they made a big hire in director of photography Bradford Young. With his work on Arrival and Selma, he showed an incredible eye for realism and personality in the quietest and most out-there of moments alike. Director Ron Howard confirmed that Young has stayed on the film after the directorial shift. That brings a nice bit of continuity to the production and how the entire movie, with three directors splitting time, will still be recognizable as one product.
"Bradford is outstanding, but I'm not saying anything the industry doesn't know. And he's a good guy, too. Integrity every which way u look," Howard tweeted later.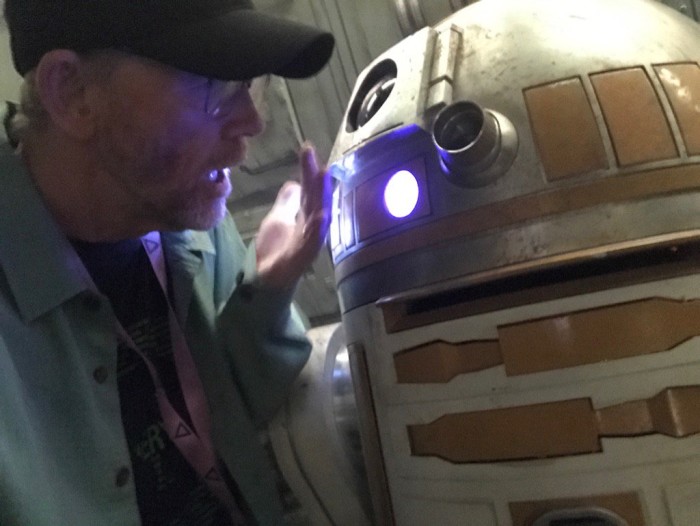 Speaking of Ron Howard, he spoke with THR and assured them (and fans) that Han Solo is "coming along great." Interestingly, he very pointedly noted how much he loved the script, which was a rumored point of contention between Lord/Miller and screenwriter Lawrence Kasdan:
"It's a fantastic script, a great cast, and I am having a fantastic creative experience with it. It's a great young cast, incredibly strong – smart, funny people who love their characters and love being part of this. I think we'll be able to do something that is a lot of fun."
In the newest Star Wars Explained, they look at Inferno Squad, the newest novel, which looks at things from the Imperial side of the war. Specifically, they talk about the remaining Partisans, the extremist faction of the Rebel Alliance once led by Saw Gerrera, and what happened to them after his (and a large number of theirs) death. Spoilers ahoy!
Here it is, the FINAL cover for FROM A CERTAIN POINT OF VIEW, with all authors revealed. Coming this Oct! #OperationBlueMilk pic.twitter.com/enmBNJWzGn

— Star Wars Books (@DelReyStarWars) July 28, 2017
The full list of authors in the short story collection From a Certain Point of View was announced, and it is a doozy. Kieron Gillen and Greg Rucka are newly announced additions, along with fellow comic writer mainstays Paul Dini, Matt Fraction, Kelly Sue DeConnick, and Charles Soule. Gary Whitta, who wrote the story draft for Rogue One, actress Ashley Eckstein, the voice of Ahsoka Tano, and Wil Wheaton, jumping "sides" as you will from Star Trek are other notable additions. About a third of the contributors are women, and several returning Star Wars novelists are in the book. It's a heck of a collection of talent.
Luke Starkiller. Ralph McQuarrie inspired animation. @starwars pic.twitter.com/IXvhERgzz4

— Daz Tibbles (@daztibbles) July 30, 2017
In a neat little sample animation, Darren Tibble posted "Luke Starkiller," as conceived originally by George Lucas and Ralph McQuarrie, igniting his yellow laser sword. It's damn cool seeing McQuarrie art in even limited animation. Lucasfilm, hire this dude to adapt "The Star Wars" into animation, please!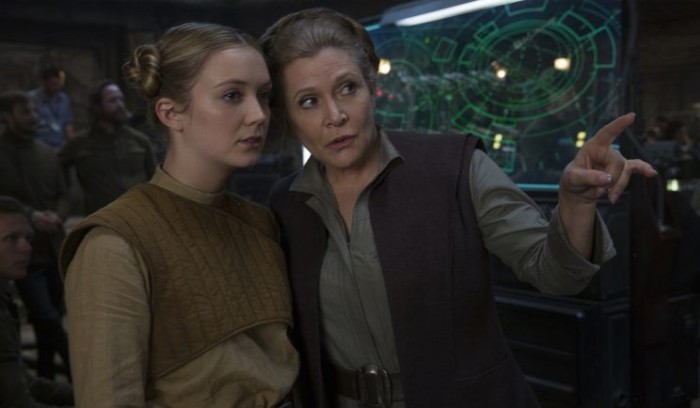 A new interview with Billie Lourd in Town and Country talked more in-depth about her relationship with both her mother, Carrie Fisher, and her grandmother, Debbie Reynolds, as she continues to grieve and move forward with her own life. Her first professional acting gig that she shot was in fact The Force Awakens, with her mother. When Carrie saw her in action, she told her she had to continue acting.
My mom actually pointed me toward it. The first thing I did was Star Wars: The Force Awakens. J.J. Abrams called and said they couldn't find anybody for this one part and would I come in and read for it. I didn't get the part, but I got another extra part with three lines. The thing is, I was bizarrely comfortable on set. My mother would pull me aside and be like, "It's weird that you're so comfortable here. This is the most uncomfortable environment in the world. If you're comfortable here, you should do this."
The young actress revealed she hopes to record an album before she's 30, that she's enjoying acting, some lessons she learned from her mother, and that she'll be keeping Fisher's house, moving into it with some friends. It's a lovely and personal look at a young woman moving forward.
Ahem...#BIGAnnouncement #ScumAndVillainyCantinahttps://t.co/X5rCZg1zJr pic.twitter.com/8lbwEUrNQR

— Scum & Villainy Cantina (@SVCantina) August 2, 2017
The originally temporary pop-up Star Wars themed bar, "Scum and Villainy Cantina," is going permanent! They're turning into a slightly more regular geeky bar, but don't worry, they're keeping the Star Wars theme and still encourage fans to dress up when they come by. So if you didn't get in during the limited runs, don't worry, you're good to still find a chance to attend!