The Next CW DC Superhero Show Crossover Air Dates Announced, With A Twist [TCA 2017]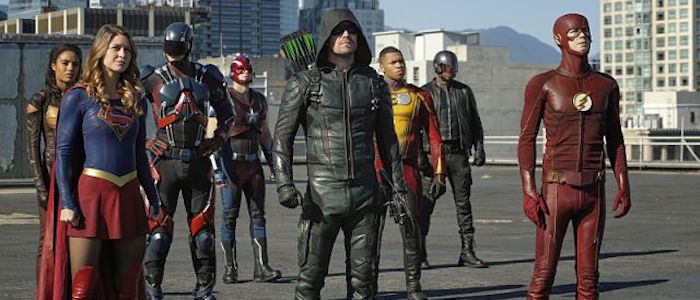 The CW announced before the Television Critics Association that this year's four part Arrowverse crossover will air over two nights. Monday, November 27 will begin with Supergirl at its regular time at 8:00 P.M. followed by Arrow. Tuesday, November 28 will conclude with The Flash and Legends of Tomorrow. CW President Mark Pedowitz spoke about the special scheduling, which differs from last year's four night crossover.
"Last year's crossover was I believe the most successful week in CW's history in terms of ratings," Pedowitz said. "We felt in this particular case to have Flash and Legends paired, it would be better and tighter in terms of storytelling to do a two part miniseries. We thought this was a tight concise way of doing it. We had a lot of conversations with the executive producers, the studio, our own scheduling people, our marketing people and we thought this was the tightest way o do it. Next year maybe we'll go back to four nights."
The plot of the crossover is still under wraps but Pedowitz teased, "Let me just say, romance is in the air."
Monday will serve as the week's sole airing of Arrow. It will not repeat on Thursday November 30.
Speaking about each of the DC comic book series on The CW, Pedowitz offered small updates on each.
"Supergirl has to find love again," he said. "Whether Mon-El comes back or not, who the hell knows?"
On The Flash, "I think we're done with Speedster villains and we're going to try to find the lightness Barry Allen had in the first two seasons."
Arrow enters its sixth season in the aftermath of the island's explosion. "Spoiler alert, potentially one of the people survive on the island," Pedowitz said. "Legends had a rough first season. They had the most fun second season anyone could have. It's just a fun romp and I think they'll continue this year."
The CW will also air Black Lightning in the 2018 midseason. Originally pitched to Fox, Pedowitz immediately jumped on the series when they passed.
"Peter Roth and I had one quick discussion about it," Pedowitz said. "I wanted to be in business with [creators] Salim [Akil] and Mara [Brock Akil]. I've wanted to be in business with them for a long time. Mara in particular I tried to recruit when I was at ABC studios. I think they're going to bring a perception and point of view we don't have in our other superhero shows."
Years ago, The CW was developing a Wonder Woman prequel from Allen Heinberg. Heinberg is a credited writer on the film Wonder Woman. Now that Wonder Woman is a movie franchise, The CW is not pursuing the series, which was called Amazon, and Pedowitz did not recall if any of the pilot script ended up in the film.
"I know Allen got credit for the movie, WGA credit," Pedowitz said. "I don't know."
The network's Charmed reboot is also on hold as creator Jennie Snyder Urman redevelops it.
"It's in redevelopment waiting to see what Jennie Urman wants to come back with," Pedowitz said. "She's busy with Jane [The Virgin]. It's early in the process but we're redeveloping it and hopefully it will come out."