'Harry Potter And The Cursed Child' Is Coming To Broadway And Many Original Cast Members Are Coming With It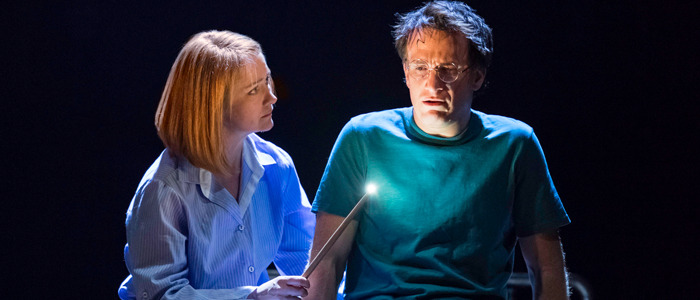 We've known for a while that Harry Potter and the Cursed Child, the award-winning two-part play that continues J.K. Rowling's beloved story of The Boy Who Lived, would be coming to Broadway, but it was unclear whether the production would recast any of its key actors when it came to American shores. Now we know that many of the actors from the original West End production will reprise their roles when the show moves to New York City early next year. Read on to learn the whole Harry Potter and the Cursed Child Broadway cast.
According to Broadway.com, seven of the original play's stars will be making the jump to the Big Apple: Jamie Parker will play Harry Potter, with Noma Dumezweni as Hermione Granger, Paul Thornley as Ron Weasley, Poppy Miller as Ginny Potter, Sam Clemmett as Albus Potter, Alex Price as Draco Malfoy, and Anthony Boyle as Scorpius Malfoy.
Rounding out the rest of the cast will be David Abeles, Brian Abraham, Shirine Babb, Jess Barbagallo, Stephen Bradbury, Lauren Nicole Cipoletti, Joshua De Jesus, Jessie Fisher, Richard Gallagher, Susan Heyward, Geraldine Hughes, Edward James Hyland, Byron Jennings, Katie Kreisler, Joey LaBrasca, Andrew Long, Kathryn Meisle, Angela Reed, Dave Register, Adeola Role, James Romney, Malika Samuel, Alanna Saunders, David St. Louis, Stuart Ward, Madeline Weinstein, Alex Weisman, and Benjamin Wheelwright.
In a statement, director John Tiffany said:
"We have assembled an extraordinary cast for Broadway. Our Cursed Child family is growing with twenty-eight brilliant new actors bringing their unique talents to our production. I also can't wait to dive back into it with seven of our original London cast members reprising their thrilling performances for New York audiences. The adventure continues."
The play, which is divided into two parts meant to be viewed consecutively over two days or in a marathon session, is based on an idea by J.K. Rowling, John Tiffany, and Jack Thorne, and written by Thorne. If that name sounds familiar, it's because Thorne was just tapped to rewrite Colin Trevorrow and Derek Connolly's script for Star Wars: Episode IX, which makes him the first writer to have experience in both of those fan-favorite movie universes.
Rowling has previously indicated that Cursed Child will be the end of Harry Potter's story. Not too long ago, our own Jacob Hall wrote an editorial about the play and the death of the happy ending, so I'd encourage you to read that if you haven't yet. The play begins previews at Manhattan's Lyric Theater in March, and officially opens on April 22, 2018.
Harry Potter and the Cursed Child follows Harry as he grapples with a past that refuses to stay where it belongs. His youngest son, Albus, must struggle with the weight of a family legacy he never wanted. As past and present fuse ominously, both father and son learn the uncomfortable truth: sometimes, darkness comes from unexpected places.