'Hellboy' Reboot Adds Ian McShane As Professor Broom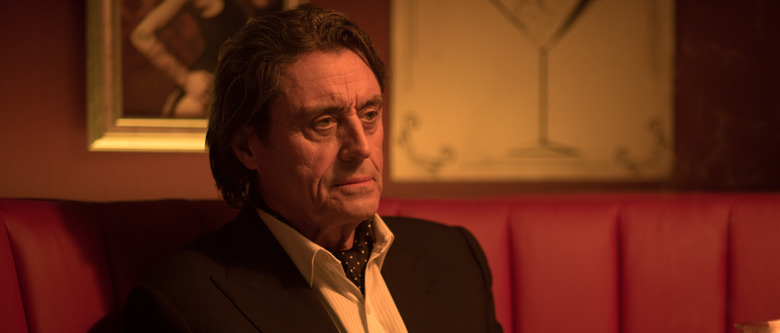 Ian McShane is joining Hellboy: Rise of the Blood Queen film as Professor Broom.
The American Gods and Deadwood actor will lend his signature air of gravitas to the Lionsgate and Millennium reboot of the Dark Horse comic, which will star David Harbour as the titular demonic superhero and is directed by horror guru Neil Marshall.
McShane is confirmed to be playing Professor Trevor "Broom" Bruttenholm, Hellboy's adoptive father who discovered the demonic creature as a child and raised him under the U.S. Army and the Bureau for Paranormal Research and Defense, according to the Hollywood Reporter.
Though McShane is hugely in demand for genre TV and movies — for good reason, the man can make a phone book sound like Shakespeare — this is an unusual piece of casting. Professor Broom has traditionally been a bookish, lean man who has been the brainy counterpart to the more brash Hellboy and the soldiers who often accompany him on missions.
He was played by the gentlemanly John Hurt in the first two visually stunning Hellboy films, Hellboy and Hellboy II: The Golden Army helmed by Guillermo del Toro and starring Ron Perlman as Hellboy. McShane can pull off the weary gentleman no sweat, but his character type is generally much gruffer and hypermasculine than Professor Broom has previously been depicted. Even his more subdued role as the cryptic Mr. Wednesday in American Gods is a big 180 from the elderly intellectual Hurt portrayed in 2004's Hellboy.
This may be my latest impression of McShane from his turn in American Gods, but he seems to give a sort of Machiavellian air underneath his affable exterior, which would be a change for Professor Broom, who has typically been a supportive and kind adoptive father to Hellboy. The character actually dies early on in the comics — and in del Toro's Hellboy film, as seen in the above clip — but appears in flashbacks, where he plays a major part in Hellboy's life as he grows up.
The Hellboy reboot is helmed by Neil Marshall, known for his work on Game of Thrones and the cult horror hit The Descent. Larry Gordon and Lloyd Levin are producing the film along with Mike Richardson of Dark Horse Entertainment. THR says the story of the second big screen iteration of the Dark Horse comic will see "the hero squaring off against a medieval sorceress who seeks to destroy humankind."
The film will reportedly be closer to the nightmarish vision of Mike Mignola's comics, which are significantly more noir and grimy than Del Toro's twisted fairy tale take in his Hellboy films. McShane, with his ability to balance gravitas, affability, and malice, may lend well to Marshall's take on Hellboy.
The production aims to start shooting in September, at locations in the United Kingdom and Bulgaria. No release date has yet been confirmed.