'The Honeymooners' Remake Not Moving Forward At CBS [TCA 2017]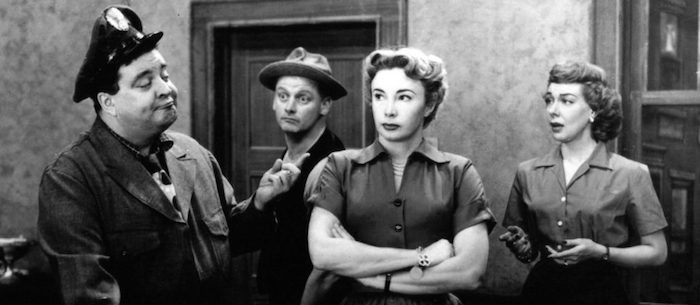 New CBS President Kelly Kahl and new SVP of Programming Thom Sherman met the Television Critics Association for an executive session. After the panel, /Film approached Sherman to ask about the status of their previously announced remake of The Honeymooners, but Sherman indicated that it is off the development slate.
"I don't believe that that's going forward," Sherman said. "It's not on my development slate right now. I only know that it was developed. Nobody's brought it up to me since I've gotten there. I certainly will ask, but I don't believe that that's going to be moving forward."
CBS is also initiating another attempt at How I Met Your Dad. The spin-off was in development with Greta Gerwig immediately after How I Met Your Mother had its series finale, but the pilot was not ordered to series. Sherman could not speak about the latest iteration yet.
"It's too early to tell," Sherman said during the executive session. "I've just gotten here. I haven't had any conversations with the creators."
One big piece of news for fans of the sitcom Kevin Can Wait is how the show will handle the absence of Erinn Hayes. Fans have been concerned that Hayes would no longer be on the show, and that Kevin James' former King of Queens costar Leah Remini would be made a regular. The news is grim for Donna Gable, formerly played by Hayes.
"The character will have passed away," Sherman said. "We will be moving forward in time and catching up at a later date."
That's definitive. However, Sherman said Kevin Can Wait is not becoming his previous sitcom, The King of Queens. "I think the show speaks for itself," Sherman continued. "Obviously, the chemistry between Kevin and Leah was amazing in the stunt episodes we did at the end of last season."
CBS All Access will have a panel for Star Trek: Discovery at the end of the day. The series premiere will air on CBS, but Kahl was clear Discovery belongs to the streaming service.
"To be perfectly honest, it's a show I would love to have on CBS because I think it's going to be a great quality show," Kahl said. "This was a show that was developed specifically for CBS All Access. It's part of the business model of CBS All Access. We're happy to be hosting the first episode on CBS but then it's going to live on CBS All Access."
We'll have a report on the Star Trek: Discovery session tomorrow on /Film.