'The Dark Tower' Endured A Bumpy Post-Production And Expensive Reshoots After Poor Test Screenings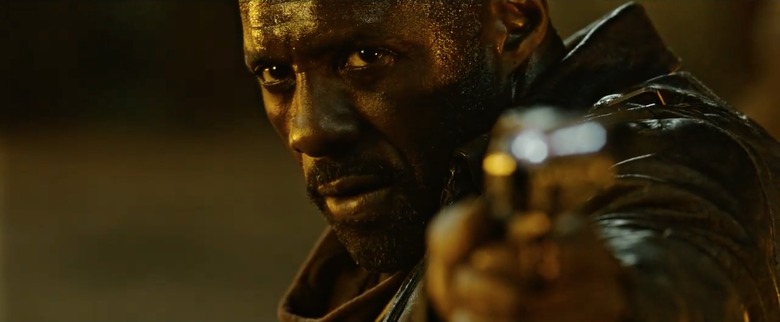 After years and years of waiting for an adaptation of Stephen King's epic series, The Dark Tower is now only days away from opening in theaters. Will general audiences jump right into King's bizarre fantasy world? It's currently on track to make somewhere around $25 million this weekend, but the accessibility of the story seemed to be a concern throughout the making of the film, leading to a series of creative clashes between the filmmakers and executives at Sony.
Below, learn about some The Dark Tower behind the scenes troubles.
According to Variety, when director Nikolaj Arcel (A Royal Affair) turned in an early cut of the film, Sony Pictures chief Tom Rothman and the co-founder of MRC, Modi Wiczyk, considered bringing in another filmmaker to re-cut the movie. Both Rothman and Wiczyk denied this, telling Variety they only offered notes. At one point, a cut of the film reportedly ran over two and a half hours. Now, it's been stripped to the bone to a lean 88-minute runtime.
The story claims Rothman spent hours in the editing room making suggestions. Variety writes Rothman and MRC didn't bring in another filmmaker because it would've been too expensive. They also suggest The Dark Tower was a case of too many cooks in the kitchen.
MRC had "kill rights" on the marketing to the final cut. When it came to advertising materials, MRC and Sony had to both agree on what to use. If either Sony or MRC didn't like a cut of the film, it got scrapped. Another strong voice in the mix was King's, who had the power to veto creative decisions.
Producers Ron Howard (who was set to direct the film when it was at Universal) and Akiva Goldsman remained very involved as well. After some underwhelming test screenings, Howard offered notes on music and Goldsman tried to help get the movie into the right shape. In a statement to Variety, Arcel said he felt only supported throughout the making of The Dark Tower:
On a film with two studios and powerful producers, obviously there is much passionate creative debate on how to work certain ideas or beats. But I felt supported throughout, and they all looked to me for answers. If someone had jumped into my editing room and taken over — I would have left instantly.
Modi Wiczyk also issued this statement:
We shot this on time and on budget. We didn't go over our schedule by even a day. We would never marginalize or remove a director or dare to edit a film.
Last October, there were three test screenings of the $66 million fantasy film. Audiences were left confused by the world. After the poor reactions to the movie, $6 million was spent on reshoots to provide more backstory for Roland (Idris Elba) and the Man in Black's (Matthew McConaughey) relationship. Five minutes of exposition was cut, too, and a new scene was shot to bring together ideas from the rest of the movie. We've heard these reshoots were a little more extensive than that, with the ending undergoing some tinkering as well. Critics have yet to see the final cut of the movie, but one person who's been supportive all along, King, is a fan of the adaptation. After seeing The Dark Tower, he told Arcel "You have remembered the faces of your fathers," quoting a phrase from the source material.
The Dark Tower opens in theaters on August 4.