How The 'Big Bang Theory' Prequel 'Young Sheldon' is Like 'The Wonder Years' [TCA 2017]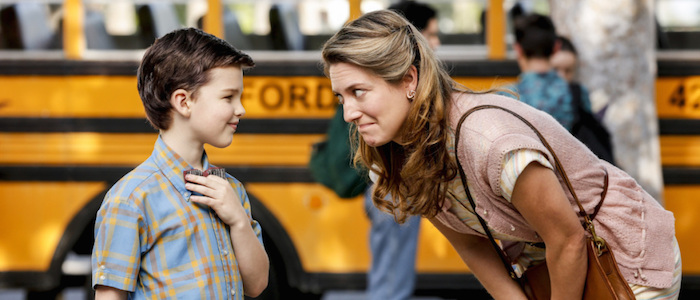 CBS presented a panel on their Big Bang Theory prequel, Young Sheldon, to the Television Critics Association today. Iain Armitage plays Sheldon Cooper at age nine in the year 1989, with Jim Parsons providing voiceover. It is creator Chuck Lorre's first show that is not filmed in front of a studio audience, and speaking about the new format, Lorre compared it to the classic '60s nostalgia show The Wonder Years.
"We absolutely discussed Wonder Years when we were writing," Lorre said. "I never worked with narration before. Narration changes the way you write. We looked for inspiration in shows that used it brilliantly. Nobody did it better than Wonder Years."
The Sheldon viewers meet in 1989 may be a softer Sheldon than the one on The Big Bang Theory. "We made a decision early on that we're going to enter his life when he's very naive," Lorre said. "He's not yet become cynical and overly controlling. He has his idiosyncrasies, but he's a much more vulnerable and naive character when we enter his story in 1989."
Should Young Sheldon be successful, Lorre has ideas for stories that could tie the two shows together. "We've discussed the possibility that the stories we tell on Young Sheldon can echo into The Big Bang Theory," Lorre said. "People that come into his life in 1989 and impact on him, we might meet them on The Big Bang Theory 30 years later. We're definitely discussing the ripple effect the show is going to have going forward in time. We're not there yet."
Sheldon's past has been discussed throughout the 10 seasons of Big Bang Theory. Co-creator Steven Molaro looks forward to staging some of those anecdotes on Young Sheldon. 
"We know he tried to get uranium to build his own reactor to give the town free electricity," Molaro said. "We know he had his sister push him around on an office chair with a Speak n Spell to be Stephen Hawking, but people thought he was R2-D2."
Other discoveries about Young Sheldon may be surprising. "We learn he doesn't even like comic books yet," Molaro said. "He likes to go to church with his mom even though he doesn't share her views. There's a bit of discovery about Sheldon at 9 we're having fun with."
Sheldon's family includes parents George (Lance Barber) and Mary (Zoe Perry) and siblings George Jr. (Montana Jordan) and Missy (Raegan Revord), with Annie Potts as the legendary Meemaw.
"Part of the fun of writing the series was not just how Sheldon develops, but how his family has to adapt," Lorre said. "Everyone in the family is affected by having a child that's remarkable."
Molaro added, "You can look at any character in that house, their story is as interesting as Sheldon's."
The young cast was partly why Lorre and Molaro chose the single camera format. "It's more intimate," Lorre said. "The pacing obviously is very different. The actors aren't having to hold for laughs. They're not playing to the proscenium. We knew going in we were going to be working with a cast of young children and it seemed like the more appropriate way for them to do the best work was in a closed setting where they had the time to develop these characters."
The Big Bang Theory has revealed that Sheldon's father died when he was 14, and Sheldon did not have a good relationship with him either. Beginning with Sheldon at nine, the show could take some time to get to that point.
"This is five years before that date we discussed in the series," Lorre said. "People change and grow and develop and things happen. We don't necessarily have to follow an exact timeline. A season of Young Sheldon doesn't have to be a year. It can take place over a couple of months so we have freedom with the backstory. There's a great deal more to George than we were led to know in Sheldon's anecdotes about his dad."
Parsons is also an executive producer of Young Sheldon. "It is great fun to get to record this while watching the scene that I'm recording over," Parsons said. "It's unlike anything I've done. At this point, it's still my knowledge of the adult character that's carrying me and commenting on the memory he's sharing with you. There's a whole thing about Iain and everybody in the cast, but especially the three kids. This enthusiastic embrace that's all too easily lost the more you work. It's such a wonderful reminder, a basic 101 lesson about the enthusiasm and joy with which to embrace these opportunities. I don't like to think I've forgotten any of that but seeing someone like Iain reminds me, God, it's fun."
Young Sheldon premieres September 25 on CBS.