Dave Bautista Is Working On Valiant's 'Eternal Warrior' Movie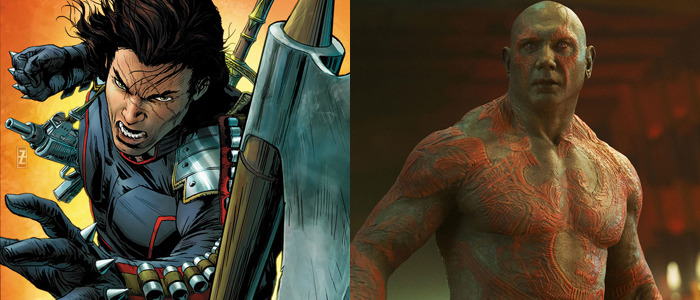 Valiant Entertainment owns the largest independent superhero universe in comics, and they've been attempting to get a Valiant Cinematic Universe off the ground for years. But after a handful of stops and starts, it seems like they're finally gaining some momentum: Jared Leto (Suicide Squad) was recently pegged to play the comic assassin Bloodshot and now Dave Bautista (Guardians of the Galaxy) is developing an Eternal Warrior movie about an immortal character who must protect the Geomancer, an oracle born with the power to speak for the Earth itself.
This Eternal Warrior project is technically unannounced at this point, but we have a source who confirms that it's officially in the works. And it's not like Bautista is being shy about his involvement with the movie:
Glad you asked cuz I'm really excited about EW. We are currently working to get the script fan worthy and then we'll be full on from there. https://t.co/aHO7DVPBVY

— Dave Bautista (@DaveBautista) August 1, 2017
Before today, I hadn't read any Valiant Entertainment comics, but our own Jacob Hall speaks highly of the work the company has produced in recent years. For those of us who aren't in the loop with what they've been doing lately, there's a free comic available on their website for a title called The Valiant, which serves as an Eternal Warrior origin story as well as an Avengers-style team-up tale that incorporates characters like Bloodshot, Archer & Armstrong, and X-O Manowar.
The comic lays out the Eternal Warrior's history: he's been wandering the Earth for 10,000 years, trying and failing to protect Geomancers from a being known as The Immortal Enemy that takes a different monstrous form each time it appears. Hellbent on wreaking havoc and bringing darkness to the world, the Immortal Enemy bests the Eternal Warrior three times, killing the Geomancers in front of him and plunging the Earth into chaos. Millenia later, as the Enemy resurfaces to attack a new Geomancer, the Eternal Warrior may finally be able to stop it with the help of The Valiant, a force greater than any single person.
Although Bautista seems to be eyeing Eternal Warrior himself, the comic version of the character is much skinnier than the bulky former wrestler. Perhaps Bautista could be a better fit for the part of Armstrong (of Archer & Armstrong fame), a drunken immortal who happens to be the Warrior's brother. Baustista has proven to be a charismatic and physical performer who could likely handle any of these parts with ease, so I look forward to seeing how this comes together.
In the meantime, Valiant Entertainment has movies like Harbinger, Bloodshot, sequels for each of those, and a Harbinger Wars crossover film planned, so perhaps Bautista will come into the mix once their cinematic universe has been properly established...I just hope those movies perform well enough for us to be able to eventually see this one.