The Water Cooler: Building A Podcast Studio On The Cheap, A Live K-Pop Concert, And The Best Board Game Site On The Internet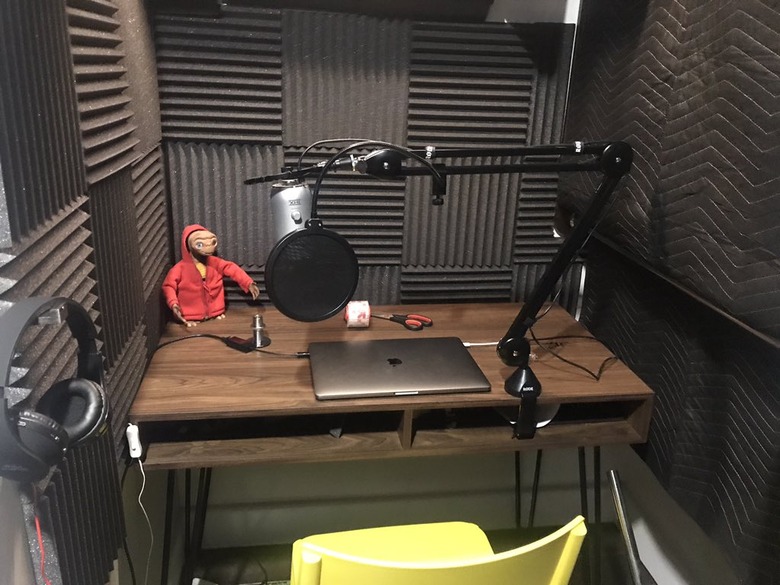 Welcome to The Water Cooler, a weekly feature where the /Film staff is free to go off-topic and talk about everything except the movies and TV shows they normally write about. In this edition: Ben Pearson shares gorgeous video from his trip to New Zealand, Hoai-Tran Bui waxes poetic about an amazing concert experience, Jacob Hall recommends the best board game website on the internet, Ethan Anderton writes about a truly insane comedy show, Peter Sciretta attempts to build a low-budget podcast studio, and Jack Giroux catches up with a promising new TV show.
Ben Pearson Edited a Travelogue of His New Zealand Adventures
Last November, my wife and I visited New Zealand for the first time. We were able to spend two weeks there and road tripped across both islands of the country, hopping on a plane a couple times to bounce back and forth between the North and South Island and staying at a different Airbnb almost every night. We knew we wanted to create a video to serve as sort of a modern scrapbook of our time there, so using a Canon 6D camera, two iPhone 7 Plus phones, and a GoPro Karma drone, we filmed everything we could along the way (my wife had over 1,000 videos on her phone alone).
After arriving home with loads of footage, it took us several months to sift through all of it and condense it down into a montage that captured the scope of our trip in a manageable length. We edited the video in Final Cut Pro on the weekends in-between other engagements, and finally finished it a few days ago. I wanted to share it with you all and encourage you to visit if you can, because it has several of the most beautiful places I've ever seen. The country has everything: mountains, rainforests, glaciers, and beaches, and just about everywhere you look, there's another breathtaking view. Plus, it's a paradise for Lord of the Rings fans, and we were able to take a tour of Peter Jackson's Weta Workshop in Wellington and walk around the real, actual Hobbiton in Matamata. Eating a feast fit for a Hobbit in a recreation of The Green Dragon pub was a surreal, wonderful experience we'll always cherish. New Zealand, we love you.
Hoai-Tran Bui Saw G-Dragon in New York During His World Tour
I'm a teensy bit obsessed with G-Dragon, the leader of the super group BIGBANG and informally called the "King of K-pop." It's not because of his achievements or his worldwide recognition — though that helps with the bragging rights — nor is it because of his fluid, androgynous looks that allow him to break gender boundaries in a way that's unheard of in conservative South Korea. It's because of how bold he is with his music, which he puts meticulous thought and commentary into. He's always been boundary-pushing and it fascinated me, whether he spearheads the phenomenon of K-pop boy bands writing and producing their own songs, or whether he's experimenting with tropical, electronic, or trap genres in his music. And let's not even get started on his and BIGBANG's music videos, which he has helped to turn into some of the most avant-garde and trippy videos seen in K-pop.
Music videos are strangely a huge part of K-pop, virtually because of how visual the medium is — it's honestly less about the music than about the whole package. That was clear during G-Dragon's Act III, M.O.T.T.E Tour in New York show this past Thursday, which kicked off the night with...music videos. When G-Dragon enters the stage, it became an even flashier musical extravaganza, replete with fireworks, smoke machines, color-coordinated back-up dancers, and a blue-skyed background that evoked The Truman Show — an intentional reference, as G-Dragon closed the show with "And if I don't see you, good afternoon, good evening, and good night."
Though I should note that as visually stunning as this concert already was, it was actually much more subdued than his past world tour and shows with BIGBANG. You see, this was the tour based around his self-titled EP Kwon Ji Yong, named after his real name. And this was his last tour before he enlisted in South Korea's military for the country's mandatory two-year service. So the whole concert was bittersweet, as he went through his whole discography, from his debut album Heartbreaker, to my favorite album One of a Kind (every track on that EP is a BOP), to Coup D'Etat and Kwon Ji Yong. (Before you ask, yes, he's still in BIGBANG because he started his solo career while still making hits in the boy group.) The show was structured chronologically, but fit perfectly with the message he wanted to send his audience: that he was a superstar at the top of his game, but the top is a lonely place and he wanted to start a new life as the normal "Kwon Ji Yong." Whether he actually was able to consolidate those dual identities is yet to be seen. It was a stripped down version of the G-Dragon I knew, though he couldn't really contain his flamboyance even in the show's most vulnerable moments (the angsty smoke machines really sold it).
Hearing his songs live, though I couldn't understand most of them, was a worthwhile experience. It gave me a new perspective on some of my favorites — I had no idea how much I Love It featuring Zion. T was inspired by Michael Jackson until I heard G-Dragon's high-pitched yelping throughout the song — and a new perspective on one of my favorite artists. Though the concert felt like it was part of a goodbye tour, I hope it isn't. I want to see Kwon Ji Yong again.
Jacob Hall Has Been Continuously Impressed by Shut Up & Sit Down
As regular /Film readers know, Peter Sciretta and I share a mutual love of tabletop gaming. In fact, I'm proud that we're the only major movie website on the internet to have a (somewhat irregular) column dedicated to the spaces where cinema and board games intersect with Cardboard Cinema. I love challenging puzzles. I love emergent storytelling. I love beautiful objects that can be held and admired. Most of all, I love having a fresh and fun excuse to interact with my friends. And modern board gaming supplies all of that. This is a medium rich in drama and humor and intelligence – there has never been a better time to be playing board games, if you want to break out that overused turn of phrase.
And since a movie website like us can't devote all of our time to the tabletop realm, I turn elsewhere to get my fix. There are many websites dedicated to the hobby and even more YouTube channels, but my favorite is Shut Up & Sit Down.
There are tons of great board game reviewers and critics out there. There are people with a vast knowledge of the industry, podcasts hosted by folks who play everything, and websites dedicated to the minutiae of every game under the sun. But Shut Up & Sit Down approaches gaming with a critical eye and sense of humor, blending wordplay and comedy with genuinely thoughtful analysis that treats the board gaming medium as art worthy of being dissected. Board games are an engine for having a good time and Quintin Smith, Paul Dean, Matt Lees, and their various other contributors are interested in what makes these engines tick. And in making you laugh.
I'm a real SU&SD hipster (I've been watching/reading/listening since they were fresh-faced youngsters making goofy videos with no production quality!) and they've only gotten better and better over the years. Their videos look and sound great, their perspectives have shifted to accommodate the changing board game landscape, and seeing them in a new video is like meeting up with an old friend. I've come to trust them...even when I know they're dead wrong about a game I love and oh-my-god they are so wrong and I want to strangle them, their analysis is smart enough to create a conversation, not an argument.
The video review of Secrets seen above is their latest video. Their website has so many more, including tons of written reviews. I recommend paying them a visit.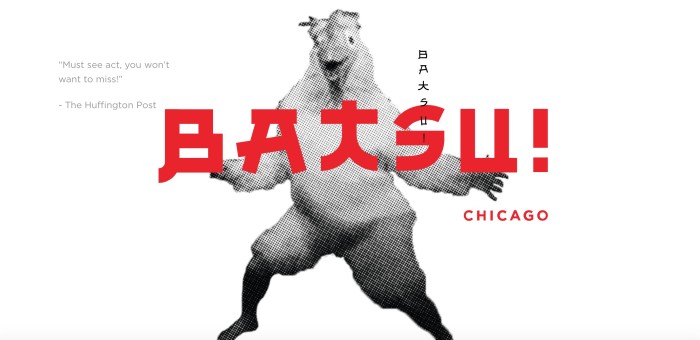 Ethan Anderton Fell in Love with the BATSU! Comedy Show
For a friend's birthday, I headed into Chicago to catch a show called BATSU! It takes place in the upper level lounge of Chicago's Old Town sushi bar Kamehachi, and it's one of my favorite things that I've ever seen in in the city.
BATSU! means "penalty" or "punishment," and that's exactly what is dished out to four "warriors" who complete in a series of comedy challenges. Those challenges are improv games that you've seen played on the likes of Whose Line Is It Anyway?, Second City or Improv Olympic, and whenever one of the participants loses these games, the audience summons BATSU! upon them. That includes punishments like getting shot with paintballs, getting a giant rubber band snapped against their body, having an egg cracked on their head by a giant chicken, or eating sushi with soy sauce off someone else's hairy body. It's basically a Japanese game show mixed with some of the best improv comedy you've ever seen.
For those looking to celebrate a birthday or bachelor/bachelorette party, BATSU! likes to get the crowd involved in the proceedings by having a few members participate in the games. But that means they also have to endure some punishments themselves. There's also the typical audience participation to contribute to the games as well.
If you're in the Chicago area, I recommend you round up a group of friends and get tickets to BATSU! Check out the official website right here.
/Film Podcast studio is coming together pic.twitter.com/vf1kJqmObG

— /Film (@slashfilm) August 2, 2017
Peter Sciretta is Building a Podcast Studio
As you've probably noticed, we've launched a daily podcast (called, not so cleverly, /Film Daily). The quality of the first few episodes was very rough. I hate to admit this publicly, but I've had a Blue Yeti mic for probably 7 years now and found out I was speaking into it incorrectly (apparently, you're supposed to speak into the side of the mic, not the top like a traditional microphone) so every podcast appearance I've made over the last decade probably sounded bad. At the encouragement of /Filmcast maestro David Chen, I have taken a number of steps to up the quality level of the show, which has led to me creating a podcast studio.
Why create a podcast studio? Noise, mainly. My condo is not really set-up for good acoustics, as it's mainly a large one-room loft that is very echoey. This also means that when the air conditioner goes on or my dog Pixel decides to take a drink, you can hear it from clear across the room. So I came up with the idea to turn my closet into a podcast studio on the cheap, and while I'm not completely done, you can see from the image above that the project has progressed quite nicely.
I bought a $59 desk at Target and a yellow chair at Ikea. The acoustic paneling is around $15 for a 12 pack on Amazon. I learned that the corners in the room still provided a bass echo, which required me to buy some bass traps, basically acoustic panels that fit in the corners of the ceiling to stop noise reflections. I got a pop filter for my Yeti mic, which prevents pops in the recording, and have mounted the mic to a boom arm, which was probably the most expensive part of this conversion at $90.
I have yet to record in the new podcasting studio as I somehow didn't realize that the internet signal was not good enough to record over Skype from inside a closet. So yesterday, I got a network cable for the closet. I'm very excited to try out the new studio on tomorrow's episode of /Film Daily. Please give it a listen and let me know how it sounds!
Jack Giroux Has Been Catching Up With The Good Place
I finally caught up with The Good Place after hearing nothing but good things. It's as funny as I was told. Once I hit play, it was hard to stop. To say no to more of Ted Danson always wearing a bowtie and being delightful? Impossible! He just has such a fun presence. I absolutely loved him on Bored to Death, where he played a character you wouldn't mind spending a lot of time with, and that's how I feel about his work on The Good Place. He has an infectuous energy and kindness about him that I love. Kristen Bell is great as one empathetic former jerk trying to be better, too. Her character, and most of the leads in The Good Place, deal with some relatable questions and problems in a fantastical setting. If you removed the supernatural elements of the series, it'd still be a great set of characters dealing with some everyday problems.
The Good Place is such a clever and fun show, and more than once, I was very surprised by where it went. If you haven't seen it yet, wait for a rainy day and binge-watch it on Hulu.