'Inhumans' Set Visit: Paying A Visit To The City Of Attilan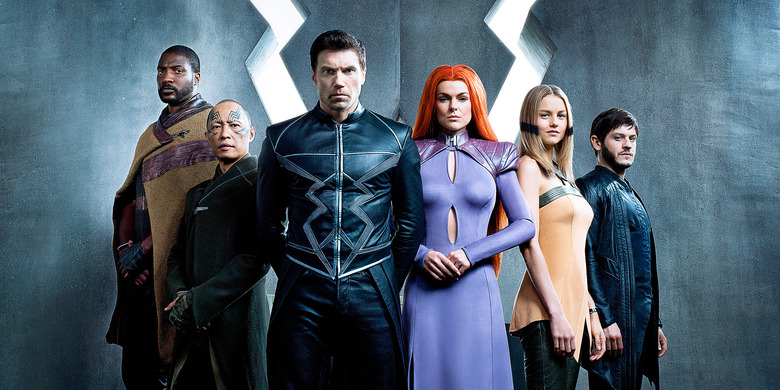 The Inhumans are an odd bunch. While making my way over to Honolulu, Hawaii to visit the set of the latest Marvel show along with other bloggers and reporters, I enjoyed the oddities of Paul Jenkins and Jae Lee's take on Marvel's Royal family midair. Perhaps it wouldn't translate to the most accessible or financially responsible series, but the comics (and the family contained within) went to some fantastical, out-of-this-world territory. The ABC series is still set out of this world, at least partially, but is looking to ground the genetically super-powered characters. But they're initially going big, though, by shooting the first two episodes on IMAX cameras.
Below, check out our Inhumans set visit report.
Welcome to the City of Attilan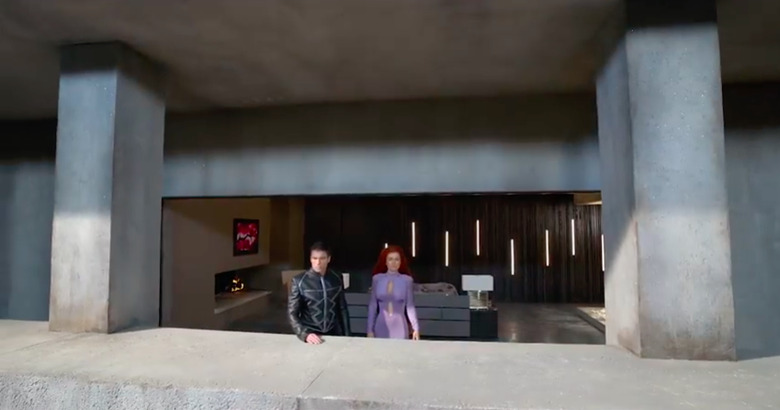 The city is the main residence of the royal family. It's changed locations many times in the comics, once floating above the Kree capital city. In the television show, they're all happily living on the moon, unseen by the people of Earth. The city is home to the royal family, Blackbolt (Anson Mount) and his wife, Medusa (Serinda Swan), as seen above in their home – a set where everything feels in the right place, not one inch away from where it's supposed to be. They're the King and Queen of Attilan until Black Bolt is betrayed by his brother Maximus (Iwan Rheon).
Art director Adam Davis explained how they designed the world and sets around the characters:
The city of Attilan is on the moon. It's surrounded by a protective energy shield in the shape of a cone. We chose the shape for a number of reasons. The energy field has the ability on the outside to protect imagery of the moon crater, to camouflage in. On the inside, we've designed it in such a way it can project imagery of Earth, like clouds, palm trees, sunsets, and things like that. Rather than doing a dome, we chose the cone primarily because one of our main characters, Blackbolt...because of the Terrigenesis ceremony he went through, his voice is like his weapon. We've centered the main space he's in, which is called Quiet Room, and it's directly below the apex of the cone. What happens is, if he accidentally produces any sonic waves, the waves are redirected up the side of the cone and out the apex into outer space.
Blackbolt and Medusa's apartment has a view of the entire city. When they're lying in bed, the city of Attilan is in view. The apartments are sparse, with only essentials. There's a slightly futuristic yet quaintly old-fashioned quality to the sets. The Royal Hall, for example, has statues of Inhuman ancestors looking like they belong in a Greek swords-and-sandal epic, not on the moon. A lot of the surfaces are reflective, too, whether in one of the characters' apartments or the hall.
Looking to the Comics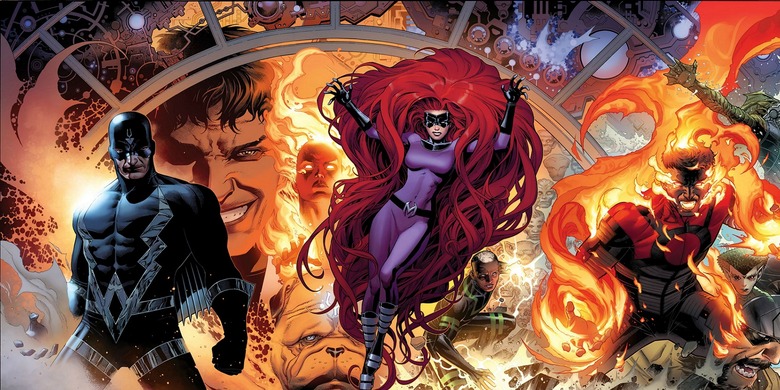 The Inhumans were originally introduced in the pages of Fantastic Four back in 1968. They're not as grounded as, say, the X-Men or other superhero teams. Even the powers are out-of-the-box, like Medusa's deadly hair or Blackbolt's all powerful voice (he'll communicate on the show through some sign language). A whisper from Blackbolt could wipe out an entire city. Many viewers won't be familiar with their storylines or backstories, which provided showrunner Scott Buck (Dexter) a certain degree of freedom:
It's a little more fun for me as a writer when I feel the backstory isn't all worked out. I think these characters have been around since '64 or '65. When you go back and look at those first Inhumans, it's a completely different comic from what it developed into later. We were able to pick what was the best and most interesting aspects of these characters. Some of the characters themselves have changed fundamentally from series to series. Having that ground of different versions of the Inhumans allowed us to think, "Well, why did they do this when that time they did this? What's going to work better for us?" Also, if nothing particularly appealed to us, we could create what we wanted – but stay true to the Royal Family.
The sets we saw had a distinctly different feel from some of the comics. Maybe not as colorful, and more concrete and dark. Most of the show's color comes from Earth. The environments and sets weren't heavily drawn from the comics, according to Adam Davis:
We read the comics. They kind of give you some information, but doesn't necessarily describe the visual language, right? It's all very broad strokes, like you're going into the control room and a thought bubble. It's not really defined. It's kind of like storyboards. When you get storyboards early on when you're doing films, you come and the door is always that and the wall is always that. That, in essence, is the same thing for comic books.
Lockjaw is a Big Boy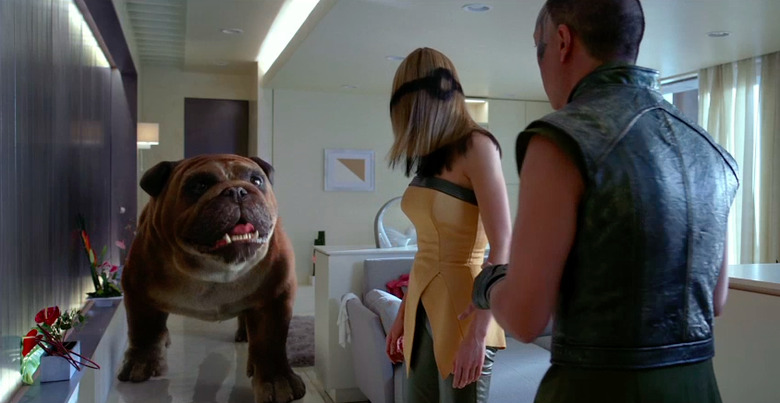 They created large entrances so Lockjaw can walk freely into spaces. Crystal's dog got bigger and bigger early on – eventually ending up the size of a Mini Cooper. Crystal, by the way, is Medusa's sister and the youngest member of the Royal Family. The sets do have a lot of room, partially for fight scenes and the 2,000-pound teleporting dog. Director Roel Reiné (The Man with the Iron Fists 2) said the pup was one of his biggest concerns:
Lockjaw was one of the characters that made us all very nervous because it needs to be really, really good. We fought in the prep to get the best house to do this, and Double Negative is the best how to do creatures. They're making Lockjaw for us. It was a really big deal for me to get the best house to do this thing because it needs to be IMAX quality, big scope thing. And it's huge. If you're doing a creature that's kind of flying in the distance or is very small, it's different. It's not a big-size dog on the side of the characters.
Everyone involved in Inhumans we talked to seemed delighted the most by Lockjaw. At one point, they showed some pre-vis of the character, with him walking and playing. In the early animations, he was taller than a car.
A Little Russian Expressionism and Brutalist Here and There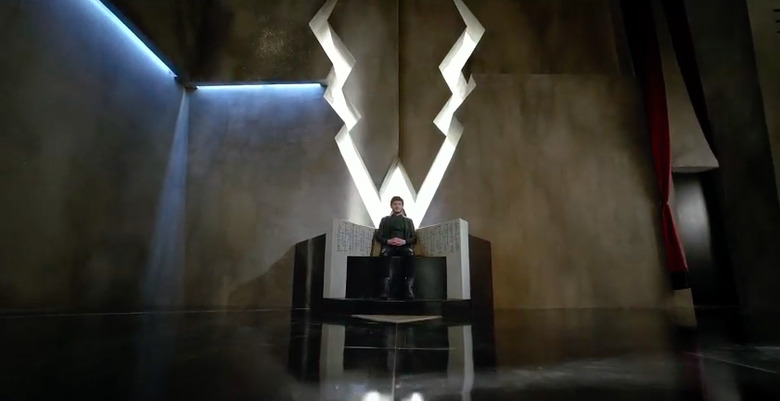 Art director Adam Davis and Carlos Barbosa are two architects who've worked on eight projects together, including The Hunger Games: Catching Fire and The Girl with the Dragon Tattoo. They wanted to create a lot of space in some vertical sets. There are a lot of scenes in hallways, so they made sure to create plenty of space for them. Some of these environments were influenced by Russian expressionism – the '20s, '30s, and '40s, in particular – and brutalist, Davis told us:
The style of architecture here is based on early Russian expressionism and brutalist. Those are the two periods that Carlos and I defined as being could be on the moon. The primary building materials are what we're calling lunar concrete because it's all stone, there's no wood, and there's no water up there. As for the period choices, a part of it is instinctual. It's just a gut reaction to the script. If you look at concrete building forms throughout the years, brutalism is probably one of the most interesting periods. You know, it was very prevalent in the '60s, and it's big and massive pure geometric shapes. We decided to carry that through as a theme. We've chosen a particular shape for each one of the sets. The quiet room is based on the circle. The royal hall is based on rectangular shapes. Then the control room is based on equilateral triangles. We've kept it distinct.
The sets, of course, give them more control while filming, unlike going on location. Honolulu has a lot of brutalist architecture, though, so the beautiful island worked in the show's favor.
The Royal Hall's Ceremony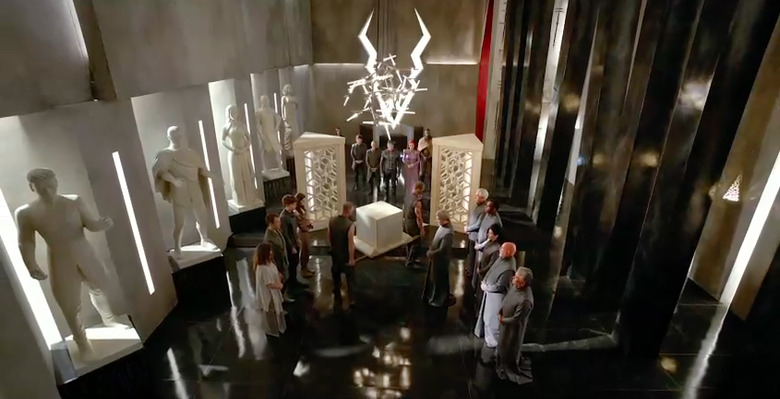 In the two chambers shown above, there are three holes in the bottom that get filled with blue crystals. After a person enters one of the chambers, they come out transformed. It's called the Terrigenesis process. Sometimes, they turn into something beautiful, sometimes into their worst nightmare – but it unleashes and unveils their powers. The Royal Hall is where the ceremony occurs. When it was Maximus' big day came, he lost the Inhuman gene.
On the set, we saw Maximus sitting in the rock solid chair in the hall. During one of the few takes we witnessed, the camera panned up from the marble floors, first focusing on the streams of shimmering light coming from above the chair. The filmmakers hope the reflective surfaces provide more depth to the images, which are captured on IMAX Arri Alexa 65 cameras. The first two episodes are shot on IMAX, were designed for IMAX, and will premiere in IMAX theaters.
Why IMAX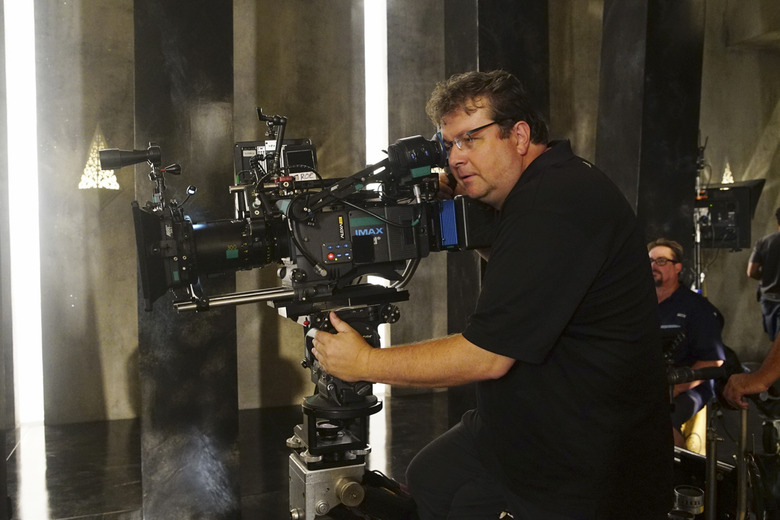 IMAX is in 74 countries, has 1,200 screens, and 500 waiting to be opened. According to IMAX Entertainment CEO Greg Foster, their goal is to provide 52 weeks of reliable content. A part of the problem is that studios don't provide the sort of content suited for IMAX every week. There's also the fact they don't open big movies on Labor Day weekend, the first two weeks of December, and end of April. Inhumans is premiering the first week of September, so it's good timing. But for Foster, the Marvel show also felt right for IMAX:
The lines between televisions and movies is blurring. In fact, I would posit they blurred. We have an incredible relationship with Marvel and have for a long time. We have an amazing relationship with Disney. Maybe there's something to that. We started talking, and this came about. As you just saw, it's being designed and customized to take advantage of the IMAX footprint, the IMAX scope. It's a television show, not a movie, but it's a television show with incredibly high production value that features a lot of things, futuristically, and in space – which lends itself to IMAX. It's got this window, and the window happens to conspicuously be when we don't have big studio movies. That's the ultimate genesis of it.
IMAX expects the two episodes in the two-week window to perform better than anything else they could have released. In the past on September 1, they've re-released Raiders of the Lost Ark, The Wizard of Oz, and Apollo 13. There usually wasn't anything from the studios, so something new and something from Marvel naturally appealed to them.
How Game of Thrones Influenced IMAX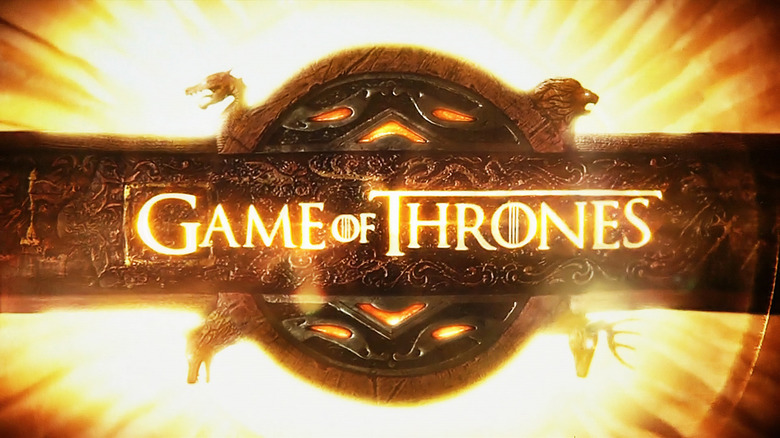 Before making the deal to work on Inhumans, IMAX had another show they could've done this with. There was no pre-existing relationship, though, or the Marvel brand. Other networks and streaming services are interested in having their content played in IMAX theaters, especially after the success had with Game of Thrones, Foster told us:
Game of Thrones played in IMAX Super Bowl Sunday weekend two years ago. It played with two episodes strung together that were six months old, that had already played on HBO and available to be streamed six months in advance. Very few people who were fans of Game of Thrones hadn't seen it yet. We attached to it about three minutes of footage from season 5. We were episodes nine and ten of season 4. When we announced it first, we announced it for 100 of our screens. Only 100. No international at all. Only 100 in North America. Our website crashed. About two weeks later, we announced we were adding another 100. Our website crashed.
So, it heavily influenced our decision. As much as love this partnership, and we do, we know we're not only going to do in perpetuity Marvel shows. Marvel has for all intents and purposes a first option with what we do because they're pioneering with us, but we had, when Game of Thrones was announced, a lot of people come to us and say, "We want to do this." I don't have to name the broadcast networks or streaming companies. You know who they are. All of the biggest ones.
Foster calls Inhumans "the most expensive test they ever had." It won't be profitable if the show only lasts one season, but they'll be glad they did it. By season 2 or 3, they'll know if it works. If it makes it to season 3 and gets past that, that's when it's a real success.
Taking Cues From Christopher Nolan's Dunkirk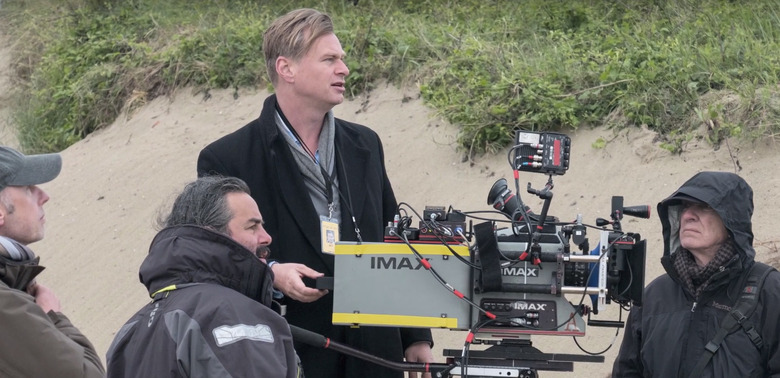 Reiné wanted to educate himself in all things IMAX. He wanted to move the camera differently, perhaps using more handheld camerawork we typically see from IMAX cameras. They showed Reiné some tests and footage, including 10 minutes from Dunkirk, which he took notes from:
With one of their technical people I went to see the 10 minutes of Dunkirk. I asked IMAX for a list of all the lenses Chris Nolan used, so I could understand the lens' length and what it was doing. Also, I was very afraid of handheld in the IMAX format, but when I saw the thing and we talked about how they shot Dunkirk handheld, and how they did it, I also implemented them into our show, to be a little more bold than you normally would do when you shoot IMAX. It's never limited me; it's more inspired me to do cool shots, pick the locations with a lot of headroom.
We didn't speak with any of the actors on set, but Reiné says their performances are largely unaffected by the IMAX cameras. Sometimes they'll have to change little details, like their hair, but they never need to drastically alter their performance.
Making Two Different Pilots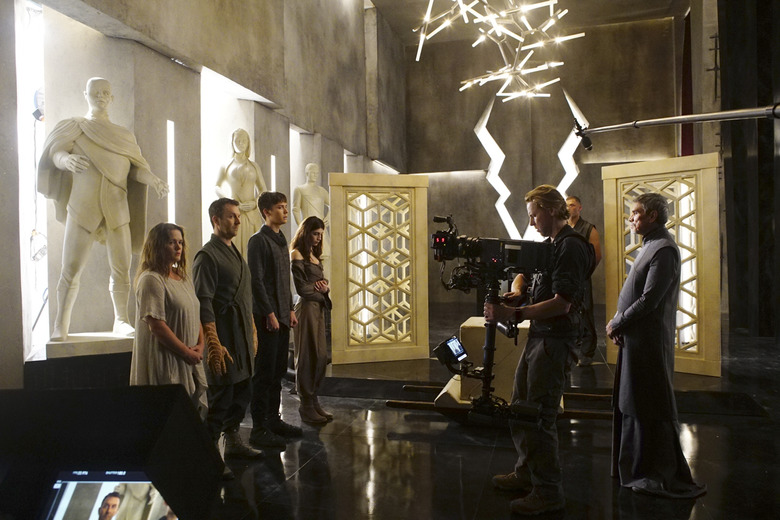 There is going to be two versions of the first two episodes of Inhumans. Hopefully, Reiné says, it's the same performances, but they'll be using different takes. There's going to be wider takes for the IMAX version, and tighter takes for the TV version:
I think the way we are prepping, the way we are shooting, the way we are using the cameras, we are really doing a film version. We're doing film-style of shooting. Plus, I'm getting additional TV coverage. I really think all the choices, prep, locations, the Steadicam, and all the technical stuff, we are shooting a big movie. We're doing TV coverage, so we can have the drama and the close-ups. The cuts we're doing to do...We're going to make two different edits: an IMAX edit of the first two episodes and a TV version. A lot of times when we're doing shots, I know the takes we're going to use for IMAX and the shots were going to use for TV. Because if you're going to do a big close-up in IMAX, you know, you better have something important to say.
Reiné, who shot the first two episodes in 20 days, can also do without acts with the IMAX version. When a shot ends and goes to commercial break, those acts won't be in the IMAX version. He'll use different transitions. The first two episodes, with a combined length of 80 minutes, will be the first television series to premiere in IMAX theaters.
Inhumans is available to see in IMAX starting September 1, 2017.