Why 'Edge Of Tomorrow' Got Retitled 'Live Die Repeat'
Edge of Tomorrow is one of the most unfortunate cases of a studio movie underperforming in the last few years. Most seem to agree it's a high-quality summer movie, but it didn't immediately strike a chord with audiences at the domestic box-office back in 2015. Some lay blame on the title, which director Doug Liman also didn't love.
Below, Liman talks about why he prefers the title Live Die Repeat.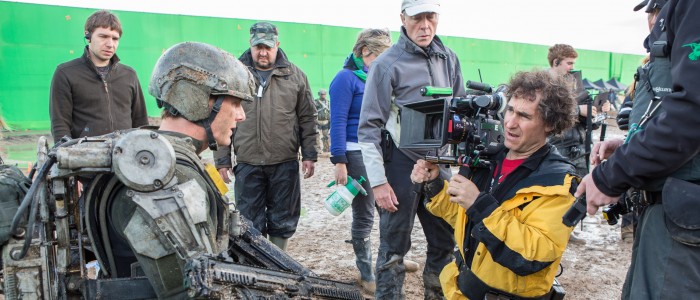 When Liman's film hit DVD and Blu-Ray, it appeared Edge of Tomorrow had gotten a new title: Live Die Repeat. It was plastered over the cover. Even on Amazon, it's called Live Die Repeat: Edge of Tomorrow. It's still not the boldest or memorable title, but Liman told Den of Geek when the sequel, Live Die Repeat and Repeat comes out, Edge of Tomorrow will be permanently retitled Live Die Repeat:
So the book was called All You Need Is Kill. Japanese. I was making a comedy – an action comedy, and All You Need Is Kill didn't feel like it was the tone of the movie I had made. The studio wanted to call it Edge Of Tomorrow, and I wanted to call it Live Die Repeat. I fought vehemently and lost. And then when the film came out and people loved it but the box-office wasn't as good as it should have been, I really railed into the executive at Warner Bros who'd insisted that Edge Of Tomorrow was the better title.
"I was like, 'It clearly is not. You were wrong.' I committed the cardinal sin of telling somebody in Hollywood when they're wrong, like, literally – I ended up having to call the person and apologize for pointing out that they were wrong. And they started titling it the title I always thought it should have, which is Live Die Repeat. But they tiptoed around it, and when we make the sequel, it'll be permanently titled Live Die Repeat. The sequel will be Live Die Repeat and Repeat.
Live Die Repeat does provide a better sense of what the sci-fi movie is than Edge of Tomorrow, which sounds more like the title of a disaster movie or a post-apocalyptic film. While All You Need is Kill is catchy, that sounds more like a title for some straight-up action or revenge movie. Neither title seemed to do the film justice. As for the sequel Liman is going to make to Live Die Repeat, he's said it's a matter of when, not if. The filmmaker, whose candor you gotta love, has described it as sequel and prequel that'll "revolutionize how people make sequels."