'The Handmaid's Tale' Season 2 to Include More Departures From the Book [TCA 2017]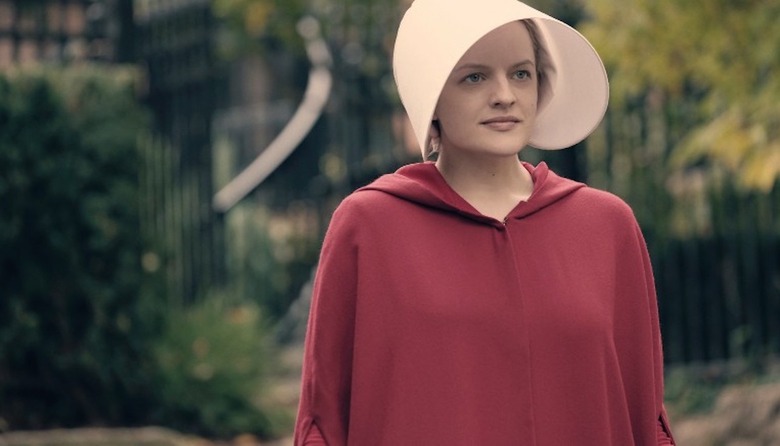 Elisabeth Moss was on a Television Critics Association panel over the weekend for Sundance Channel's Top of the Lake: China Girl. After the panel, she spoke with reporters a bit about season two of her hit Hulu show The Handmaid's Tale. Moss returns to work in September and earlier at TCA, Hulu SVP of Content Craig Erwich said he had read scripts for the new season.
"In the same way we did in season one, it really explores things in a way that, as a reader, you wanted the book to but it's only one novel so what are you going to do?" Moss said. "It kind of goes places that as a fan of the book, I want it to go."
Season 1 already took some welcome departures from the Margaret Atwood book. The character Luke (O-T Fagbenle) gets more screen time in scenes without Offred (Moss), and the show had time to explore other areas of Atwood's dystopian world. Moss said season 2 will continue to both bring the book to life and explore it further.
"I think we had a pretty good mix of both in the first one and I think it will be similar in two," she said.
The Handmaid's Tale is set in a world where a dictatorship turns the U.S. into Gilead, in which commanders keep women as handmaids in red robes. During the ceremony, they force themselves on handmaid's in order to conceive children. The cautionary tale of The Handmaid's Tale has proven so timely that women have donned the iconic red robes with white hoods to protest and demonstrate against policies and new laws that would rob women of reproductive rights and other freedoms. Moss supports them wholeheartedly.
"It's honestly so moving and gratifying," Moss said. "Just moving honestly,. I'm so proud of them. I think they're brave and I think they're badass and I support it 1000% honestly."
The Handmaid's Tale also became Hulu's most popular original series, surpassing The Path and 11.22.63 as the defining show for the streaming network. Season 2 is moving ahead, and Hulu is developing its slate of originals further to include J.J. Abrams' Stephen King series Castle Rock, a new Beau Willamon series The First, and the 9/11 drama The Looming Tower.