'Arrested Development' Season 5 Tease: The Bluth Family Reunites Next Week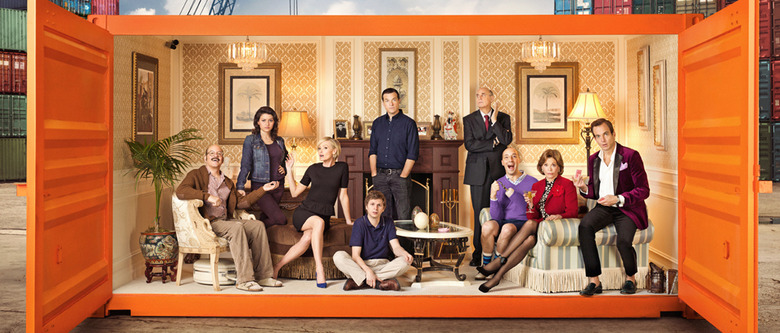 Right now, there are two very different sides of Jason Bateman on the Netflix homepage. The stark contrast between Bateman's face on the Arrested Development and Ozark options under Netflix Originals amuses me every time, but it's also a reminder of the actor's range. After telling one bleak family crime story, he's returning to star in what started as a family crime story, Arrested Development.
Below, check out the Arrested Development season 5 tease from Bateman.
Back in May when it was announced Bateman had officially signed on for season 5 of the series, Bateman hinted at a summer start date. Shooting begins on the new season a week from tomorrow. Here's a pic Bateman shared on Twitter of Lucille Bluth's (Jessica Walter) home, nearly ready for more wonderful family comedy:
Here comes trouble. The Bluths move back in on the 8th. pic.twitter.com/0PF7ZqkmWM

— Jason Bateman (@batemanjason) July 30, 2017
Michael Bluth (Bateman), Gob (Will Arnett), Lindsay (Portia de Rossi), Maeby (Alia Shawkat), and George-Michael (Michael Cera) are returning for the fifth season, after a four-year absence. The new season of Arrested Development is expected to premiere next year. Jeffrey Tambor, Jessica Walter, Tony Hale, David Cross are back as well. Next season will feature flashbacks to the Bluth family during their younger years, which apparently made it easier to get the original cast back together, despite their demanding schedules.
When the new season was finally confirmed, the series creator and showrunner Mitchell Hurwitz released this statement:
In talks with Netflix we all felt that that stories about a narcissistic, erratically behaving family in the building business — and their desperate abuses of power — are really underrepresented on TV these days. I am so grateful to them and to 20th TV for making this dream of mine come true in bringing the Bluths, George Sr., Lucille and the kids; Michael, Ivanka, Don Jr., Eric, George-Michael, and who am I forgetting, oh Tiffany. Did I say Tiffany? — back to the glorious stream of life.
Talk of a season 5 started shortly after the fourth season was made available to stream in 2013. A part of what divided fans of season 4 was the structure, which didn't allow for a whole lot of interplay between the Bluth family. Sometimes, the new structure was clever and led to some great jokes, but by not having the Bluth family together for many of the episodes, it felt like it was missing a part of what made previous seasons so great. There are some teams you don't want to see broken up.
Arrested Development season 5 debuts in 2018.