Here's Your Second Look At Zazie Beetz As Domino In 'Deadpool 2,' Rob Liefeld Compares The Film To 'Rush Hour' [Updated]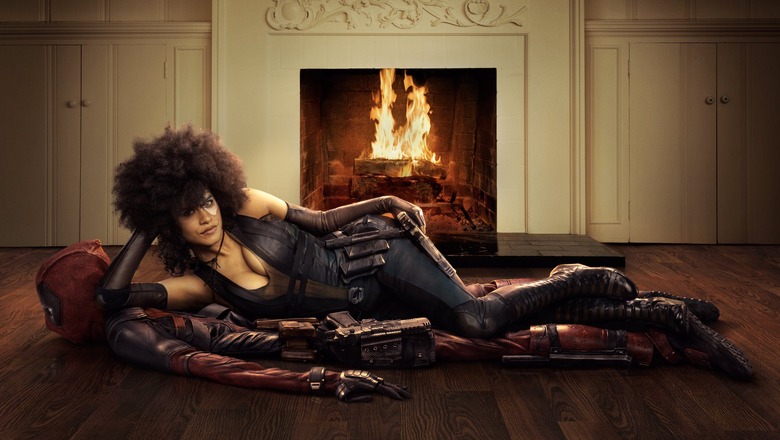 Update: Another photo of Zazie Beetz as Domino has been revealed and you can check it out below. Our original article follows.Ryan Reynolds continues his streak as Deadpool 2's one-man marketing machine with the first look at Zazie Beetz as Domino, the mutant assassin frequently paired with Josh Brolin's strongman Cable.
Beetz's depiction is a departure from the comic book in the best way, forgoing Domino's alabaster skin and straight black hair, and going for a Misty Knight-inspired afro look, with the character's trademark tattoo on her left eye.
Looks can't kill, but Beetz as Domino comes pretty close. She's literally and metaphorically crushing it in the first look at Domino in Deadpool 2, lounging on a what Reynolds calls a "red carpet" — aka an injured Deadpool lying on the floor. His flattened arm and twisted limbs may be a hint at the first encounter between Deadpool and Domino, which I'm guessing probably won't go well.
Some people just know how to work a red carpet. #Domino #DeadPool2 pic.twitter.com/llCc8JfKT6

— Ryan Reynolds (@VancityReynolds) July 31, 2017
Zazie Beetz's casting as Domino was similarly announced by Reynolds on Twitter in March this year. Best known for her role as Vanessa in Atlanta, Beetz seems to have comfortably settled into the role — and tight leather catsuit — of Domino quite quickly.
Domino's introduction comes a day after Brolin showed off his newly ripped physique for Cable. I wonder if the attention being paid to these two characters could be hinting at the X-Force spin-off film, of which both Domino and Cable are members. But first, we'll get a dose of Deadpool and Cable's infamous buddy-comedy relationship in Deadpool 2.
Update: Here's another look at Beetz in character, showing off a version of Domino who looks very much unlike her comic book counterpart (while still looking pretty darn cool):
Deadpool 2 Will Be Like Rush Hour, Rob Liefeld Says
Liefeld, the creator of Deadpool, says that Deadpool 2 will become even more of a comedy than its predecessor, comparing it to the action-comedy film Rush Hour, which starred Chris Tucker and Jackie Chan as mismatched cops. He told Comicbook.com:
"[Josh Brolin's] such a great actor, that's where it starts, and gravitas, and who else really is going to hold their ground with Ryan as Wade/Deadpool? That is energy unbridled, and so you've gotta hold your ground. When I see the two of them I'm like 'It's going to be comic book's equivalent to Rush Hour', and I don't know if comic fans are ready for it. I think it's going to be great."
This reaffirms my above description of Deadpool and Cable as a buddy-comedy, which Deadpool 2 looks like it will be playing up. Of course, Deadpool paired with any straight man character is comedy gold, as we saw with him and Brianna Hildebrand's stoic Negasonic Teenage Warhead from the first film. But Deadpool and Cable is a tried-and-true combination from the comics that fans have been looking forward to since the first film — though I'm still sad it's not Keira Knightley.
Throw Beetz's fierce Domino into the mix, as well as Monica Baccarin, T.J. Miller, Brianna Hildebrand, Jack Kesy, Stefan Kapicic, Julian Dennison, and Leslie Uggams, and Deadpool 2 is looking very promising.
Deadpool 2 hits theaters June 1, 2018.