Neill Blomkamp's Next Sci-Fi Film Will Be 'The Gone World'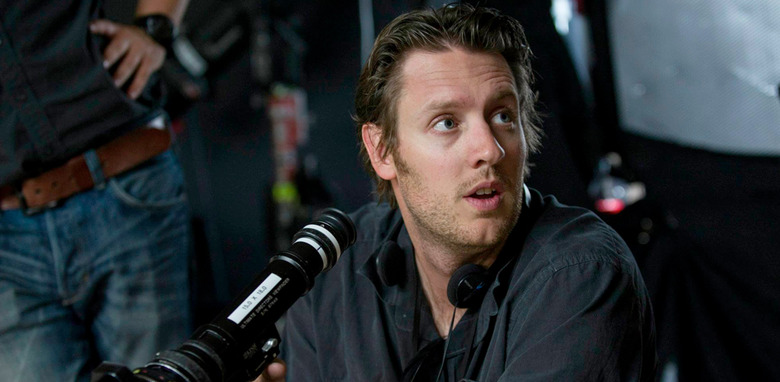 After temporarily setting aside his film ambitions to focus on his experimental Oats Studios, Neill Blomkamp is set to return to the feature film world to helm an adaptation of the sci-fi thriller The Gone World.
Blomkamp is making a faster return to the feature films than I initially thought. It seemed like he was going through some sort of spiritual rediscovery,
with his latest film Chappie and focusing all his creative energy on the short films and
experimental projects of Oats Studios
. But it seems that the allure of The Gone World is too strong, and Blomkamp is being pulled back into feature film directing.
Blomkamp confirmed that he is working on a film adaptation of The Gone World, a sci-fi thriller by Thomas Sweterlitsch described as "Inception meets True Detective in this science-fiction thriller of spellbinding tension and staggering scope." It follows a special agent named Shannon Moss as she investigates the murder of a Navy SEAL's family, and discovers that Navy SEAL was aboard a time-warping space ship. The cracks in time start affecting the world and all of humanity, which Moss must help stop.
Blomkamp has been
attached to the project since 2015
, but we hadn't heard a peep from the project since then. It seemed likely to have gone the way of Blomkamp's long-rumored Alien sequel — which is kaput now that Ridley Scott has taken back ownership of his franchise — but Blomkamp tweeted out an exciting teaser for The Gone World fans.
This just arrived. Truly incredible book by @LetterSwitch . So excited to direct this for @20thcenturyfox pic.twitter.com/kKxyFnhWhM

— Neill Blomkamp (@NeillBlomkamp) July 24, 2017
Blomkamp is confirmed to be directing The Gone World under 20th Century Fox, with Peter Chernin as his producer. No other details are known, but
reports that the studio is looking at a 2018 release date. That's incredibly soon, even if the project has been in development since 2015, and seems awfully fast for a film without a cast or script. Hopefully, this won't be another stumble for Blomkamp after the critical and commercial failure that was Chappie.
With his experimental passion project Oats Studios, Blomkamp is going through a process of creative renewal right now — or supposedly he is. After his breakout success of the high-concept sci-fi film District 9, Blomkamp has struggled to get another critical and commercial hit. Elysium was too sanctimonious, while Chappie was atonal and just plain bad. He was using Oats Studios as a creative "lab" to cook up ideas that could be turned into feature films, and perhaps get in touch with his short-film roots that first got him noticed.
Now with The Gone World, an adaptation may be the safest step back into the sci-fi feature world for him.