'Mother!' Teaser Trailer: Darren Aronofsky's Newest Film Looks Absolutely Insane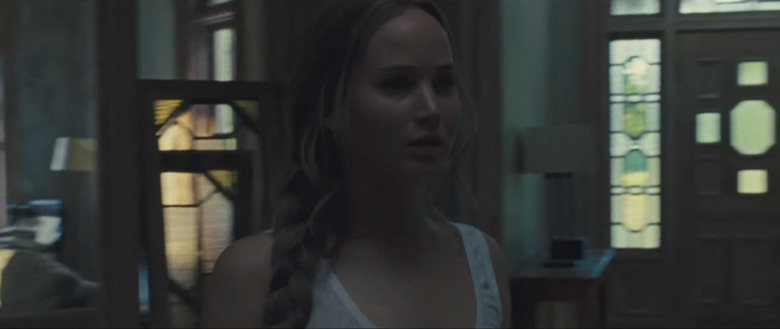 The mother! teaser trailer for Darren Aronofsky's newest film seemed as cryptic you could get, with garbled, disconnected dialogue playing over a scene of Jennifer Lawrence walking silently through a house. That is, until the last horrifying 10 seconds.
It's a teaser trailer in the truest sense, offering us nothing to make of the film, except for the fact that it looks disturbing as hell. Bring it on.
mother! stars Jennifer Lawrence, Javier Bardem, Ed Harris, and Michelle Pfeiffer, and follows "a couple whose relationship is tested when uninvited guests arrive at their home, disrupting their tranquil existence." Details of the film are under wraps, and the teaser trailer keeps a tight lid on those details still.
In the trailer, overlapping voices and Lawrence's sobbing, distraught voice play over a subdued, creepy shot of a bewildered Lawrence in a white dress, wandering through a house.
"What brings you to us?" Jennifer Lawrence's voice asks.
"They told me I could find a room here," Ed Harris' voice responds. "He thought we were a bed and breakfast," Javier Bardem jokes.
The dialogue becomes more choppy and garbled as Lawrence continues to wander through the dining room, then hears a knock at the door. The eerie, cacophonous music and sounds of objects breaking build as Lawrence walks to the door and finally opens it — to no one.
These are the lines I could catch:
"He's a stranger."
"Hello."
"Did you know he had a wife?"
"Who are these people?!"
"They've come here to see me."
"You're insane!"
"MURDERER!"
"God help you."
It's in the last 10 seconds of the 30-second teaser that the teaser shows its true colors as an intense psychological-horror, showing flashes of a man walking into a fire, a cicada, a wide-eyed Lawrence screaming at the camera, Harris seducing Pfeiffer's character, a lightbulb exploding, and Bardem screaming "No!" It looks unhinged and crazy, and I've watched it about 10 times.
Audiences for Dunkirk were surprised with a teaser for mother! this past weekend, as well as its provocative poster, featuring Lawrence with her bloodied heart in her hands. Indeed, mother! looks like a worthy follow-up to Aronofsky's psychosexual 2010 thriller Black Swan, if not even more deranged.
mother! will premiere at the Venice Film Festival before screening at the Toronto International Film Festival. The film hits theaters September 15.