Cool Stuff: Blitzway's Hannibal Lecter Statues Just Need A Nice Chianti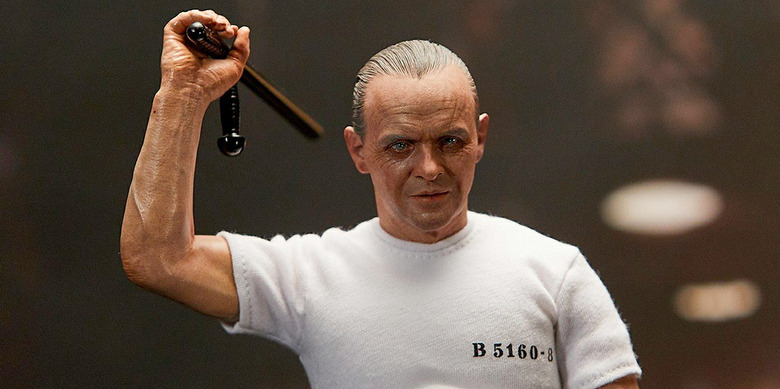 Since the classic thriller Silence of the Lambs isn't exactly the kind of movie that's friendly to creating merchandise to commemorate it, there have been very few attempts to bring Hannibal Lecter to the shelves of fans. While there have been attempts by NECA to create a few different detailed figures, most Hannibal Lecter collectibles have been unimpressive. But one company is about to give fans the cannibal collectible they deserve.
Blitzway, the same company behind the impressive sixth scale Ghostbusters figures and forthcoming Ecto-1 that fits the whole team, is coming out with a series of Hannibal Lecter statues that feature an incredible likeness of Sir Anthony Hopkins. Check them out below.
Here are the various Hannibal Lecter statues from Blitzway that debuted at San Diego Comic-Con (via ToyArk):
All three versions of Hannibal Lecter were on display at Blitzway's booth at San Diego Comic-Con. As you can see, it features Anthony Hopkins in his white prison outfit from the asylum that keeps him locked up, one is standing and one is sitting down. The other has Dr. Lecter strapped to a hand truck with that famous face mask and straight jacket combination.
What's interesting is that the statues feature fabric outfits, which is usually reserved for sixth scale figures that have articulation. It doesn't look like these statues have articulation, at least not in the arms, but they might have some in the legs and body. Then again, maybe the skin of the statue is made a malleable material that allows the statue to be articulated. After all, he does have several different poses. Perhaps there are just different limbs that allow Lecter to have his arms folded in one and lifting a night stick to assault a guard in another.
At this time, there are no details on pricing or a release date, but we'll be sure to provide an update when we know more.