Theme Park Bits: Updated 'Pirates' Video, Star Wars Land Construction, And The Few 'Fantasmic'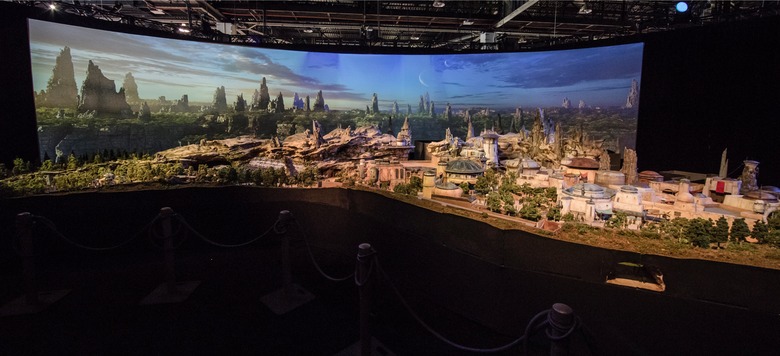 In this edition of Theme Park Bits:
Watch video from the new additions to Pirates of the Caribbean.
Commentary on and photos of Star Wars: Galaxy's Edge.
The Great Movie Ride is being sent out in style.
The Slinky Dog coaster track has been finished,
Retro Epcot merchandise is on the way.
Watch full video of the new Fantasmic.
And more!
The controversial update (which Imagineers explained at D23) to Pirates of the Caribbean that modifies the scene with the redheaded woman being "auctioned off" to salacious pirates has gone into effect at Disneyland Paris. Now, she's a pirate herself, overseeing a treasure auction and armed with a rifle. You can watch the first footage of it above, months before this change will take place at other parks.
Even more impressive is the new Captain Barbossa audio animatronic, which transforms from human to skeleton before swinging his sword at passing guests.
The Great Movie Ride is set to close forever on August 13, but D23 Gold Members will be able to send it off in style. This special event begins at 7:15 a.m. at the entrance of Disney's Hollywood Studios and latecomers will not be allowed to join (so plan carefully). Details remain scarce, but it will be a "behind-the-scenes experience" that comes with breakfast and a special gift.
Highly interesting new circular foundations at the Millennium Falcon show building site in Star Wars Galaxy Edge at DHS. pic.twitter.com/v9TFO1sjBN

— bioreconstruct (@bioreconstruct) July 23, 2017
As The Great Movie Ride closes its doors, Star Wars: Galaxy's Edge is starting to take shape across the park. Here's some very interesting construction going on at the location of the Millennium Falcon ride show building.
And while it will be a few more years before we can ride it, here's a great look at the ride vehicle design for the other Star Wars attraction in that land, which will plunge you into a battle between the First Order and the Resistance.
You may remember that highly detailed Star Wars: Galaxy's Edge model from D23. If not, you'll still enjoy this guided tour of the intricate and gigantic model with Imagineer Scott Trowbridge. If you want to know more about this model and how this land was designed, StarWars.com spoke with Lucasfilm designer Doug Chiang about working on the land:
The process is pretty in-depth, because we're trying to anchor something that's very grounded in the Star Wars universe, yet add something new to it. So it's a very fine line of where that balance should be. For this land in particular, we were very careful because we wanted to create something fresh that would be timeless. You know, like a film, these have to exist for years and years, and so we wanted to make sure that we captured that perfect note. 
One of the interesting challenges for this was to find a world that felt exotic enough, and yet felt familiar. So one of the key things that we did was really play around with scale and the idea of petrified formations. It's that blend of something that's exotic, but then exaggerating the scale quite a bit and then creating a whole world based on that one idea. If you look closely, there's history built into it. There's history built into the landscape and history built into the structures themselves.
Of course, Star Wars: Galaxy's Edge isn't the only new land coming to Hollywood Studios. There's also the upcoming Toy Story Land and while it's not finished, the track for the new Slinky Dog coaster has been fully assembled. All it needs now is proper theming and a full land around it! The land is expected to open next summer.
As announced at D23, Epcot will be the next Disney theme park to undergo a massive refurbishment, but they will still be keeping one foot in the past. After all, it's the park's 35th anniversary and this retro-inspired merch looks pretty, pretty cool.
Jiko, The Wave, Olivia's Cafe, Boatwrights, and The Turf Club are among the Disney-owned restaurants that have joined Visit Orlando's Magical Dining Month. This program offers a three-course meal for $35, with $1 per meal being donated to charity. Meanwhile, several popular shops in Downtown Disney are being closed down to make room for more dining space.
Speaking of dining in Disney parks, Fantasmic has officially reopened after closing for 18 months to accommodate Star Wars construction. And yes, those dining packages are back, too. Dinner will cost $65 per adult for the Blue Bayou and $45 per adult at the River Belle Terrace. Packages for kids will only be $25. Naturally, the real draw here is guaranteed great seats for Fantasmic itself. For additional reading, here's a guide to the various Fantasmic-inspired foods and treats coming to the park.
And if you just can't wait to see it in person, here's full video of the newly updated Fantasmic show.
Let's pause the generally cheerful Disney news for a bit to appreciate that Ash vs. Evil Dead is coming to Universal Studios' Halloween Horror Nights event this year. You can watch the trailer reveal above.
And let's end this with one more terrifying image. What does an audio animatronic Na'vi look like with its skin removed? Here you go.