'The Vault' Trailer: James Franco Unlocks The Horror In A Bank Heist Thriller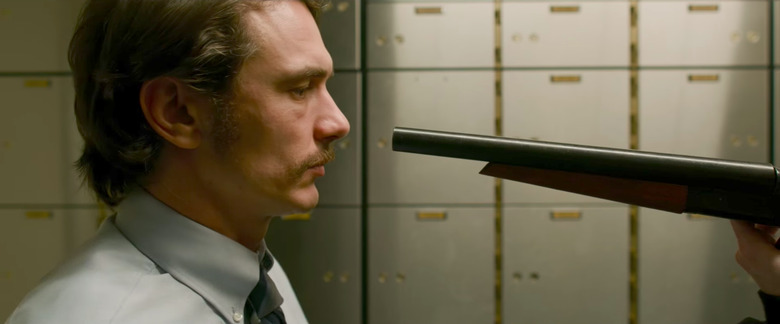 "Crime does not pay," the trailer for The Vault ham-fistedly declares. But it's probably a very accurate description for the heist thriller-turned-horror-movie that is The Vault.
In James Franco's one-millionth project this year (does the guy never sleep?), he stars as a mild-mannered bank manager with a mustache who finds his bank being robbed by two sisters (Taryn Manning and Francesca Eastwood). But this this isn't just a nuts-and-bolts thriller as the tables are turned when Franco's manager unlocks the true horrific nature of The Vault.
It's a day that starts off like any other for Franco's weary bank manager: get coffee, stare blankly at the clock, gripe about a quiet bank. Until he's staring down the barrel of a gun and two on-edge sisters who are robbing his bank. Immediately, he reveals that there's a secret vault in the basement "where the real money is" that's off the grid, and the sisters' accomplice heads down to open it, but finds something...else.
Suddenly, Franco's mustache (which appears to be from when he was filming HBO's Deuce) seems a lot more menacing, as he unleashes whatever unseen horror that was lurking in the vault against the robbers — which look a lot like creepy hooded men in masks.
It's like a bank robbery twist on Don't Breathe, a film that similarly started off in another genre — in its case, a home invasion of a blind man — and turned it into a horror film where the blind man was the real monster.
While Franco does seem like the mastermind in this reversal of fates, I doubt he's quiet the monstrous force that Stephen Lang's blind man was in Don't Breathe. While the terrorizing forces in The Vault look human, they are more likely to be demonic, or something else supernatural, as evidenced by Q'orianka Kilcher's quivering description of "something down there." Or Franco could have just locked up a bunch of psychopathic mask enthusiasts.
Here's the official synopsis for The Vault below:
"Two estranged sisters are forced to rob a bank in order to save their brother. The heist begins smoothly, but mayhem ensues when the defiant bank manager sends them to a basement-level vault–home to something truly evil."
The Vault also stars Q'orianka Kilcher, Clifton Collins Jr., and Scott Haze.