Photo Tour: The Jim Henson Exhibition At The Museum Of The Moving Image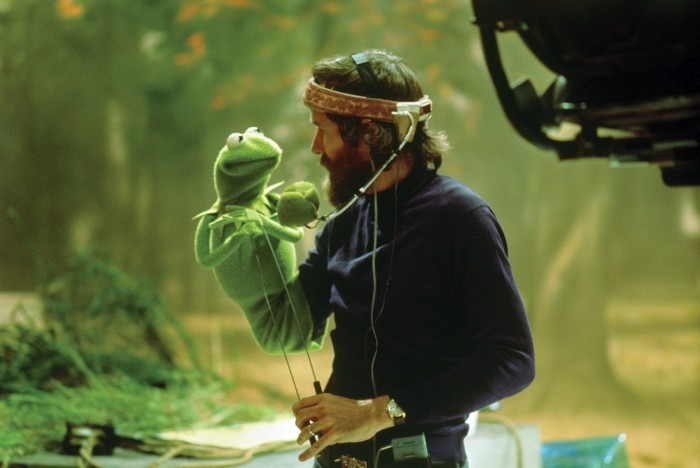 Jim Henson fans in New York City, take note. Your next journey should be to the Museum of the Moving Image in Astoria, Queens.
/Film was able to catch a sneak preview of The Jim Henson Exhibition, a new permanent exhibition devoted to the life and work of the most famous puppeteer that has ever lived. While the museum has featured muppets and art from Henson before, this time it's going to stay there forever, a fitting tribute to a man who continues to touch people's lives.
Muppet Babies
You enter the exhibit near a large multi-screen display that broadcasts various clips from Henson non-stop, an incredible montage of his wide body of work. It's a little taste of what's to come.
Step inside and you'll be welcomed by an original Kermit the Frog puppet, even though some of the the work here predates our favorite green friend. The mic headband that Henson used to wear is propped up next to Kermit. This is a section labeled Early Works. Some artifacts are on display from Sam and Friends, Henson's first television series, a five-minute show that aired twice a day on a local channel in Washington D.C. The show features a number of familiar faces, most notably Kermit before he even became a frog. Back in the day, he was just a lizard-like creature, and Henson himself states that he only called him a frog when he did The Frog Prince for a TV special.
Before he had success with Muppets, Henson was all about the commercials. In this section you'll find videos playing many of his most famous ads, including the hilarious (and hilariously violent!) Wilkins Coffee ads. Scripts and storyboards line the walls and reveal that his curiously dark sense of humor was always there.
You may not know it, but many of his legendary characters got their starts as shills. Rowlf the Dog? He was created for a series of Purina Dog Chow commercials. The exhibition even includes a couple of puppets, such as Delbert the La Choy Dragon, which, for whatever reason never made it past commercials.
Astral Projection
Like many people in this country, Henson's life started getting a little trippy in the 1960s. The next section shows his contributions to experimental film and psychedelia, including his Academy Award-nominated short Time Piece. In one dark corner, a strange abstract shape juts out from a wall, acting as a screen for a non-stop montage of noises and visuals being projected. It's the kind of thing you can lose yourself in if you stare too long. A look at a number of Henson's short films and scripts involving – gasp marijuana use – gives you another great look at the man's range.
To further demonstrate that, the next step in the exhibit is it is a section devoted to Sesame Street. Henson famously had to be convinced by creator Joan Ganz Cooney to work on the show, as he didn't think it would be dignified. He only agreed after waiving his performance fee to retain ownership of the Muppets and split any revenue they generated, which proved to be quite a good idea.
Throughout the exhibit, there are over 300 objects on display, including 47 puppets. Many of the major names are included, including Elmo and an absolutely massive Big Bird, who is really impressive to see in real life. Some of the earliest product tie-ins lie on a shelf nearby, just a tiny fraction of what would become a merchandising empire. Alongside the puppets is concept art and sketches of their creations.
One of my personal favorites, and one that was in the original travelling exhibition, is a design sketch of how Big Bird operates. I'm not sure why, but I spent most of my adult life just accepting Caroll Spinney's magic without thinking of how Big Bird actually worked, with the one arm raised to control his face and a little screen at chest level showing the world outside. The things these people did to put on a puppet show!
Make Your Own Puppets
Younger visitors will be pleased to find there are a couple of interactive portions. Near the front of the exhibit, there's a number of puppets you can grab and use to shoot your very own little films. You can expect this section to be mobbed.
Another section that will be tough to drag the kids away from is an area that allows you to design your very own muppet. There's a video tutorial for anyone that needs help, and number of wigs, clothes, eyes and ears to stick onto a blank muppet and take a picture of it.
Speaking of pictures, then museum takes pride in mentioning that they are allowing you to take pictures and videos of the entire exhibit. They figured that this fit with the ethos of Henson, and it also means that you can expect to see billions of selfies with famous Muppets popping up on social media over the next few months.
Hands-On Muppets
Along with the interactive portions, they use some tech in innovative ways, too. You know how in most museum exhibits they might have an artifact that's an original book, one that's laid out open under a piece of glass? They have that here, but they also took the great care to scan these documents as well. Touch screen panels next to the artifacts let you swipe through the recreated documents and read the whole thing, allowing you to browse Jim Henson's original concept notes for The Dark Crystal and his treatment for Fraggle Rock (originally called Woozle World!). It's a great concept and will allow people to read something that they never would have been allowed to get their hands on otherwise.
The videos themselves are designed to be as accessible to as many people as possible, as well. Captions are provided for every single video on display with the press of a button. They have them available in English, Spanish, and French so far, but plan on adding other major languages (Mandarin, Arabic, etc.) to represent not only the diverse community of Queens (Astoria is one of the few true melting pots in the city), but the worldwide visitors the museum receives. It's what Jim would have wanted.
It's Time to Meet the Muppets
Did you think that there would be Muppets on display in this exhibit? You'd be right!
A whole section is devoted to the Henson Muppet films, and The Muppet Show in particular. Statler and Waldorf puppets stand in the front of it, mocking you even in their stillness. Opposite them are original band members from Dr. Teeth and The Electric Mayhem, standing ready to play. Some concept art on the wall shows how much work went into refining each and every member, including a sketch of Animal that makes him look far different than what he eventually became. Another wall features storyboards of the insane biking scene in The Great Muppet Caper, something I still can't even believe they managed to accomplish.
The area is mostly dominated by a wall on which is projected every single Muppet Show ever made, simultaneously. It's hard to pull yourself away from it. The entire original logo for The Muppet Show takes up another wall, in front of a stunningly new-looking Miss Piggy in her bridal outfit from The Muppets Take Manhattan, which came out in 1984. It's proof that the hundreds of thousands of dollars they spent restoring the puppets was well spent.
Adult Puppets 
Immersive Worlds is the last section of the exhibit, and it might as well be labeled "The Scary Stuff". The oddly dark children's show Fraggle Rock eases you into it before showing off artifacts from Dark Crystal and Labyrinth.
The Fraggle Rock puppets line a wall and it's always amusing to note that they're normal muppet-sized, because of course they would be. They are in a hallway faced off against a group of tiny Doozers, who are finally, appropriately tiny.
Clothing from Labyrinth stands up near a video showing them as portrayed in the film. Behind a sheet of a glass is an original note to the team from Jim Henson from when he revealed to them that he was hired to direct Labyrinth.
Behind this, a little and almost-hidden alcove shows clips from The Dark Crystal and the most terrifying piece in the whole exhibit: an original Skeksis puppet. It's a good thing the massive creature is tucked away from children, perhaps, but it makes for a fun thing to turn a corner and see.
That's the end of the exhibit. You walk out to a wall featuring screens depicting Henson's legacy, and the last few projects he was working on before he died, including the first Teenage Mutant Ninja Turtles movie. The rest of the museum seems a little darker and sadder afterwards.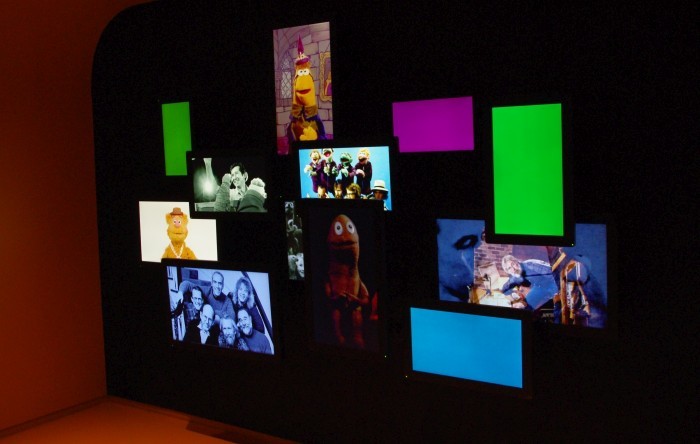 The Center of the Wheel
At a talk following our tour, curator Barbara Miller made care to say that they didn't consider the Jim Henson Exhibit the center of the wheel, just one part of the museum. But it's obvious that Henson is still staggeringly popular and a massive draw for the place. Sure, they have some stunning exhibitions (I highly recommend checking out the Blade Runner city and the Elephant Man make-up) but who doesn't love Muppets?
There are few people who would argue the influence of Jim Henson on the world of film and TV as we know it. Despite being taken from us at criminally young age, Henson's films continue to attract new fans, and Sesame Street will forever be a part of children's lives. If nothing else, his work shows a level of imagination that not enough artists have the courage to try. It makes for a great museum exhibit.
Of course, this isn't the first one to appear at the Moving Image. The Museum has always had a good relationship with Henson's family, ever since the start. Back in 2011, when the newly renovated Moving Image reopened with a brand-new wing that features a state-of-the-art theater inspired by 2001: A Space Odyssey, the Muppets came along for the ride. The very first exhibit in the new space was Jim Henson's Fantastic World, a travelling exhibit from the Jim Henson Legacy and the Smithsonian Institution Traveling Exhibition Service. It was enormously popular and they backed it up with a range of screenings and special events. In 2013 the Museum was donated nearly 500 artifacts from Jim Henson's family. (The close-knit relationship makes sense for the area, as the Sesame Street Workshop is a mere two blocks away, over on Northern Boulevard.)
If you were lucky enough to attend the travelling exhibition back then, know that this new one is much, much smaller. It's located on the second floor of the museum in an area that was previously employees-only office space (they have been moved to the basement to make room) and is not very large. But what it lacks in space it more than makes up for with its brilliant design that takes you on a journey through Henson's creative life. It's a journey we all need to take one day.
***
Tickets to The Jim Henson Exhibit are available at movingimage.us.