'Claws' Is The Crazy, Inclusive And Just Plain Fun Crime Comedy You Should Be Watching Right Now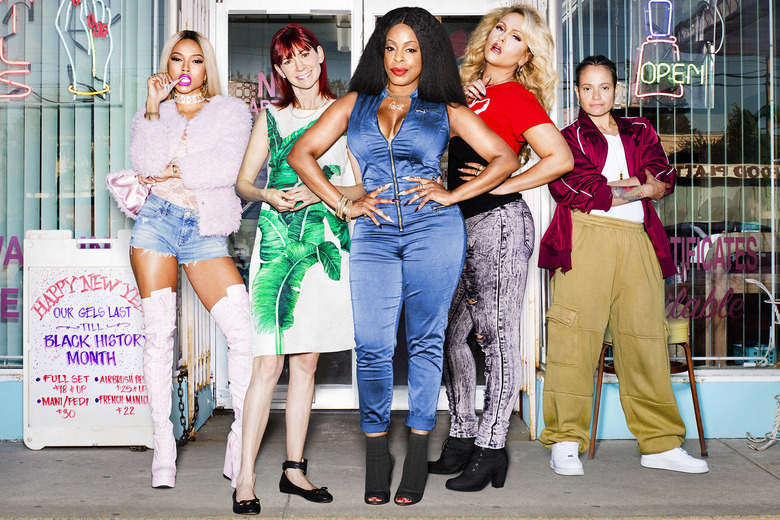 Claws is a little crazy. But in the best way possible.
TNT's new hit series (which recently got picked up for a second season!), highlighting a crew of scandalous and potent women nail technicians, is far more delicious than it should ever be. In fact, it's downright criminal. Literally.
The always well-worth-your-money-and-time Niecy Nash is at the center of this dramedy that is best described as a Florida-based Sex and the City, if the Sex and the City women were also low-key criminals whose nails were always on point and could swiftly break out in a perfect, unrehearsed dance number if the moment calls for it. Sure, these ladies on Claws are a little rough around the edges (you never know what's going to come out of their mouths next). But they can code switch and turn off the sass just as quickly as you can say, "Sugar, please."
Nash plays Desna, the entrepreneur desperately trying to unravel herself out of the grasp of a mobster who goes by the name Uncle Daddy (Dean Norris), distance herself from the scene of her boy toy's (Jack Kesy) presumed murder, and go straight as a business titan, competing with some of the most petty, conniving, and successful salons in town. In addition, she lives with and takes care of her brother Dean (Harold Perrineau), who has special needs and is grappling with a traumatizing childhood that still haunts him. She has a lot on her plate, so much so that her love life is sometimes pushed to the back burner. But, with the help of her ride-or-die crew, she remains focused and determined as ever to succeed.
Let's talk about this crew for a second, because it might be the most fun to watch on all of TV right now. We've seen series in the past depict loyal yet complex friendships, but never have we seen a crew as diverse, sexy, unapologetic, complicated, and badass as this one. And I'm not talking just culturally. These women are not all size 2 (they actually look like average women in your own lives); they're not all hetero (Judy Reyes plays an amazingly confident lesbian who would catch a bullet for you); and they're not all catering to a norm of perfection and reliance on men. In fact, all of the male characters are mere ornaments in their lives, men they have to swoop in and rescue out of hairy situations (or—spoiler alert—keep as sex pets in the wilderness). These women command their own authority as well as their own mistakes. And this never seems put on or to make a statement. Rather, it's just natural and realistic. It's the way friendships look like in real life (minus the killings and drug smuggling).
Carrie Preston as Polly is among the standouts. Part June Cleaver and part Catwoman, Polly is an ex-con (it totally wasn't her fault!) bound to an ankle bracelet and clutching a set of pearls, who does a fierce mani-pedi/wax combo. She can also turn around and plant a bag of evidence on your arch nemeses if you need her to. This dichotomy about her makes her that much more intriguing, more interested to learn about her backstory (so I hope that is forthcoming). Also, kudos to Preston, who's been low-key dominating the small screen for years and not getting enough credit for it. The Emmy winner has gone from long stints on True Blood to The Good Wife to Claws in a matter of less than ten years. Give this woman her props already.Judy Reyes, another TV vet (remember her from Scrubs and most recently Jane the Virgin?), is kinda boss. And literally, every time I've seen her in something, she looks like a different person. A true chameleon, Reyes plays Quiet Ann, a woman of few words, which makes the little she does say that much more significant. She's who you call if the crap has hit the fan and you need a woman who can come in and shut the whole establishment down with the wave of her bat, then turn around and make you a scrumptious back of empanadas. Just because. She's also got a weakness for women who are not good for her, humanizing her in a way we can all relate to.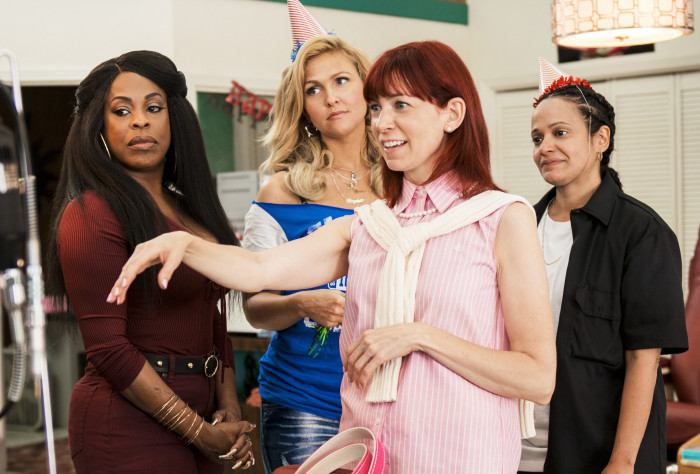 It's these complexities so wonderfully embodied by these characters that makes Claws so infectious. Its  over-the-top nature and penchant to push it just close enough to the cliff without falling off completely, is counterbalanced by the vulnerability in each of these women that reminds you of their humanity and fragility. In the first season, we've seen Desna cover up her own murder scene with amazing precision, upgrade her salon, go on a date with a hot doctor, give her girl Jen (Jenn Lyon) a strongly worded pep talk, then nearly crumble during a major nail competition when the unconditional support of her crew and her attempt to truly conquer it all began to overwhelm her. A recent, "Self Portrait," showed that more apparently than any other how hard it is for a woman, especially a woman of color, to inhabit so many spaces at once—and to be expected to do so effortlessly.
Same goes for Polly, who despite her southern drawl and Kool-Aid smile, is masking the dark truth surrounding her imprisonment from old acquaintances (shout out to Gina Torres, who made a brief but noteworthy cameo in episode 4), ashamed of what they might think of her. But despite her best intentions, can't resist bending the law if it means helping a friend.
I'd be remiss if I didn't mention Karrueche Tan and Jenn Lyon, who round out Desna's posse. Tan plays Virginia, the outlier of the circle who's always on the verge of being kicked out of it until she finds a way to lure herself back in with an unexpected gesture that's right on time. She's clearly watched Boogie Nights a number of times, as you can typically find her gliding around on roller skates, donning a half top and short shorts on her way to the strip club to see about some extra work. Meanwhile, Jen (Lyon) appears to be the most traditional of the crew as a mom and wife, but she's  "got a lot of lip" (as my mom would say), meaning she'll be the first to tell you about yourself if you start running your mouth for too long. Then go right back to her gel manicure. Her hubby Bryce (Kevin Rankin) is also in thick with Uncle Daddy right now, which makes her—as Desna said—"a mob wife." So, there's also that.
Claws carves out a space for flawed yet increasingly intriguing women characters who we don't see often enough on the small screen (don't even get me started on the big screen), whose mistakes and accomplishments are equally explored. The icing on the cake is the crew behind the scenes, predominantly women including director Victoria Mahoney (Power, Queen Sugar) and writer Janine Sherman Barrois (Criminal Minds, ER), who also serves as an executive producer along with quadruple threat Rashida Jones. As we continue to discuss women representation and agency on screen, and what it means to be truly inclusive, it's good to see a show that simply normalizes what too many others have passively analyzed yet felt uncompelled to deliver on. Like its characters, Claws is bold, wildly entertaining, and impossible to ignore.