'LBJ' Trailer: Woody Harrelson Defines The 36th President's Legacy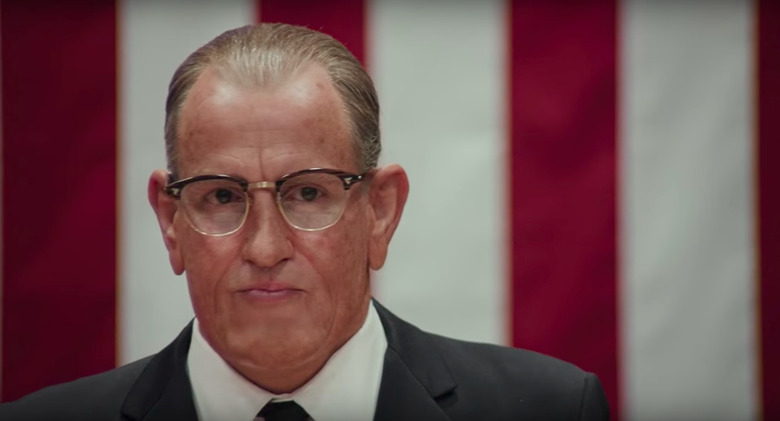 Woody Harrelson transforms to play Lyndon B. Johnson, the 36th President of the United States, in the new LBJ trailer.
Directed by Rob Reiner, this biopic follows Johnson's struggle as a powerless vice president to the more charismatic John F. Kennedy. But that all changes on November 22, 1963.
"This'll define your presidency," Richard Jenkins' Sen. Richard Russell says to Harrelson's Lyndon B. Johnson. "I can only hope," Johnson responds back wearily.
This is a humbled Johnson in the midst of his unlikely presidency, thrust into the Oval Office after the sudden assassination of President John F. Kennedy (Jeffrey Donovan). Johnson faces resistance from all sides — first from his former Senate colleagues who fret over how the passage of Kennedy's unfulfilled Civil Rights Act would impact their voters in the South, and secondly from Kennedy's former camp, like Michael Stahl-David's Bobby Kennedy, who sneers at Johnson, "You don't waste any time, do you Lyndon?"
Harrelson looks virtually unrecognizable in the role, donning prosthetics and significant heft to play the role.
Here's the synopsis for LBJ:
"Lyndon Johnson (Woody Harrelson) goes from being a powerful Senate majority leader to a powerless vice president before he becomes the president of the United States following the assassination of John F. Kennedy."
The star-studded cast is rounded out by Bill Pullman, Jennifer Jason Leigh, Kim Allen, Michael Mosley, and Doug McKean.
I guess it's that time of year for presidential biopics, and after last year's stunning and unconventional biopic Jackie starring Natalie Portman as Jackie Kennedy, LBJ unfortunately looks like a return to tradition. And its release right after Jackie makes it seem like a pseudo-sequel to the first film, especially in its exploration of legacy — specifically that of John F. Kennedy's.
LBJ looks very much in the vein of many Oscar bait films, which means that the season is starting, and we have to start bracing for which actor vehicles are good, and which ones are...not. For now, I'm not that impressed by this trailer, and get the feeling that Harrelson will get more Oscar buzz for his unhinged turn in War for the Planet of the Apes than this a biopic that appears to be awfully by-the-numbersLBJ hits theaters November 3, 2017.