Patty Jenkins To Direct Chris Pine In TNT Series 'One Day She'll Darken'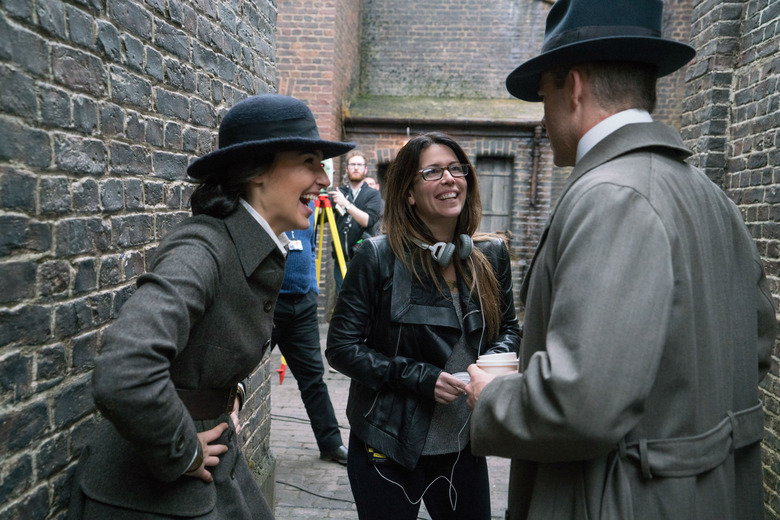 TNT has given a new collaboration between Wonder Woman director Patty Jenkins and star Chris Pine the green light. Jenkins will direct Pine in a straight-to-order series, One Day She'll Darken, based on Fauna Hodel's autobiography. Pine is about to shoot a new Netflix movie with David Mackenzie (Hell or High Water), and Jenkins is developing Wonder Woman 2, but the plan is to start shooting the six-episode series this fall.
Variety writes that Jenkins will direct the pilot and perhaps more episodes. Pine, who had flawless charisma in Wonder Woman, will star in all six episodes of One Day She'll Darken, which author Sam Sheridan ("A Fighter's Heart and The Disaster Diaries") is writing.
When Fauna Hodel was born in 1949, her 16-year-old mother, Tamar Nais Hodel, left her with Jimmie Lee, an African-American maid who worked at Nevada casino. She was the daughter of George Hill Hodel, who was charged with incest. He was acquitted in a famous trial, but he was suspected of many crimes, including the murder of Elizabeth Short. It's a terrible and tragic story Fauna Hodel investigated as she got older, but during her youth, her and Jimmie Lee faced many hardships.
Here's the synopsis for Hodel's autobiography:
After her father, Dr. George Hodel, a prominent Hollywood physician was acquitted in a sensational incest trial, 16-year-old Tamar gave birth to a blue-eyed, white skinned baby girl. She insisted that the father was "Negro". Outraged by the audacity of their daughter and the stigma attached to a mixed-race child within their midst, her mother quickly arranged to have the baby permanently given away to Jimmie Lee, a black maid in a Nevada casino.
Overwhelmed by the problems of raising a white-skinned baby in her black community, Jimmie spent the next twenty years struggling to secretly raise Fauna. Together they endured extreme poverty, alcoholism, starvation, sexual abuse, pregnancy and death, hopelessly bound and knotted together by relentless bigotry.
Fauna survived this difficult world with a vow to find the one person who knew her beginnings, her biological mother, Tamar, the woman of her dreams. Fauna sets out to discover the truth, only to uncover her family's notorious secret: her extraordinary grandfather and the murder of the Black Dahlia.
Pine is going to play Jay Singletary, who Variety describes as "a former Marine-turned-hack reporter and paparazzo." Years before meeting Fauna Hodel, he was disgraced for the story he wrote about George Hill Hodel. He sees a chance for redemption but finds himself conflicted. There's no word on who's playing Fauna Hodel. Jenkins and Pine's collaboration on Wonder Woman obviously couldn't have gone any better, so the two of them working together again is indeed good news.