TNT's 'Snowpiercer' Series Is A 'Spaceship Show' On A Train [TCA 2017]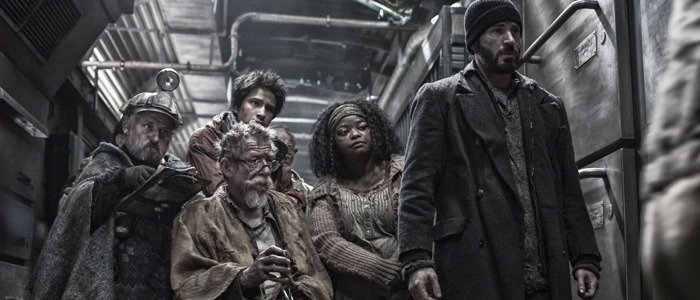 TNT and TBS President and Chief Creative Officer Kevin Reilly spoke with the Television Critics Association in an executive session. /Film asked him about the upcoming TNT adaptation of Snowpiercer, based on the Bong Joon-Ho film. The story is set on a train that is the last habitable shelter in a post-apocalyptic ice age, which makes it like an outer space sci-fi series to Reilly.
"What I love about it is it's like a spaceship show," Reilly said. "It's a contained environment with wide swath of characters stuck together in an intense environment, a game of survival but it makes for epic character drama. It will have a heightened feel but it is really an internal potboiler of character dynamic and there is an ongoing mystery."
Jennifer Connelly has signed on to star on the show and Reilly suggests we can take her previous work as an example of what appealed to her about Snowpiercer. Connelly won an Oscar for A Beautiful Mind and her other acclaimed films include Requiem for a Dream, House of Sand and Fog and Little Children.
"Jennifer Connelly, who really has made her mark choosing great character roles, wouldn't have come here for some crash bang 'em up," Reilly said. "She came because of the characters Josh Friedman has created for the series."
After the panel, Reilly offered more description of Connelly's character. Tilda Swinton played the female lead in the movie, an eccentric politician. Reilly confirmed Connelly plays an original character.
"Jennifer has a quality, particularly the way his role is designed, but there is much more than meets the eye in what we will learn about this particular character," Reilly said. "Her quality of this sort of stoic and very coiled energy I think is going to work really well in this part. I think the reveal of where that character goes is going to be one of the real big draws of the show."
Friedman has experience adapting sci-fi movies into TV shows. He created Terminator: The Sarah Connor Chronicles for Fox. The Snowpiercer pilot has a feature film level talent at the helm, with Scott Derrickson directing. Reilly reiterated that after Doctor Strange, Derrickson had his pick of the Hollywood litter, so it speaks to his sensibilities that he chose Snowpiercer. "It's going to be directed by Scott Derrickson who also has a few choices in his career," Reilly said during the panel.
Snowpiercer was a parable about the class system, where the poor were relegated to the rear of the train, where they had the fewest resources and were manipulated to fight for survival. The further the protagonists advanced in the train towards the wealthy cars, they encountered different environments (and wealthier inhabitants).
Reilly promised the show would continue exploring the different cars contained on the Snowpiercer. "There are multiple different cars and environments," Reilly said during the panel.
Look for Snowpiercer on TNT.