'Curb Your Enthusiasm' Season 9 Clips Show Larry David Shoving Neiman Marcus Saleswomen And a Dead Funkhouser [TCA 2017]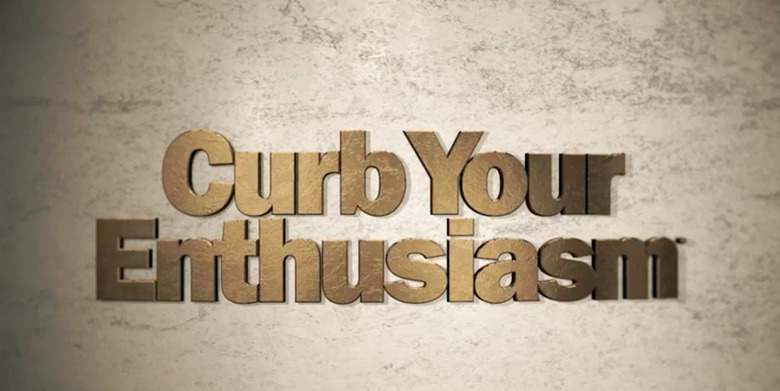 HBO began its TCA panel for the long-awaited ninth season of Curb Your Enthusiasm with a clip reel of Larry David's upcoming frustrations. Let's kick this off with a look at some of the highlights, shall we?
The first Curb Your Enthusiasm season 9 clips were full of all kinds of bad behavior (as you'd expect), so let's break it down:
Larry taking a shower, singing "Spoonfull of Sugar." He can't open the soap dispenser, and ultimately screams and swears, smashing it on the ground.
A couple makes out in front of Larry's office window. He asks them to move and the guy asks: aren't we allowed to be happy? "You're allowed to be happy but not in front of me," David replies.
Larry's assistant misses two days of work because she's constipated, leading to a montage of David discussing constipation with his co-stars.
Kenny Funkhouser is dead. At his funeral, Larry tells a crying mourner she's crying too loud.
In Neiman Marcus, a perfumier sprays Larry when he enters. Caught off guard, he shoves her to the ground unapologetically.
Larry goes on Judge Judy to sue Mrs. Shapiro for trespassing and stealing his ficus.
Larry finds "Bald F***" written in the dirt on his driver side window. Larry adds "Blow Me" to the rear window. A schoolbus full of kids passes and reads his message.
At a dinner party, after everybody thanks a military veteran for his service, Larry simply says, "Nice to meet you."
Larry is stuck on a plane in a middle seat between June Diane Raphael and Ed Begley Jr. Raphael fumbles around with her neck pillow, a spray bottle, and her nail file. Begley starts coughing and blowing his nose. By the time Raphael pulls out some dental floss, Larry stops her saying, "No.  No."
Bryan Cranston says, "I enjoy the mind of Larry David." It is unclear who he plays in the season.
Finally, a montage of Larry getting kicked out of places includes a very physical stunt where he's thrown off a bus.
David, Susie Essman, Jeff Garlin, J.B. Smoove and executive produceer Jeff Schaffer were on the panel. David kind of, sort of admitted he missed the show, which last aired new episodes in 2011, in a very Larry David way.
"You know, I'm not a misser so to speak," David said. "I don't really miss things, but I was missing it and I was missing these idiots so I thought yeah, what the hell? And I got tired of people asking me: is the show coming back? I couldn't face that question anymore and I wasn't ready to say, 'No, never.' I kept saying, 'Oh, you know, maybe, who knows?' So I thought yeah, I don't have to be asked that anymore."
With a six year absence, Schaffer suggests there is more material per episode than ever in a Curb season. "The shows are filled," Schaffer said. "There's a ton of stories this year. You had a big reservoir. You'll see the shows are chock-full. They're like a baker's dozen time-wise. Very dense, lots of stories. I think it was just lots of stuff to get out. Imagine the uncomfortable situations he's been in the last six years. It's like we're sitting in the Fort Knox of awkward."
David himself was quick to add that if you ever see him writing something down, it's not about you. Don't flatter yourself. "A lot of people think they're always providing me with fodder but they're not," David said. "All of a sudden I write something  down and they go, 'Oh did I just say something? Did I just give you that?' No, you didn't. Shut up."
When Curb returns, it has been six years in Curb time too. "When the season starts, six years have past," Schaffer said. "You're going to find out very quickly what he's been up to in the past five years and everybody's been up to in the past five years. Once the show starts to air, it will be self-evident. It goes to this fun, crazy place. You'll never suspect where it ends."
The first day of filming was actually November 9, the day after the election. David said it took one take for him to get back into his zone. "I had trouble the first take," David said. "I thought, 'Geez, I've lost it. How am I going to do this?' That's what I'm thinking about as I'm acting."
Smoove vouched for how quickly David got back up to speed. "One take, this guy was back to golden again," Smoove said. "It's like playing Tee ball. He sets you up so well, you can't go wrong."
Many of the classic Curb regulars are back for season nine. "Richard Lewis is coming back, in a number of episodes," David said. "Bob Einstein, Ted Danson and Cheryl [Hines] will all be on the show this year."
Along with Judge Judy as herself (David knew her through his real life ex-wife) and Cranston, expect many more new guest stars.
"Everybody we hoped for and wanted, we got," Schaffer said. "You wrote some episodes that were dependent on very key people and we wrote them before we had them. We were either filled with hubris or stupid but it worked out great."
Curb Your Enthusiasm returns to HBO this fall.