'Marjorie Prime' Trailer: Holographic Jon Hamm Will Break Your Heart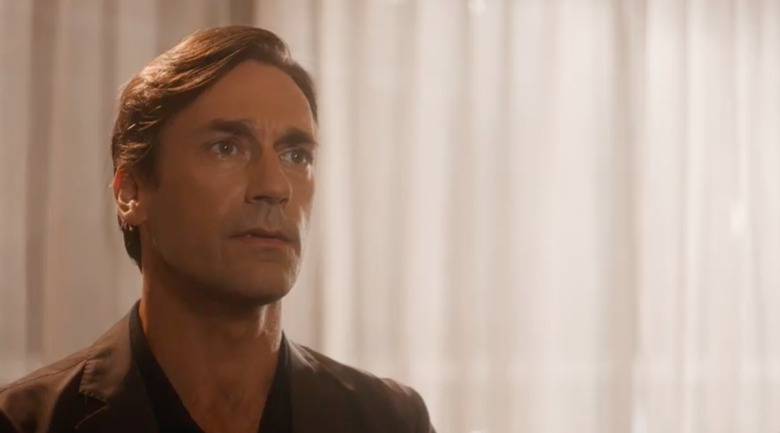 Jon Hamm as a hologram sounds like a future I want to live in. He stars alongside Lois Smith, Geena Davis, and Tim Robbins in director Michael Almereyda's (Experimenter) science-fiction drama, Marjorie Prime. The movie was well-received at the Sundance Film Festival earlier this year.
Below, watch the Marjorie Prime trailer.
In the future, there's a company providing holographs of the deceased. Jon Hamm is playing one of those holograms, Walter, for Marjorie (Smith). At the age of 86, Marjorie isn't doing well and wants to piece together the past with her deceased husband. Marjorie and her children, played by Robbins and Davis, go through some painful history together to give Walter, Marjorie's "Prime," an understanding of the man he was.
It's a great, question-raising premise. The story originated as a play from the co-writer of the film, Jordan Harrison. When our former editor Angie Han saw the movie at Sundance Film Festival, she thought it felt more like a play than a movie:
Marjorie Prime is based on a play, feels like a play, and seems like it probably would've been better off left as a play. Despite an intriguing Black Mirror-esque premise and strong performances from its central cast (Lois Smith, Geena Davis, Jon Hamm, and Tim Robbins), the film comes out feeling static and distant.
Other reactions were typically more positive. A lot of Black Mirror comparisons have been made – which sounds like a good thing to me. The performances are what stand out the most in the trailer. Smith looks like she'll do some heartbreaking work, and Hamm looks great, too. He's following up his fantastic turn in Baby Driver, in which he brought a lot of humanity to an otherwise nasty guy.
Eighty-six-year-old Marjorie spends her final, ailing days with a computerized version of her deceased husband. With the intent to recount their life together, Marjorie's "Prime" relies on the information from her and her kin to develop a more complex understanding of his history. As their interactions deepen, the family begins to develop ever diverging recounts of their lives, drawn into the chance to reconstruct the often painful past.
Built around exceptional performances from a veteran cast, Marjorie Prime shines a light on an often-obscured corner in the world of artificial intelligence and its interactions with mortality. Bringing us robustly into the future, Michael Almaryeda's poetic film forces us to face the question—If we had the opportunity, how would we choose to rebuild the past, and what would we decide to forget?
Marjorie Prime opens in theaters August 18, 2017.