Rick Roman Waugh To Direct Gerard Butler In 'Angel Has Fallen'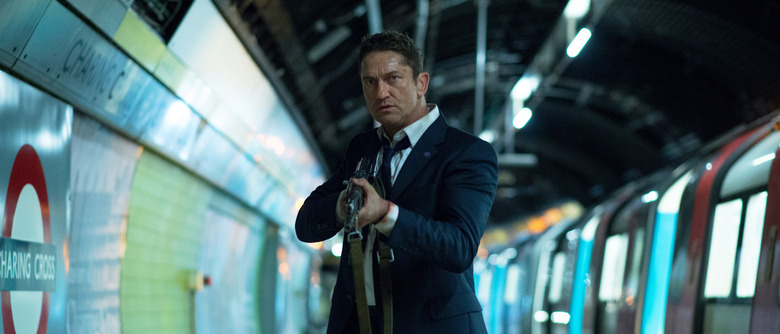 Mike Banning (Gerard Butler) has a lot more bones to break in his future. The unstoppable bodyguard is returning for Angel Has Fallen, which will have him beating death for the third time. And again, a new director is boarding this strangely charming franchise. The director behind Felon and Snitch, Ric Roman Waugh, will helm Banning's next outlandish adventure.
Below, learn more about the Angel Has Fallen director.
According to The Hollywood Reporter, Banning isn't protecting the president in the sequel. This time, he's the target. While Banning and his jogging buddy, President Benjamin Asher (Aaron Eckhart), are aboard Air Force One, they face an attack. Considering the many, many people Banning has killed in these movies, it wouldn't be surprising if somebody wants revenge. How much of the series' hugely impressive supporting cast, including an unfortunately wasted Radha Mitchell, is unknown at the time, but Morgan Freeman is set to return. There's currently no start date or release date that we know of for Angel Has Fallen.
Waugh director is a former stuntman, having worked on True Romance, Las Action Hero, and This Boy's Life. In 2001, he made his feature directorial debut with In the Shadows, which starred Matthew Modine, Joey Lauren Adams, and James Caan. I've heard good things about Felon over the years – it seems like a movie that's found an audience on home video. Waugh's most recent film, Shot Caller, comes out next month and stars Nikolaj Coster-Waldau and Jon Bernthal.
Waugh is following directors Antoine Fuqua (Training Day) and Babak Najafi (Easy Money II: Hard to Kill) in the franchise. Fuqua set an aggressive, violent, and kind of cartoony tone with Olympus Has Fallen. It's not Fuqua's most accomplished work, but it's a fine B-movie. Najafi lightened up the series a bit more with London Has Fallen – which is about as over-the-top as one would imagine. Some of the destruction in that movie is almost reminiscent of a Final Destination movie.
Banning is a bull in London Has Fallen and Butler is clearly having a blast. The sequel gave him so many wonderfully ridiculous situations to navigate. I hope Angel Has Fallen does the same. This series is just a whole lot of Gerard Butler kicking ass and taking no names, and that's all they really need to be about. Audiences enjoy them, too. Neither action movie was a critical darling, but the last movie surpassed Olympus at the worldwide box-office. Expect these movie to get made forever.