Captain Marvel Won't Appear In 'Avengers: Infinity War'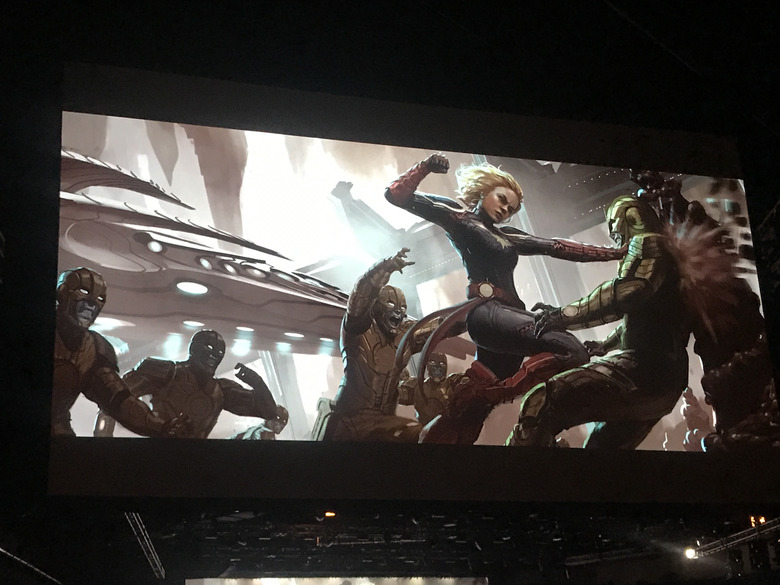 Looks like fans of Carol Danvers will have to wait a few more years before they get to see Brie Larson don the red, blue, and gold suit.
Captain Marvel won't appear in Avengers: Infinity War in 2018, co-director Joe Russo confirmed. So it likely won't be until March 2019 when we see Captain Marvel in all her glory in her anticipated solo debut. And maybe in Avengers 4 a few months later.
There was chatter that Avengers: Infinity War could see the onscreen debut of the Marvel Cinematic Universe's first female solo superhero, and even a slip of the tongue from the Russo brothers who seemingly confirmed last year that Captain Marvel would appear in the team-up film. However Russo, who is directing Avengers: Infinity War and the untitled Avengers 4 with his brother Anthony Russo, put a stop to that buzz.
"She's not in Avengers 3," Russo told Comicbook.com following the flurry of Marvel announcements at Hall H at the San Diego Comic-Con Saturday.
But Russo did not deny her involvement in Avengers 4, which will be released May 3, 2019, a few months after Captain Marvel's March 2019 release. With the news that Captain Marvel will be set in the '90s and introduce the Skrulls into the MCU, this gives us some hints about what Avengers 4 will entail.
The Skrull-Kree wars are a huge part of Marvel Comics mythology, and have taken place over multiple series and several decades. While we've been introduced to the Kree in Guardians of the Galaxy and the ABC TV series Agents of S.H.I.E.L.D., we have not yet seen the onscreen version of their counterparts, the Skrulls. The Skrulls are shapeshifters who have been known to impersonate several Avengers in the comics, to the ignorance of their teammates. It's even possible that we'll see this happen in Avengers 4 — either as a third-act reveal or a retcon of a death.
With Avengers: Infinity War dedicated to the meeting of the Avengers and the Guardians of the Galaxy, and the fight against Thanos, there will likely be no room for the Skrulls and Captain Marvel to appear. And it seems as if Marvel President Kevin Feige is insistent on intrinsically tying these two together — despite Captain Marvel's powers roots with the Kree.
Comicbook.com also theorizes that Captain Marvel won't appear in Avengers: Infinity War because she may be stuck in the Quantum Zone, which is an area that Ant-Man and the Wasp would explore a few months after Infinity War. It would explain her absence for two decades, and possibly lead into a deeper dive of the Quantum Zone in Captain Marvel.
Captain Marvel hits theaters March 8, 2019.