Zack Snyder's Influence On DC Films Will Be Significantly Smaller Moving Forward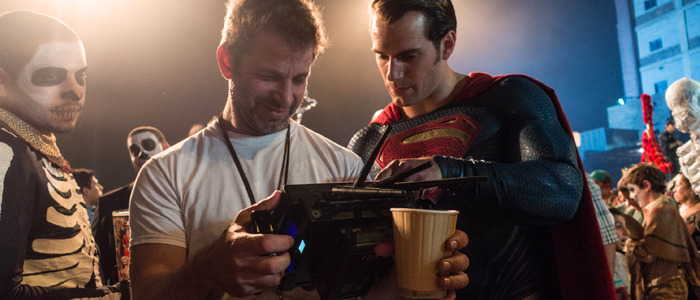 While Christopher Nolan kept DC Comics movies in the public eye with his Dark Knight trilogy starting in the mid-2000s, Nolan's insistence that his movies exist in their own cinematic realm resulted in the higher-ups at Warner Bros. and DC looking for a new creative partner who could kickstart a cinematic universe to rival what was happening at Marvel Studios. They chose Zack Snyder (300, Watchmen), who directed Man of Steel, Batman v Superman: Dawn of Justice, and (most of) Justice League, but a new report claims that Snyder's influence over the DCEU will be significantly smaller moving forward. And if that weren't enough, Suicide Squad director David Ayer might be leaving the DCEU entirely.
Mashable's sources tell them that Zack Snyder and his wife, producer Deborah Snyder, "will no longer have anything like the level of creative influence that got the franchise to this point." The Snyders stepped away from working on Justice League after the suicide of their daughter back in May, and The Avengers director Joss Whedon – who had already rewritten some of the script – was hired to take over. Yesterday, we wrote about how Justice League's $25 million reshoots have lasted about two months, and Whedon apparently won't receive directing credit for the film.
Warner Bros. denies the pair will have a limited involvement going forward, but Mashable has multiple sources that indicate whatever involvement they have will be "at a distance," especially as they continue to grieve their daughter. They're reportedly thinking about making WB movies that aren't a part of the DCEU, but the duo will almost certainly retain producing or executive producing credit on at least the next few upcoming DC movies (including Aquaman, Suicide Squad 2, Flashpoint). Meanwhile, Whedon is said to be DC Films president Geoff Johns' "secret weapon," "close creative partner," and "a major part of WB's creative team," so it looks like he'll have a lot more to say about the creation of these movies as the DCEU chugs ahead – as will Patty Jenkins, whose Wonder Woman has experienced record-breaking box office numbers and a glowing critical reception.
This is all sure to upset the small group of vocal Snyder devotees, who have embraced the director's grim and gritty vision for DC's superheroes despite those movies' largely negative critical reception. After the success of the far more optimistic Wonder Woman, Johns said he and WB's Jon Berg plan to make future DC movies "fun" and ditch the dark vibe that's been permeating them for the past few years. While Snyder clearly has die-hard fans, I'm much more interested in versions of these iconic comic book characters like Wonder Woman who embrace their heroism instead of shun it.
Elsewhere, sources tell the outlet that David Ayer won't be a part of future DC movies, despite his name still being attached to direct the female-led Harley Quinn spin-off Gotham City Sirens. Ayer's representative denies that claim, but considering how he recently threw shade at his time with Warner Bros. ("[his new movie Bright] isn't like, some bullshit standard issue studio PG-13 movie," he said at Comic-Con), it wouldn't be surprising if he walked away.