/Film Daily Podcast: Infinity War, Thor, Jungle Book, Barbie, Summer Movie Season Leftovers & Comic Con Purchases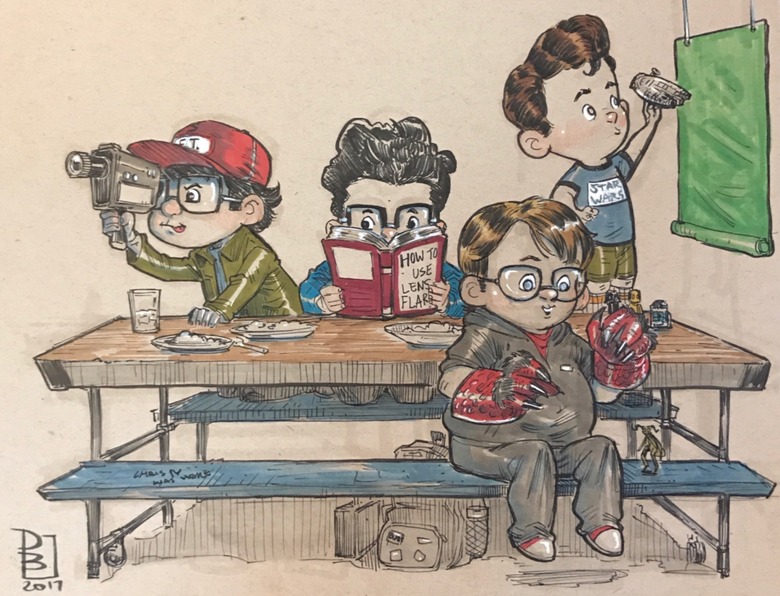 On the /Film Daily podcast for July 25, 2017, Peter Sciretta is joined by Brad Oman (aka Ethan Anderton) to discuss Comic-Con purchases, real and fantasy. We talk about the latest news in the world of movies: how Andy Serkis' Jungle Book movie is different than Jon Favreau's, the casting of Barbie, the running times of Avengers: Infinity War and Thor: Ragnarok, and things you may not have noticed in the Thor: Ragnarok trailer. And in the Mail Bag, we answer a question about the most exciting Summer movie season leftovers.
You can subscribe to /Film Daily on iTunes, Google Play, Overcast and all the popular podcast apps (here is the RSS URL if you need it).
Brad Oman joins Peter Sciretta. for today's episode.In The Water Cooler, we talk about what we bought at Comic-Con, and what we would have bought if we had Scrooge McDuck money to spend.
Peter's purchases: Katie Cook painting, Patrick Ballesteros Director kids commission, Saga #1, The Godfather board game, Scott C Ghostbusters figure, In-Gen T-shirt
Peter's wish list: EFX Force Awakens Darth Vader helmet, Hot Toys life size Baby Groot, Back to the Future Part II Delorean, Sideshow Thanos statue
In The News:
How Andy Serkis' 'Jungle Book: Origins' Will Be Different
 From Jon Favreau's 'The Jungle Book'
Anne Hathaway in Talks
 to Replace Amy Schumer as a Barbie Girl in a 'Barbie' Movie (read our list of 
11 actresses who should have gotten the part
)
Avengers: Infinity War
 and 
Thor: Ragnarok
 Running Times
'Thor: Ragnarok' Trailer Breakdown
: Analyzing the Cosmic, Comic Sequel Frame-by-Frame
In The Mailbag: Mich from Maryland asks: "With summer movie season drawing to a close, if you could only see two new movies for the rest of the summer — out of those not yet released — which two would you see and why?"You can find all that and more at slashfilm.com. You can subscribe to /Film Daily on iTunes, Google Play, Overcast and all the popular podcast apps (RSS). This podcast is published every weekday, bringing you the most exciting news from the world of movies and television as well as deeper dives into the great features from slashfilm.com. We're still very much experimenting with this podcast, please feel free to send your feedback to us at peter@slashfilm.com. Please rate and review the podcast on iTunes and spread the word!