The Water Cooler: Watching '@midnight' Live, An Apocalyptic '80s Musical, And Meeting The Creator Of 'Bone'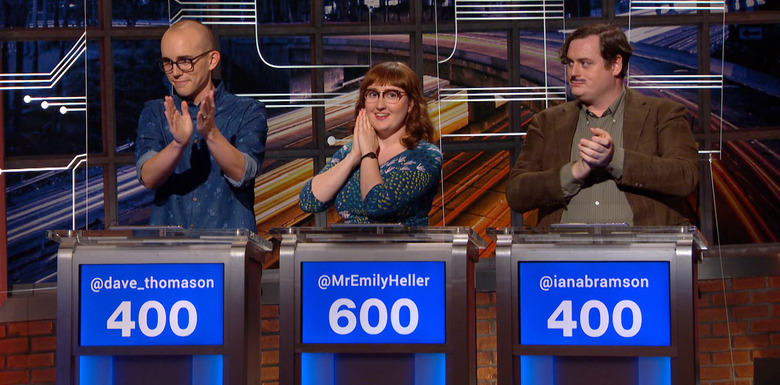 Welcome to The Water Cooler, a weekly feature where the /Film staff is free to go off-topic and talk about everything except the movies and TV shows they normally write about. In this edition: Jacob meets the creator of his favorite comic, Ethan attends one of the final tapings of @midnight, Ben checks out a wild musical comedy based on '80s movies, Hoai-Tran visits a unique art exhibit, Jack reads a new comic, and Peter waxes poetic about his new favorite soda.
Ethan Anderton Went to One of the Final @midnight Tapings
Last week, before the /Film crew descended upon San Diego with thousands of other nerds for the biggest Comic-Con in the country, I was lucky enough to snag a ticket to a taping of Comedy Central's @midnight. Since the show has four episodes a week, it wasn't all that difficult to get tickets to the show through the website 1iota.com, but it was a lucky experience because they were taping on the only weeknight I was in Los Angeles, and a comedian friend of mine by the name of Ian Abramson (watch him on Conan, he's great) happened to be one of the three contestants on the show that night.
If you've never been to a live taping of a TV show, it's actually a fun experience, despite seeing how the sausage is made. It helps that the show is a comedy program where riffing is encouraged and frequently happens with hilarious results. It also helps that the show only airs about 22 minutes of what is shot on set that day, but they tape for around an hour, so you get to see a bunch of stuff that's funny, but just doesn't make the final cut of the show. This includes reshooting some introductions and allowing for a second take of some jokes, because delivery gets botched or some other reason.
Chris Hardwick deserves so much more credit than he receives. Though he takes some jabs for being the go-to host for many shows nowadays, when you see him working in person, you understand why. Though he has a teleprompter during @midnight, Hardwick is still a gifted comedian and improviser, and he goes off script plenty of times to deliver funny, off-the-cuff jokes, and he also has no hesitation to react genuinely to the jokes coming from the contestants themselves. However, I will say it did seem like he was tired, which may have played into the recent decision to end the series after it hits 600 episodes at the end of this month. Even so, when the time came for Hardwick to get into hosting mode, he has no problem turning it on.
Once the end of @midnight was announced, I was happy that I got to experience a taping of the show with one of my friends on it. Though @midnight gets panned by the more snide sectors of social media, it's a genuinely funny and timely show that offers quick comedy on the most recent, viral facets of pop culture. Though I didn't have the time to watch it everyday, I'll certainly miss it. If you want to watch the episode with my friend Ian Abramson, check it out right here.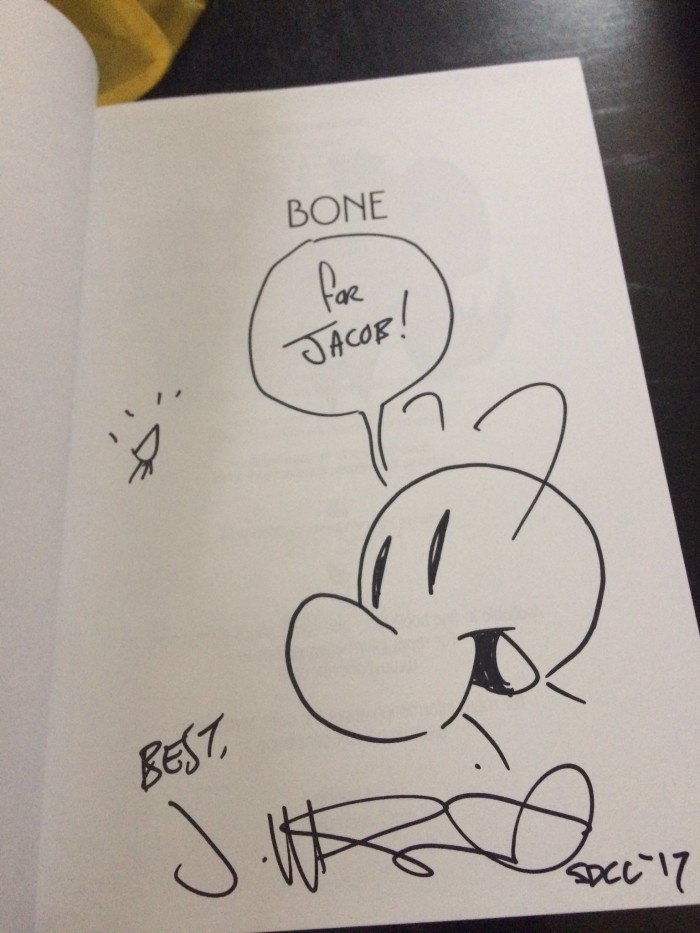 Jacob Hall Met Bone Creator Jeff Smith at Comic-Con
Meeting your heroes can be a dangerous thing. You hold an idealized picture of them in your head, a daydream that the people responsible for the things you treasure are as good, as perfect, as their art. But sometimes, you meet them and they're tired. Or they've had a bad day. Or you're accidentally intruding on a personal moment. Or they're just jerks. Sometimes, not meeting the artists you admire most is the best course of action.
But I'm certainly glad I carved time out of my busy Comic-Con work schedule to meet cartoonist Jeff Smith, the writer/artist behind my favorite comic book of all time: Bone. Sure, it was cool to see footage from upcoming movies during big Hall H panels, but for me, the highlight of Comic-Con 2017 actually involved comics.
A quick pitch for Bone, if you've never heard of it. Originally published from 1991 to 2004, the series plays out like an exquisite blend of Walt Disney, Chuck Jones, and J.R.R. Tolkien. It's an "all-ages" series filled with memorable characters, hilarious comedy, heart-wrenching relationships, and a plot that grows darker and deeper with each chapter without ever sacrificing the series' charm or warmth. I cannot recommend it more highly (and they keep on threatening to make it into a movie).
Anyway, I was among the first in line to meet Smith at his booth for a signing and quickly noticed that he wasn't in a hurry. He spoke with every person for a few minutes, took the time to sketch the character of their choice on the object of their choice, and genuinely listened to what they had to say. When one fan brought out a sketch to be signed, Smith couldn't resist adding to it and filling in some details.
As you can see from the image above, Smith signed my hardcover collection of the complete series. /Film's own Peter Sciretta was on hand to snap a few photos.
Jeff Smith was gracious and kind and took time to really speak with every single person in line. @slashfilm got some pictures. pic.twitter.com/cRRpFzLGVJ

— Jacob Hall (@JacobSHall) July 23, 2017
And after gushing to him about how much his work means to me (and it means an awful lot), he signed an art triptych, making it out to me and my wife after I told him it was going to be hung in our first house, which is slated to be finished in just over a month.
Even got an art triptych personalized for the new house! pic.twitter.com/4JxMZgUGBw

— Jacob Hall (@JacobSHall) July 23, 2017
Honestly, Smith set a high bar for the whole "meeting your heroes" thing. Hell, he set a high bar for all future Comic-Con experiences.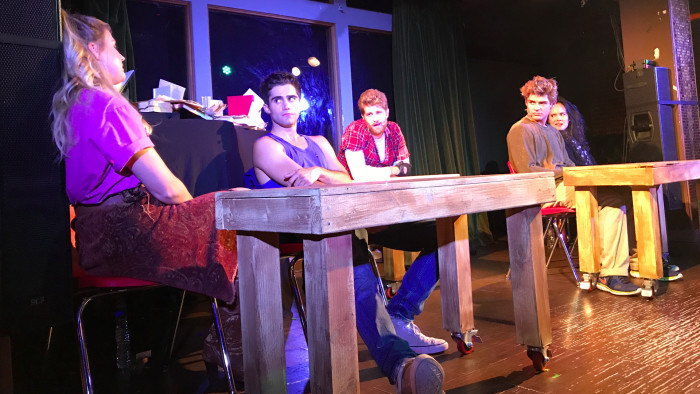 Ben Pearson Saw a Performance of The Last Breakfast Club
One of the many benefits of living in Los Angeles is being able to enjoy the work of the absurd amount of talented people who also live here. A few days ago, my wife and I met some friends at a bar called Rockwell in Los Feliz to check out a live musical called The Last Breakfast Club. It's the brainchild of an organization called The Fuse Project, which melds multiple pop culture properties together to form a brand new parody. This particular show mixed John Hughes' classic film The Breakfast Club with a zombie story, and even added a dash of Back to the Future in there for good measure.
The premise is simple: a nuclear war has broken out outside of Shermer High School, but because a group of kids were stuck inside in detention, they managed to survive. Their hard-assed assistant principal Vernon, however, was caught in the fallout, so he's now a zombie, and they're all trapped inside, doomed to replay the same group drama over and over again. Through a killer list of '80s songs ("It's the End of the World as We Know It," "Shout," "We're Not Gonna Take It," "Everybody Wants to Rule the World," "When Doves Cry," "Don't You Forget About Me," and tons more), the kids, principal, and hilariously closeted janitor sing through their troubles, basically providing a long and entertaining alternate ending of the movie. (And yes, at one point, Doc Brown and Marty McFly show up to break them out of their rut and perform "Johnny B. Goode.")
Garrett Clayton (Hairspray, Teen Beach Movie) played Brian, the Brain. Emmy winner Max Ehrich (Under the Dome, The Path) played Andrew, the athlete. Jonah Platt (Broadway's Wicked) was Bender, the criminal. Anna Grace Barlow (Scream Queens) was Claire, the princess. YouTube star Lana McKissack was Allison, the basket case. Jimmy Ray Bennett (Amazon's Hand to God, Grand Theft Auto V) played Vernon, and Damon Gravina (Footloose) was the janitor. They're all fantastic singers, which resulted in a pretty incredible show in a super intimate venue (I can't stress enough how great the music was), so I'd encourage anyone in the L.A. area to seek out shows like this at Rockwell if you have the opportunity.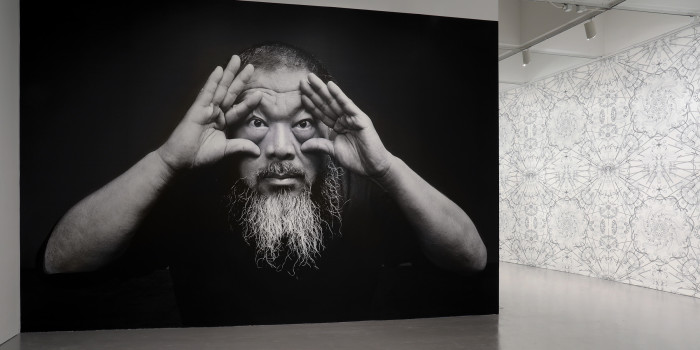 Hoai-Tran Bui Saw the Ai Weiwei Exhibit at the Hirshhorn Museum
Try as you might, you can't escape politics in D.C., even at an art museum. But the benefit of that is that it allows you to look at politics and the injustices of the world from a different perspective, literally in the case of the "Ai Weiwei: Trace at Hirshhorn" exhibit. The exhibition features 176 Lego brick portraits of political dissidents from all around the world. The Lego bricks are laid across the floor and give each of the pictures a pixelated look. It's blunt and provocative, and, like Ai Weiwei's wide-eyed portrait that introduced attendees to the exhibit, an attempt to teach people to be "woke."
As an art exhibit, it wasn't much to write home about — most of the art was on the floor, and while the Lego bricks added a whimsical twist, you could easily breeze through without much thought for the people the exhibit is supporting. But along with the display came accompanying computers in which you could scroll through the pictures displayed at the exhibit and learn more about the dissidents, all of whom are still living.
There was a whole area dedicated to Vietnamese and other Southeast Asian political activists and prisoners, which I was weirdly excited to learn. It was an all-inclusive exhibit and one that added to that ongoing debate of whether art is inherently political. In this case, it clearly is.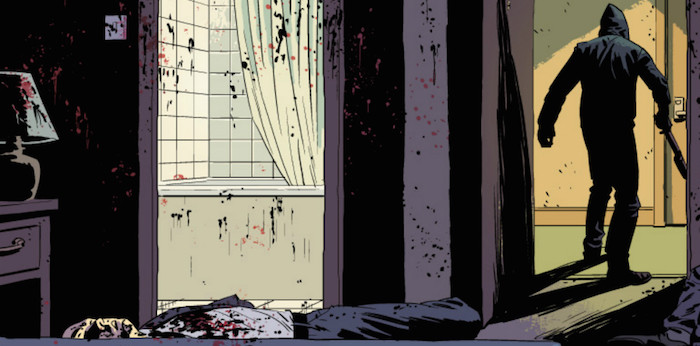 Jack Giroux Has Been Reading Kill or Be Killed
Ed Brubaker and Sean Phillips' vigilante tale is one dark piece of work. Because I don't read as many comics as I used to, Jacob Hall and Peter Sciretta had plenty of recommendations for me. Following their suggestions, I picked up Kill or Be Killed, Bone, and Saga on the show floor. After reading one of their suggestions – Jacob said he'd pay me back for them if I didn't enjoy them – they'll be my go-to for comic book recommendations in the future.Kill or Be Killed continued to surprise me. By the end, it was not at all what I expected it to be. It kept revealing itself to be about more than I initially thought. The hook of Kill or Be Killed, which should never be spoiled by anybody, is fantastic. It pulled me right into Brubaker and Phillips' nasty and violent world. It's a dark, unsettling, and entertaining story of not-your-average vigilante. I'm looking forward to picking up volume 2 when it's available.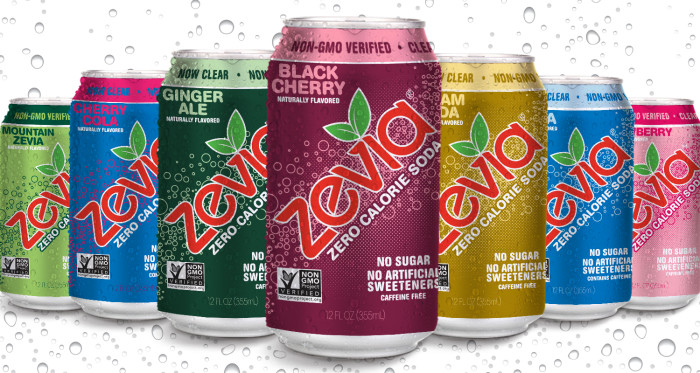 Peter Sciretta is Drinking Lots of Zevia
Since I've been doing a lot of traveling lately, I don't have an exciting Water Cooler entry this week. So I thought I'd share with you a product that I've been consuming.
I love drinking soda, it's my one vice. I don't smoke, do drugs, and drink on only rare occasions, but I love carbonated soda drinks. I try to drink water, but I really like to drink something with a flavor. I mostly drink diet sodas, which don't have sugar, but often have artificial sweetners, which, depending on who you talk to or what you read, may or may not have long term heath effects. I'm not going to get into that argument here, but what is clear is that there is no concrete evidence (i.e. studies) to support either side entirely.
But since I started on my keto diet (which I talked about in a previous Water Cooler entry), I have been trying to avoid artificial sweeteners because some can have an effect on your blood sugar, which can prevent me from losing weight and staying in ketosis. Because of this, I have discovered a new soda called Zevia, which I almost exclusively drink at this point. What I like about Zevia is that it features no sugar and no artificial sweetners, instead going for the natural stevia leaf extract (which has no glycemic effect). I love the flavors, the grape, root beer and cola flavors especially.
I'm not a natural organic no-processed food nut, but looking at the list of ingredients makes me happy: carbonated water, stevia leaf extract, natural flavors, citric acid – that's it. Pouring the soda into a cup and realizing that all the sodas are clear (like Pepsi Clear) makes me wonder why we put artificial colors in our drinks in the first place. It seems so strange that we're adding all these extras to what we consume. Does a grape soda really need artificial colors? Why not just distribute it in a purple bottle?
Zevia is definitely more expensive than the big brand alternatives, and not as easy to find (especially in restaurants), but it's quickly become my soda of choice.