'Godzilla 2': Monarch Case File Teases Another Look At Mothra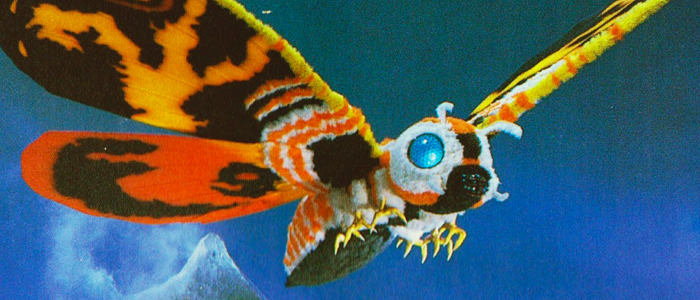 Godzilla 2 (formerly titled Godzilla: King of the Monsters) began production last month, and we've since seen a few set photos emerge that indicate overturned cars, things on fire, and the general amount of destruction one might expect from a 350-foot-tall giant lizard stomping around and battling monstrous enemies.
One of those enemies is the winged creature Mothra, and a new photo from the film's marketing department gives us another look at Godzilla's formidable foe.
We previously saw what Mothra might look like in cave paintings and carvings in a post-credits sequence in Kong: Skull Island, and there was a tiny Mothra easter egg in the 2014 Godzilla movie. During this year's San Diego Comic-Con, a Twitter account representing the MonsterVerse's fictional organization Monarch Sciences, which tracks and studies all of these creatures, shared a new photo of Mothra:
Take a closer look: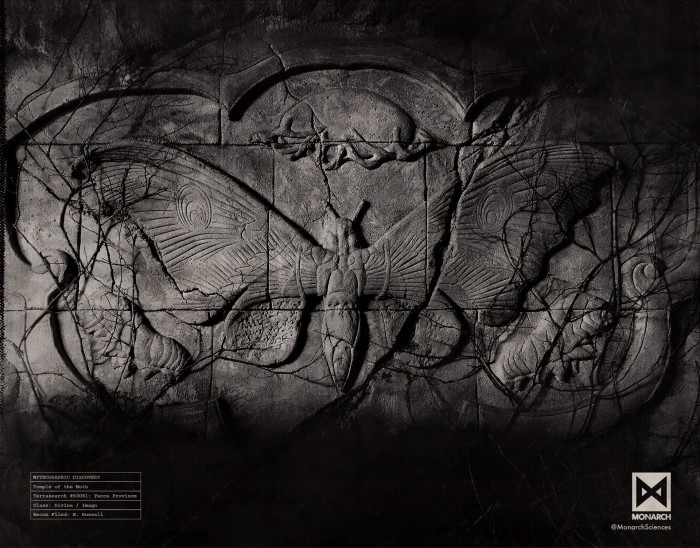 That's clearly Mothra in the middle, flanked by some larva-looking specimens and a cocoon. The text in the bottom left corner of the image reads:
Mythographic Discovery
Temple of the Moth
Terrasearch #63061: Yucca Province
Class: Divine/Imago
Recon Filed: E. Russell
It's unclear who "E. Russell" is, because that character didn't show up in either Godzilla or Kong: Skull Island. Perhaps it'll be Zhang Ziyi's new character, who we know is a member of Monarch we haven't seen before.
Godzilla director Gareth Edwards previously described his version of Godzilla like this:
"The way I tried to view it was to imagine Godzilla was a real creature and someone from Toho [Studios, the Japanese company responsible for the original Godzilla] saw him in the 1950s and ran back to the studio to make a movie about the creature and was trying their best to remember it and draw it. And in our film you get to see him for real. In the Toho movies, you can see how they made those suits. But hopefully now with VFX, we can make the most realistic version. Still, it's true to the Toho original in terms of the animal itself."
Historically, Mothra has looked like a Power Rangers villain, so it should be interesting to see if director Michael Dougherty and his design team follow in Edwards' footsteps with the way they'll choose to bring the character into the modern era.
I suspect this is the first of many photos like these that will be popping up over the next few months. As you can see in the sequel's official synopsis, Godzilla has his hands full when it comes to villains to fight:
The new story follows the heroic efforts of the crypto-zoological agency Monarch as its members face off against a battery of god-sized monsters, including the mighty Godzilla, who collides with Mothra, Rodan, and his ultimate nemesis, the three-headed King Ghidorah. When these ancient super-species—thought to be mere myths—rise again, they all vie for supremacy, leaving humanity's very existence hanging in the balance.
Godzilla 2 is the third entry in Warner Bros. and Legendary's interconnected MonsterVerse, which also contains 2014's Godzilla and this year's Kong: Skull Island. It stomps into theaters on March 22, 2019. There's a pretty good chance the King of the Monsters comes out of that film as a winner, because we already know that the giant lizard will battle King Kong in You're Next director Adam Wingard's Godzilla vs. Kong on May 22, 2020.