Details On A Third 'Star Wars Land' Ride That Didn't Make The Cut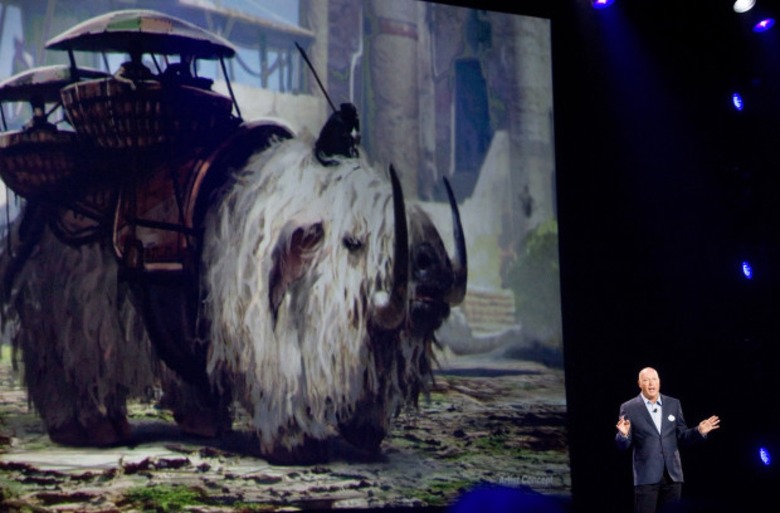 When Star Wars: Galaxy's Edge (aka Star Wars Land) opens in Walt Disney World and Disneyland in 2019, they will offer two attractions: a Millenium Falcon ride experience and a dark ride that will take you into the middle of a battle between the First Order and the Resistance. But originally, Walt Disney Imagineering had planned a third ride for Star Wars Land. What was it going to be?
On the latest episode of The Unofficial Guide's Disney Dish podcast, our friend Jim Hill revealed the details behind a third planned attraction that was originally designed for Star Wars: Galaxy's Edge that, for whatever reason, did not make the cut. Walt Disney Imagineering had originally developed an attraction which would have allowed park guests to ride on the back of an alien creature from the Star Wars universe.
According to Hill, this attraction would have been a callback to the Pack Mules Through Nature's Wonderland that closed at Disneyland decades ago. The ride would allow you to board a transportation mount on the back of a huge Bantha, which you probably remember as the giant elephant-sized creature with a long furry tail which was native to the planet of Tatooine. To accomplish this, Imagineering was going to employ a trackless ride system inside the animatronic Bantha vehicles.
Guests would have to board the Banthas from an elevated platform, boarding a cage (fitting 12-16 people at a time) that was in the back of the Bantha. The attraction would depart from the heart of this outpost city, with a local alien salesman selling the ride to tourists. The Bantha ride would take passengers from the heart of the city, out into the hills overlooking the Resistance base and back through the city back towards the First Order occupation of the east side of the world before dropping you back in the heart of the city.
So basically the idea was to give guests a scenic tour of the entire themed land, introducing the various areas within and giving you a taste of all the offerings, kind of like a Disneyland Railroad but for Star Wars Land. The ride surely would have featured a few show scenes in addition to the great scenic views.
You might even remember, when Star Wars Land was first announced at D23 2015, Bob Chapek showed off concept art featuring Banthas (see above). But this attraction did not make the cut for whatever reason, and it's unclear if it could eventually be added. It's bad that it won't be part of this massive project, as it sounds pretty cool.
Hill mentions that Disney is holding back an expansion pad for one more Star Wars Land attraction which could be added after the new trilogy has concluded based on a future movie sequence. I'm not sure if he's just talking about the Walt Disney World version in Hollywood Studios. Disneyland's version has pretty much maxed out all the available land, unless they take over Mickey's Toon Town.
Hollywood Studios has more space for its version of Star Wars Land and rumor has it that with that new Mickey attraction replacing The Great Movie Ride, part of that dark ride building will be demolished and replaced with an additional Star Wars Land street and a third entrance (which Disneyland will have at launch). Hollywood Studios is also expected to be the home of the Star Wars hotel concept that has been revealed, although it seems Disney is interested in bringing themed all-inclusive resort concepts to their other parks as well.