Anne Hathaway In Talks To Replace Amy Schumer As A Barbie Girl In A 'Barbie' Movie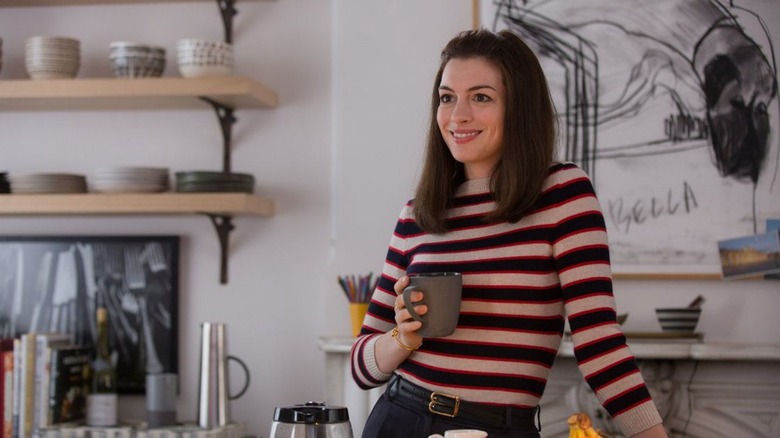 Anne Hathaway may soon find that life in plastic, it's fantastic.
The Colossal actress is reportedly eyeing the lead role in Sony's Barbie movie, which Amy Schumer was originally slated to play before she dropped out of the comedy in March. But before you start praising the film for casting someone who's more classically beautiful, I just want to remind you: the Barbie movie is a subversive comedy about a woman who doesn't fit in, in the land of Barbies. But considering Hathaway's underrated comedy chops, she could be a good choice for the role anyway.
Hathaway is in talks to replace Amy Schumer in the Barbie movie, reports entertainment newsletter The Ankler (via The Hollywood Reporter).
Rising Australian director Alethea Jones is also in talks to helm the comedy, after being handpicked by Hathaway in the search for a director. Jones is known for her 2012 Tropfest Award-winning short film Lemonade Stand. She's also recently directed the comedy Fun Mom Dinner starring Toni Collette.
The Barbie movie under Schumer was intended to be a contemporary and feminist spin on the Mattel toy. According to THR, the script followed "a woman that slowly awakens to the fact that she doesn't fit into the perfect land of Barbies and journeys to the real world, where she discovers that being unique is an asset. The fish-out-of-water tale is supposed to be in the vein of Big or Enchanted."
Hathaway and Jones seem like a promising duo to take on the long-gestating adaptation of the Barbie toy. Hathaway began her career in family comedies, starring in the Disney's The Princess Diaries and Ella Enchanted. While she has stretched her range into indie and dramatic work recently (and musical chops), going on to win an Academy Award for her role in Les Misérables, Hathaway still seems to be fond of returning to her rom-com roots.
Amy Pascal, Walter F. Parkes, and Laurie MacDonald are producing the Barbie movie while Mattel's Richard Dickson is executive producing.
The movie was originally slated for a June 29, 2018, release, but Sony is reluctant to announce an official one if the deal with Hathaway's schedule — which includes her upcoming films Ocean's 8 alongside Cate Blanchett and Nasty Women with Rebel Wilson — can't be worked out.
It should be noted that the studio has not yet commented on the negotiations and, with Hathaway's packed schedule, may not even seal the deal. If the search for the next Barbie girl continues, we do have a list of suggestions, Sony.