Here's A Round-Up Of All Of The DC Comics TV Show Trailers From Comic-Con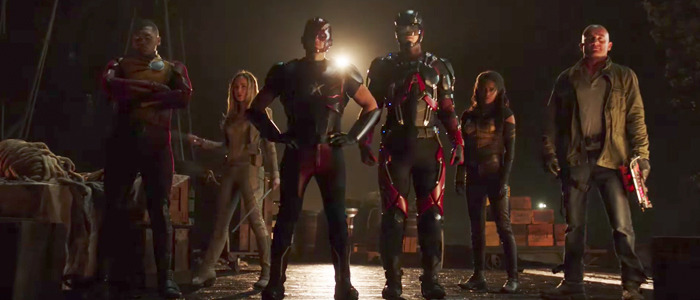 We covered a ton of stuff out of this year's San Diego Comic-Con (read it all here), but some things were bound to slip through the cracks. Such was the case with all of the DC Comics TV show trailers, but now we've gathered them all in one convenient place so you can see the latest from Black Lightning, Arrow, The Flash, Supergirl, DC's Legends of Tomorrow, and Gotham below.
Black Lightning
Let's kick things off with the new CW series Black Lightning, which will premiere sometime in 2018. This trailer showcases a little bit of the electricity-charged superhero, but spends most of its time highlighting all of the network's small screen heroes.
The biggest thing that sticks out to me is how much this trailer leans on hope, positivity, and optimism, in comparison with what DC Films was doing with their major cinematic characters before Wonder Woman. and the studio's newfound mantra. You can watch a much more in-depth Black Lightning trailer here.
Arrow
After the explosive events of the season 5 finale, Arrow dropped a new trailer that revealed some of the characters who survived. And Collider tells us that Lost star Michael Emerson (who played the cunning Ben Linus) will be playing a mysterious new character that has yet to be announced.
The Flash
Barry Allen is gone, and this season (or at least a portion of it) looks to deal with the fallout of his absence – primarily through the character of Iris West. Hopefully that will result in a nice change of pace for that character, but my gut tells me Barry will be back two or three episodes in at the latest.
Supergirl
I haven't been watching this show, but this trailer looks miles away from the light, poppy tone of the first season. Kara seems to ditch her secret identity and fully embrace the Supergirl persona, but the show has definitely taken a darker turn since the last time I tuned in.
DC's Legends of Tomorrow
Legends of Tomorrow continues its time traveling adventure and it continues to look like the wackiest of The CW's DC shows. I haven't been tuning in. What do you think about this one, fans?
Freedom Fighters: The Ray
I haven't paid much attention to CW Seed, the network's digital channel, but they've launched a new animated series called Freedom Fighters: The Ray that focuses on Ray Terrill, a superhero with light-based powers (just go with it) who battles Nazis in an alternate-history United States in which the Axis powers won World War II. I agree – this is a weird thing to put on the CW Seed. The show arrives sometime this fall.
Gotham
Meanwhile, over on Fox, Gotham has moved directly into Batman Begins territory, complete with a Year One-esque proto-version of the Dark Knight beating thugs in the streets and an appearance by Dr. Jonathan Crane, aka the Scarecrow. Even the way they frame the shots of the masked Crane recall Nolan's 2005 cinematic take on the character. We'll wait and see if Gotham can do something equally memorable.
The new season of Gotham begins on September 28, 2017.